"Komazawa Vegebon" A Healing Vegan Café in Komazawa Daigaku.
Updated:2019/02/01 Created:2017/11/23
The "Vegebon" is a café nearby the Komazawa Daigaku Station which commemorates 3 years since it's opening in September 2014.
This café provides vegan friendly food using solely organic vegetables. And it is very popular amongst local people and has become a popular gathering place for community people.
We had an opportunity to interview with Ms. Yumiko Inoue, the owner of "Vegebon" to ask about its popular menu, specialty vegetables, and her passion for the store.
Click here for location and detailed information on Komazawa Vegebon.
Visit Vegewel to search for veggie, vegan and gluten-free restaurants!
Happy road full of well-looked-after greens and flowers leading to the café entrance!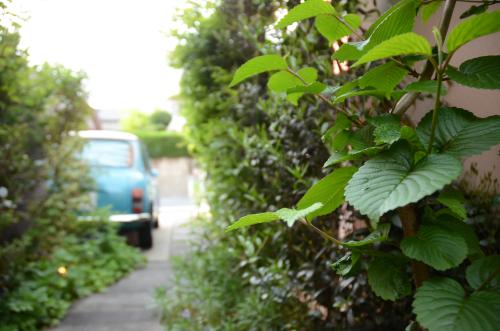 Komazawa Vegebon is situated in a peaceful and quiet residential area about 5 minutes walk from "Komazawa Daigaku Station" on the Denen-toshi Line.
The café is on the roadside but the entrance is placed through the stretched passage way surrounded by beautiful greens and flowers!
This passage way leading to the entrance is commonly called as the "Happy Road" and it's a narrow space but is large enough for you to feel part of the workings of nature.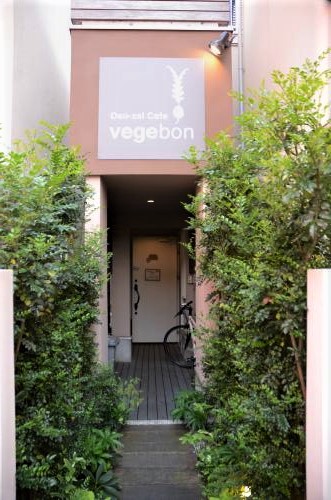 When you go through the green passage, you feel so good and refreshed.
The "hideout" is the right word to explain the appearance and our expectations are uplifted before entering!
It is also fun to walk through this passage as you look at various flowers!
The Second home to the local people!? When you look for a sense of healing.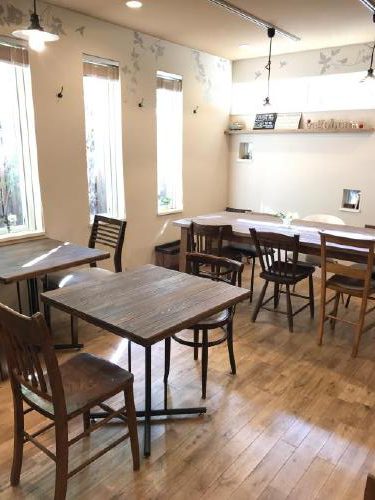 Wooden interior inside the Café, with pretty flowers.
"Some of these flowers were from the garden but others come from our vegetable farmers. When they send vegetables, they often include some seasonal flowers.
Customers love to see flowers and I think the space looks happier too!" said Yumiko.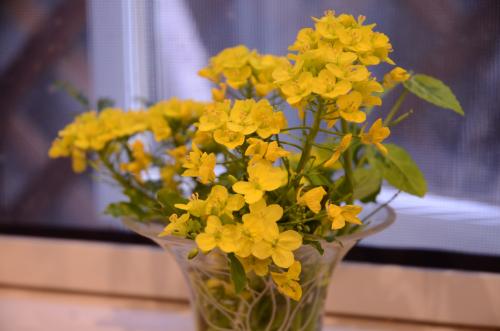 It was a hot day and we were feeling sweaty when we went for the interview, and we were really relieved and healed by the comfortable air of the café and the cold herbal tea served by Yumiko.
I guess many of the regular customers think of the café when they are tired, and when they want to rest and relax.
"Most of our customers are local residents.
Some customers bring their family with them on the weekends and holidays, and other customers come during evenings and on weekdays to buy delis for their dinner.
We have customers from very wide age groups, from young mums to granddads. Since our opening,
we have been serving a cup of herbal tea to all customers no matter whether they came for a take-out or to eat-in. This enables anyone can sit down and enjoy a little rest."
Children to adults – everyone's favorite "organic mild corn potage soup"!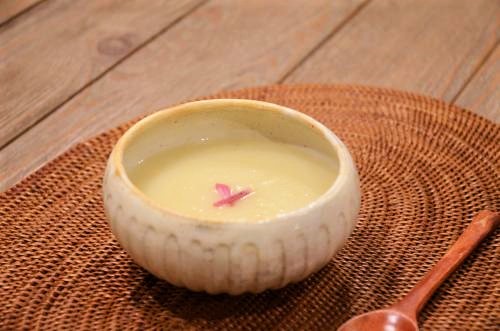 The Signature dish of the café is the "organic mild corn potage soup", made with solely organic vegetables.
You can order this soup as a part of a set menu or as an individual item. This is also one of the most popular items on the menu for take-out.
"This soup is popular not only by adult but also by younger customers. It's a simple and homely potage soup, and you can taste the flavor of the organic vegetables", said Yumiko.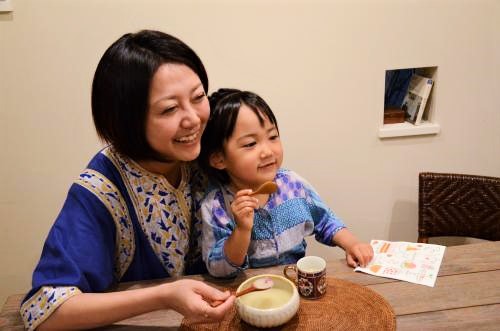 We met a young customer during our interview. She loves this potage soup and orders it quite often when she comes. While we were interviewing, she was cheerful and ate up all her soup!
We tasted the soup too and yes, as the name of the soup suggests, this mild flavored soup is soaked up by every corner of our body. I couldn't help but finish it very quickly.
By the way, while we were at the café, a mum and her child were visiting. Ms. Fujimoto is working for Vegebon as one of the volunteers.

All dishes served at Vegebon are handmade in the café and are chemical free (no chemical seasoning).
They are vegan friendly, have no meat, egg, dairy products, or fish included in their dishes or even in the soup stocks.
All items on the menu are available for either eat-in or take-out.
The most popular set menu is the "Vegebon plate (1,200 yen inc. tax)".
This has a mild organic potage soup and a plate of enzyme brown rice cooked with red beans accompanied with 5 different side dishes.
The contents of the side dishes are changeable every day, so the customers can enjoy a different homely taste every day. On a side note, the enzyme brown rice is prepared by Yumiko.
"The brown rice Yumiko prepares is really tasty! It was great, and the taste is even nicer now and I hope you will have chance to try it sometime!" said Ms. Fujimoto.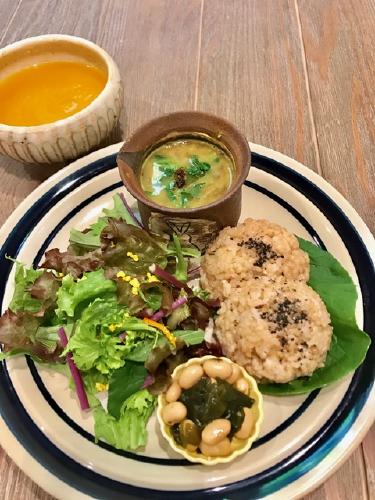 The above is "today's curry plate (1,200 yen inc. tax)". It includes a mild flavored soup and today's special curry and a brown rice.
Curry is gluten free and has unique characteristics introduced by Yumiko, which instead of using curry roux, is flavored with simple spices.
You can taste the goodness of the vegetables and spices in this curry. Please try it!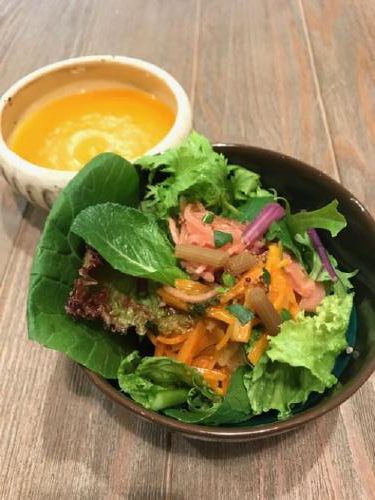 The above dish is Vegetable Donburi (1,000 yen inc. tax). Sticky brown rice is covered with a vegetable side dish, and is served with a bowl of mild soup.
The side dish for the brown rice is changeable every day. Sometimes curry is served the side dish on the rice. It's recommended for people who like to enjoy different flavors.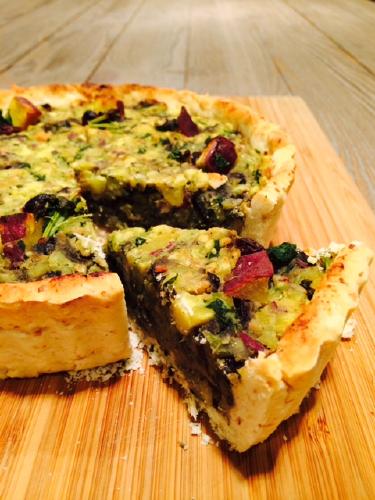 The above dish is a "Vegan quiche (1,000 yen inc. tax)". It's a piece of quiche served with a mild flavored soup and also include a side dish with a salad.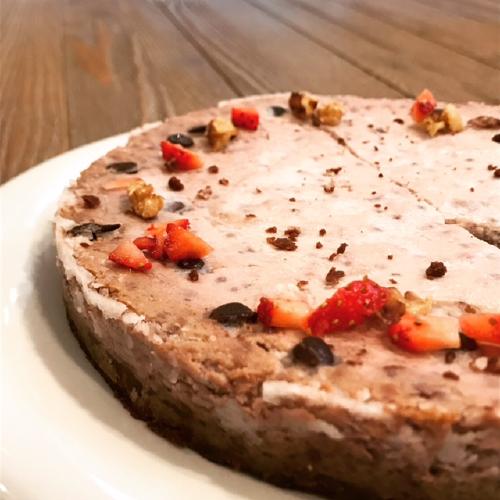 Other than that, there are also vegan sweets which differ in choice every day.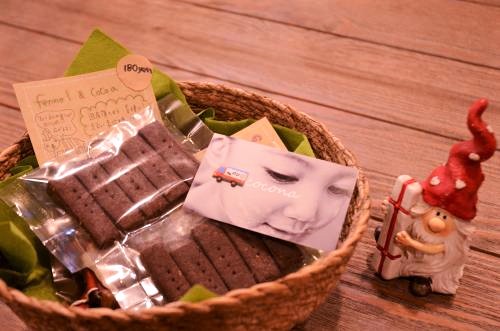 At the café, you can also purchase various sweets made by Ms. Fujimoto.
When we visited, the sweets sold were fennel and cocoa flavored cookies. They were very tasteful and combined a spicy mix with subtle sweetness!
In the future Ms. Fujimoto is organizing activities such as the "Vegebon sweets club". Her first attempt is titled the "smooth sweets". Maybe it will show up on their special menu of the day soon!?
*The information contained in the article is as of the date when we interviewed and subject to change. We strongly recommend that you make an inquiry to the store prior to your visit.
Store Information
Click here for location and detailed information on Komazawa Vegebon.
Healthy Restaurant Search
Did you know you could search for restaurants on Vegewel?
We provide searching services centered on healthy restaurant choices including organic, gluten-free, vegetarian, and more so please give it a try!