Shibuya daylight kitchen -new dinner menu more clearly conveying their message
Updated:2019/02/01 Created:2017/12/09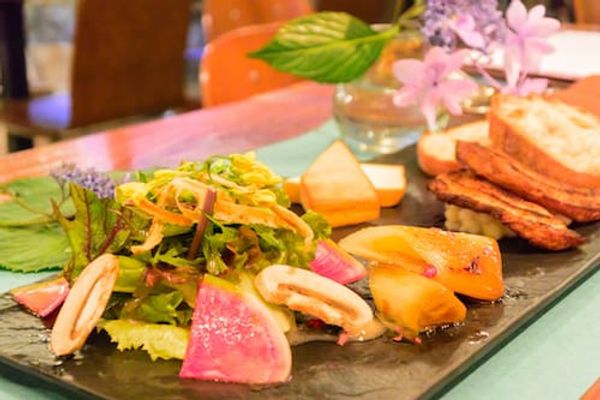 Within a three minute walk from the west exit of Shibuya Station, the daylight kitchen is located behind the Cerulean Tower.
Green plants and flowers in season placed in the entrance and the timber decking terrace are greeting guests.
As we heard that the daylight kitchen drastically changed its dinner menu, we went the restaurant to have an interview before the new dinner menu was officially introduced to the public.
Click here for location and detailed information on daylight kitchen.
Visit Vegewel to search for veggie, vegan and gluten-free restaurants!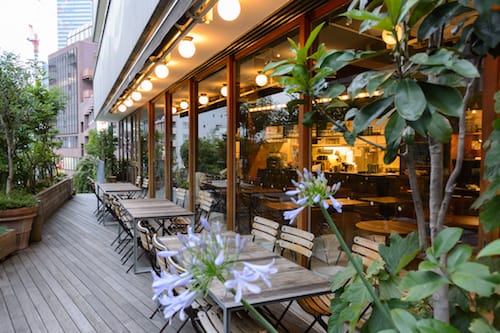 There are many reasons why the daylight kitchen is so popular.
For example, it looks stylish, the foods are delicious, we can enjoy the meals with small children and it is a relaxing space despite of the location near the station.
But don't forget that the biggest advantage of the daylight kitchen is the selection of ingredients with great care especially about vegetables and even vegetable varieties.
As we listened to the story, we learnt more about how passionate they were in terms of the producers and the ingredients they dealt with.
For seven years after the opening of restaurant, the thought has been disseminated little by little into customers.
The restaurant said that they fostered camaraderie among the regular customers to share their thought and concerns about environment, food and agriculture.
This popular restaurant seems to have no problem. However, the owner and the staffs have always been in a dilemma.
"There might be another way to convey our message to our customers. Could we truly pass on our producers' thought to our customers?"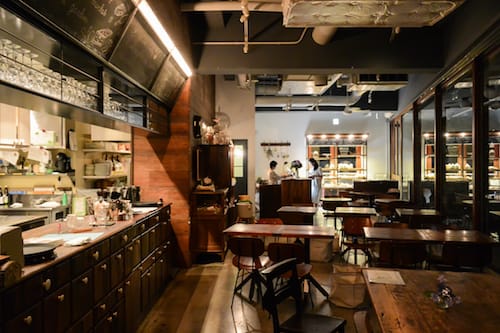 "Why do we need to operate the restaurant with this size in Shibuya? How can we improve the situations?"
After due consideration, they decided to introduce new dinner menu in July 2017. The signature menu, "set meals (Gozen)" was discontinued.
The new menu proposes three course dinners and a la carte dishes to pair with their drink selection.
The course dinners create more interaction with customers. If there are more opportunities to talk to customers, they can more easily convey their message to the customers.
And more dishes making the most of unique vegetables will be offered.
If we want to see real change, such challenge may extract a price.
They decided to go for it even though there are risks. The introduction of new dinner menu would be a turning point for the daylight kitchen.
Course dinners prepared mainly with vegetables
A common concept to the seasonal course dinners cooked with vegetables in season is 【course dinners conveying the story of season, vegetable varieties and producers】
There are three course dinners:
"Tsunagaru Dinner Course" 5,000yen (incl. tax)
"Kizuki no Vegan Course" 5,000yen (incl. tax)
"Hagukumu Dinner Set" 3,800yen (incl. tax)
They are featuring vegetables delivered from the farmers whom they visited, talked, judged they were reliable and then made a contract with.
They use only the vegetables from the trusted producers sharing the same ideals in terms of product freshness, cultivation method, vegetable varieties, the next generations and the global environment.
Actually the restaurant doesn't know in advance what kind of vegetables is delivered by the producers.
The producers pack and deliver freshly picked vegetables. It is so-called "Vegetable box" system.
Check the contents and consider the menus to serve the best possible dishes. So the cooking procedure is always depending on vegetables.
In this article, we are going to introduce a vegan menu, "Kizuki no Vegan Course" 5,000yen (incl. tax) among the three course dinners!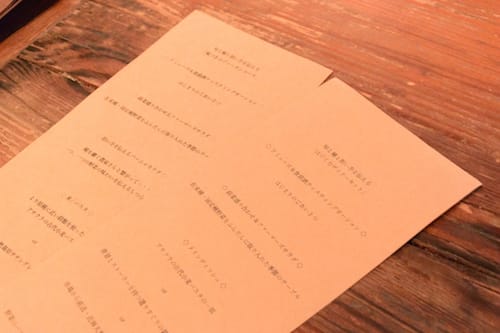 "Kizuki no Vegan Course"
○Amuse bouche & small aperitif
Greeting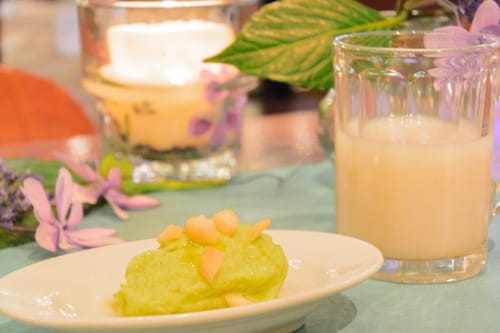 This mousse cooked only with broad beans delivered by a famous seed saver and a farmer Mr. Masatoshi Iwasaki in Unzen, Nagasaki and hon-kudzu.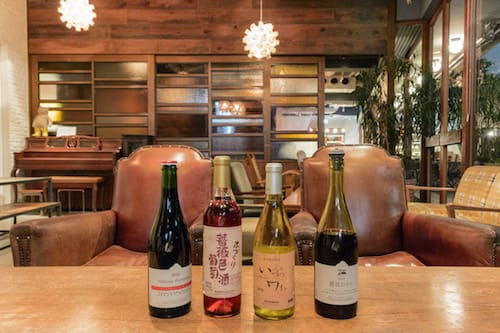 Good selection of wines from Japanese winery producing natural wines such as Tochigi Coco Farm and Izutsu Wine is available.
○Starter platter & Farmer's salad
Seasonal platter packed with native variety and true-breeding vegetables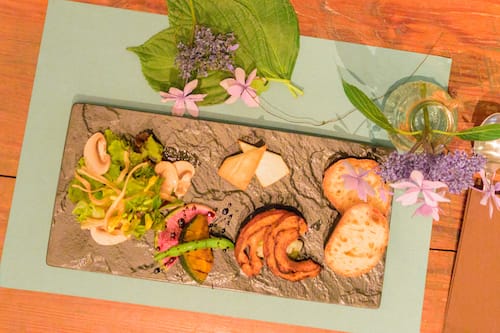 ○Bagna Cauda conveying the message of producer
Interact with famers saving seeds…
A dish is served to taste vegetables one by one.

Taste it with five senses.
A dish to enjoy the tastes and energy of seasonal vegetables grown with saved seeds delivered from the previously introduced, Mr.Iwasaki in Unzen, Nagasaki, an organic farm Orto Asama in Karuizawa, Nagano, CULTA Farm in Fuefuki, Yamanashi and warner warmer, a specialized greengrocer in native variety vegetables.
○Rice/ Pasta
Dish prepared with grains resembling native species
Asakura's spelt pasta
(Seasonal fresh vegetable and tomato sauce pasta with generously topped wild roquette was served on the day of our interview.)
or
Brown rice risotto cooked with naturally grown Sasashigure of Fudonoen
(Cream risotto using mushroom delivered from Geo Farm in Iwate)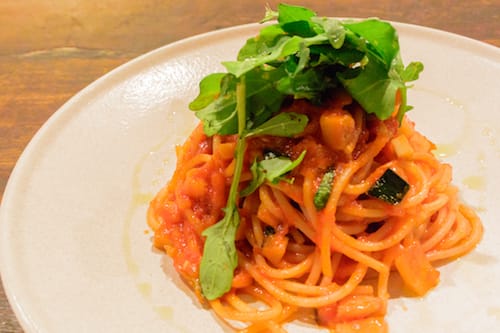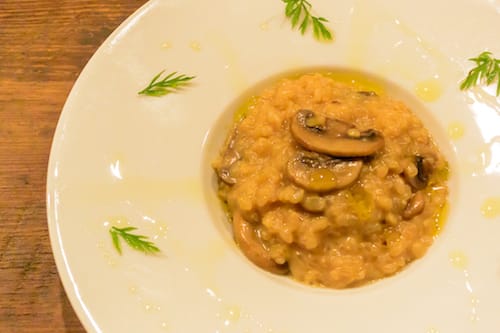 ○Main Dish
Vegetarian main dish cooked with fermented and dried foods allowing us to notice the power of vegetables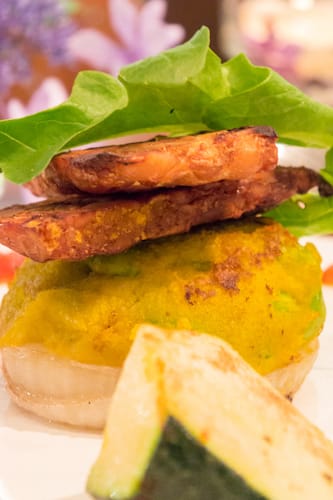 Grilled sauteed onion and pumpkin patty with teriyaki sauce served with tempeh
○Organic dessert & coffee/ tea
Desserts cooked with seasonal vegetables and almost naturally grown fruits soothe our body and soul.
Coffee and herb teas with the passion of producer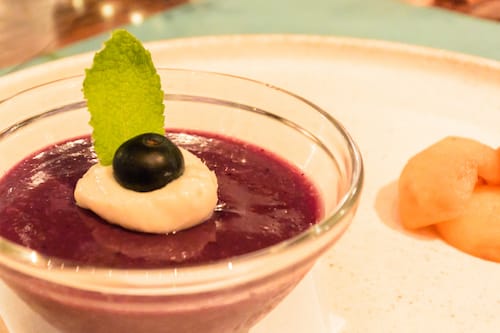 Naturally-grown Uenohara blue berries and soy milk mousse served with fresh Shizuoka loquat
They are beautiful and wonderful dishes making the most of the ingredients. Our tummies are comfortably satisfied and our souls are fully satisfied!
Meat and fish course dinners are also available
In the other two new course dinners ("Tsunagaru Dinner Course" 5,000yen/ "Hagukumu Dinner Set" 3,800yen), you can choose meat and fish dishes.
In those menus, the following texts are indicated:
"Think together about sustainability"
"Selected brand meat with unique background and story"
"Fresh local wild seafood directly delivered from markets"
They also assure the use of selected ingredients.
***
Looking at the texts on the menus, we can see how they value the background and story of each ingredient.
The restaurant staffs will explain the story about each vegetable to the customers. They wish to tell a lot about the story about each menu.
If you are hungry, you can communicate with the staffs after the meal. If you are not in a hurry, enjoy a conversation with them over a drink. They are very flexible.
The world introduced by one ingredient will definitely satisfy our stomachs as well as boost our imaginations!
(Photo:Koichi Kawasaki)
*The information contained in the article is as of the date when we interviewed and subject to change. We strongly recommend that you make an inquiry to the store prior to your visit.
Store Information
Click here for location and detailed information on daylight kitchen.
Healthy Restaurant Search
Did you know you could search for restaurants on Vegewel?
We provide searching services centered on healthy restaurant choices including organic, gluten-free, vegetarian, and more so please give it a try!