Vegetarian curry in Japan was first introduced by the Nataraj restaurant! "Shibuya Milan Nataraj"
Updated:2019/02/02 Created:2018/02/19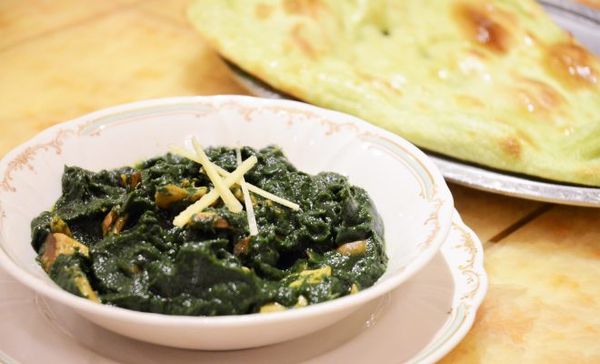 The "natural" Indian restaurant chain "Nataraj" has 5 restaurants mostly in Tokyo.
Nataraj really is a "natural" restaurant as they do not use any chemical seasonings or additives at all, also they provide vegetable curry which does not contain meat, instead the curry contains vegetables and beans.
We had an opportunity to interview Mrs. Masako Saikawa from STI ltd. This company manages the Nataraj chain of restaurants.
We asked her about the various appealing points of their menu and about their passion for continuing with Indian vegetarian restaurants for such a long time.
Click here for location and detailed information on Shibuya Milan Nataraj.
Established in the 1980s – the first Indian vegetarian restaurant in Japan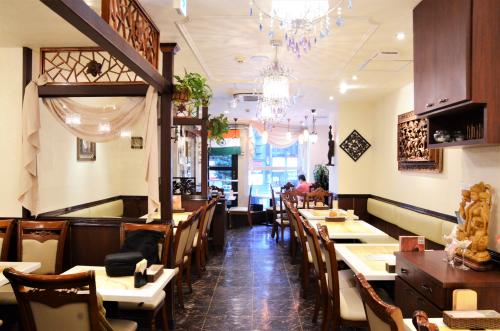 What!? Nataraj is the first Indian vegetarian restaurant in Japan which was established in the 1980s!
The fist restaurant was opened in Takadanobaba in September 1989.
Then next restaurant was opened in Ogikubo, followed by the relocation of the Takadanobaba premise to the restaurant in Ogikubo.
The restaurant chain then expanded to a premise in Minami Aoyama, then another premise in Ginza, then to "Mela Nataraj" in Takeshina, Nagano prefecture, followed by the opening of the "Milan Nataraj" in Shibuya in September 2015.
All dishes on the menu are vegetarian.
Some of them use dairy products which follow conventional Indian practices, however the dishes are totally vegetarian and use no meat or fish ingredients.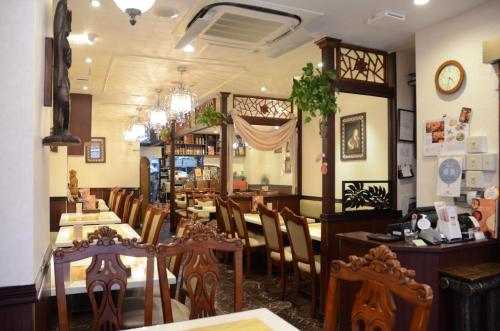 Above is the inside of the restaurant and it is very spacious. During lunchtime,
many dishes such as curries and salads are lined up in front of the kitchen and visitors can enjoy buffet style meals.
20 different types of curries are available at all time!There is an option for Vegan Naan bread as well.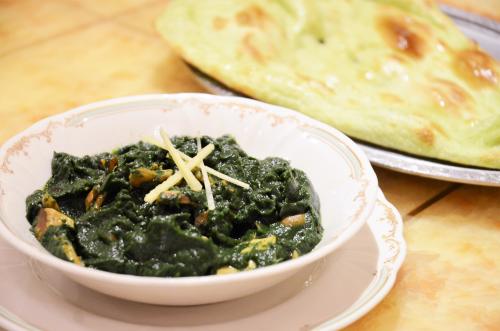 There is a great variety of curry at the Nataraj! At any time of the day, there are 20 different curries prepared including popular curries from India and the Nataraj original curry.
The Vegewel staff tried the "Mushroom Barak", which is curried mushrooms and Barak (spinach).
The spinach is prepared as a paste form which has a very strong flavor and is healthy. The Eryngii mushrooms and Shimeji mushrooms are meaty and juicy!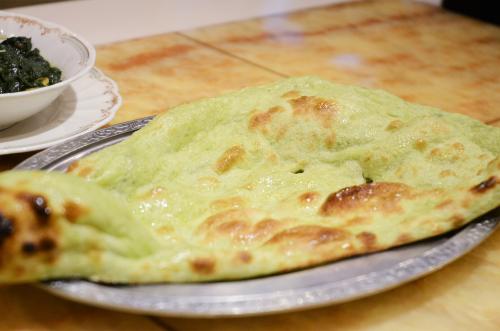 We ordered the Vegan Naan bread with the curry. It had a green tint as it was kneaded with Komatsuna (Japanese mustard spinach).
"This is Komatsuna Vegan Naan bread. Other types of Naan bread contain dairy ingredients, but this one doesn't.
And it has a green tint and is easy to identify amongst the variety of breads on the table.
There aren't many restaurants who serve Vegan Naan bread, and many visitors including those from abroad are pleased to find these options."
All of the Naan breads are made from Natural yeast and domestically grown wheat. They are light and springy and you cannot stop eating it!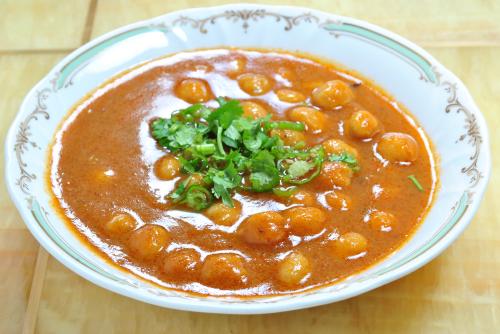 Different kinds of curry are available for your choice such as curries with soy meat or beans.
"Soy meat Nataraj curry is totally gluten free. It is made in reference to a famous soybean dish from India.
Nataraj has used soy meat in its curries since it was first established in Takadanobaba. Since then some visitors have been eating the soy meat thinking that it is real meat."
As it is the first Indian vegetarian restaurant in Japan, and is a leading restaurant which uses soy meat in their dishes.
Also it can cater for requests for ingredients that avoid the five pungent roots, Nataraj offers a variety of curries for people who enjoy eating together.
"Nataraj receives not only visitors with vegetarian and vegan requirements but also receives visitors with macrobiotic dietary requirements.
Our Ginza restaurant serves a macrobiotic curry which uses vegetable roots. The menu differs slightly depending on the restaurants."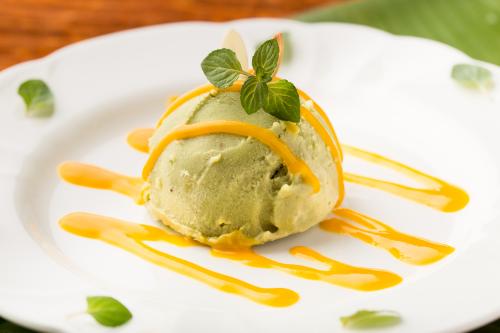 You can enjoy desserts as well. There are plenty of vegan desserts available at the Shibuya restaurant!
At lunch time visitors can enjoy a variety of curries that change daily and served in a buffet style.
"Also we have a seasonal menu and a 'kid's meal' which includes a mild flavored curry. We serve tasty curries for everyone!"
The Indian owner is vegetarian. The restaurant serves homemade everyday dishes for vegetarians including for the owner himself.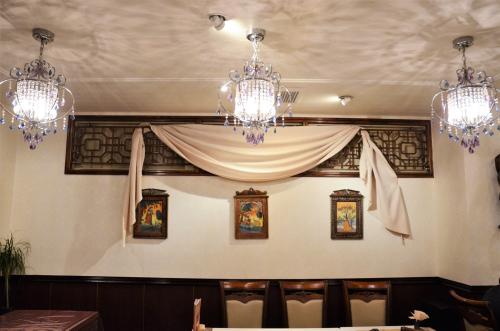 The restaurant has been providing vegetarian curries for a long time, but at first the idea of "vegetarian curries" was not so popular by traditional customers.
"When we opened the first restaurant in Takadanobaba, it was more difficult to gain an understanding of the needs of a vegetarian diet than it is now.
Many customers found it hard to accept curry without meat.
However with our passion for vegetarian curries we carried on running the restaurant for people to try and taste our curries at least once.
Hoping to share the fact that such tasty dishes can be made only from vegetables! "
Gradually some of the customers who tried our curry became big fans of the flavor and the number of visitors to our restaurant has increased.
Some who are not even vegetarian are now telling us "that the curries are delicious!".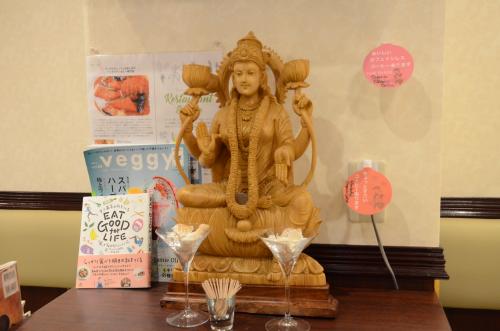 Mrs. Saikawa's husband is the owner of Nataraj. He is from Gujerat in India where more than half the population is vegetarian. He is also vegetarian.
Mrs. Saikawa said,
"I became vegetarian after marrying him. When I went to India, I met my husband and whilst visiting it made me think about eating what is good for the body and spirit.
Then when we returned to Japan and started thinking about our future,
we decided to open an Indian vegetarian restaurant to share with people the importance of eating food which is making your body."
At that time when we started in Japan, most people associated the vegetarian diet with the Maigre dish (a dietary restricteds dish for Buddhist monks),
but I wanted to share that fact that there are a great variety of vegetarian dishes, said Mrs. Saikawa.
"Initially my husband and I were providing Indian meals which suited the tastes of Japanese people.
During this trial, I was studying macrobiotic food in Japan and came up with dishes which use brown rice and vegetables.
After this trial, we started employing chefs from India and the concept of the restaurant shifted to 'Not specialty Japanese flavored dishes but to everyday homely Indian dishes'."
The curries at Nataraj is not greasy or oily but smooth and light and easy to eat!
The restaurant has kept their strong policy since its opening which is to provide customers with dishes which are good for the body as well as suiting the tastes of people and are easy to eat.
It has become a popular restaurant which has many regular customers no matter if they are vegetarians or not.
All vegetables are harvested from their own farms.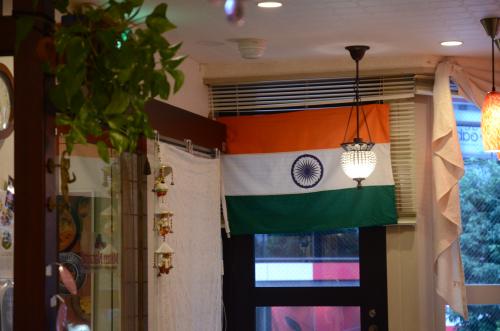 Nataraj has run three farms since 2000.
All vegetables grown at their farms are all totally pesticide free. They are grown with organic fertilizers.
"We set up our farms with a hope to provide safely grown ingredients for our restaurants.
Our farms are in Yamanashi, Nagano, and our main farm is located in Shirahama, Minami-Boso in Chiba prefecture.
We picked this location as the condition is so favorable for growing vegetables throughout the year. We are hoping to develop new farms sometime in future."
*The information contained in the article is as of the date when we interviewed and subject to change. We strongly recommend that you make an inquiry to the store prior to your visit.
Store Information
Click here for location and detailed information on Shibuya Milan Nataraj.
Healthy Restaurant Search
Did you know you could search for restaurants on Vegewel?
We provide searching services centered on healthy restaurant choices including organic, gluten-free, vegetarian, and more so please give it a try!