These are vegetable sushi! Look like cake, VEGESUSHI is booming in foreign countries. hoxai kitchen 【Interview with Sogen Ichizumi】
Updated:2019/02/02 Created:2018/01/08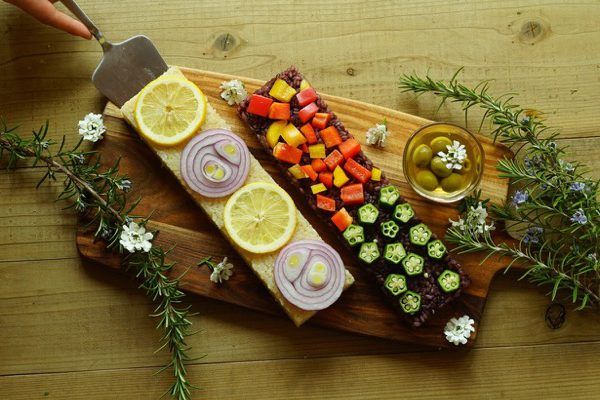 People in faraway from Japan, Paris and Berlin talk a lot about like a piece of art, vegetable sushi. It is called "VEGESUSHI".
It is a new Japanese food trend created by the producers who wanted more and more people to experience Japanese food culture beyond traditional sushi.
We asked Sogen Ichizumi of creators group, hoxai kitchen about the background of the birth of marriage of art and food, VEGESUSHI.
Visit Vegewel to search for veggie, vegan and gluten-free restaurants!
Beautiful sushi impressing even Parisiennes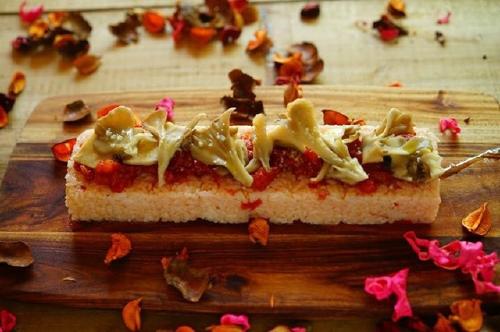 Vinegared rice slightly colored with tomato sauce. Dressed with pan-fried Maitake mushrooms and tomatoes.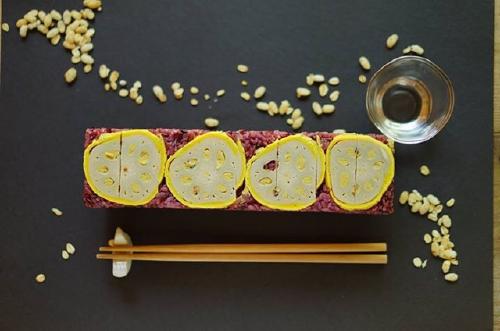 VEGESUSHI is a pressed sushi prepared only with rice and vegetables and sliced to serve like a whole cake.
Not only for the colors of vegetables in season but also for colored rice such as ancient rice and brown rice, look more gorgeous!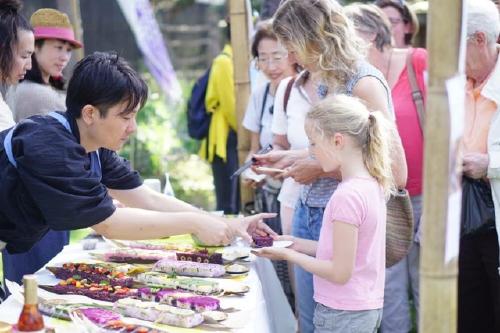 The debut of VEGESUSHI was at an event held 2016 in "Jardin d'Acclimatation" park in Paris operated by FONDATION LOUIS VUITTON.
Since then, it has been appreciated in workshops and home parties for people in Berlin and Japan.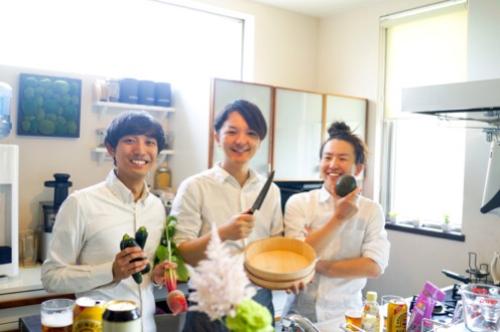 The producer of VEGESUSHI is a creators group, hoxai kitchen.
The members are three, a food designer, Gen (Sogen Ichizumi in the center), a vegetarian chef, Kei (on the right) and a vegetable sommelier, Jun (on the left).
Firstly Ichizumi came up with the idea about VEGESUSHI.
He thought that producing sushi from a creator point of view must be interesting and he talked to two other members who are highly conscious about food and foreign countries.
"Highly valued but not so familiar in home party…" Localizing Japanese food makes sushi the attraction at parties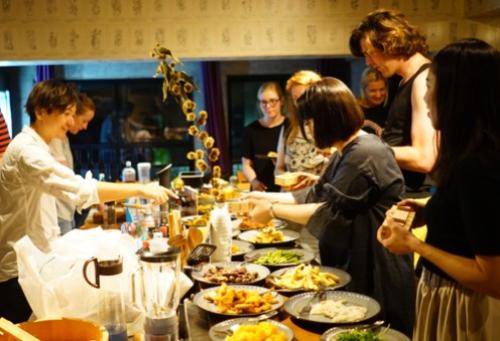 "Japanese food according to foreign people" which Ichizumi felt during his stay in Europe made him to think about creating VEGESUSHI.
"Potluck style party is very common in Europe. Participants bring something showing their personal background and story such as South American mate tea, Mom's Spanish omelette and Italian sandwich.
They neither insist on their food culture nor judge which is better. They praise each other. Seeing it, I felt that Japanese food was excluded.
Do you know the reason? Many ingredients usually used for Japanese cuisine cannot be tasted by many people.
Especially sushi which uses raw fish, many people in Europe avoid eating raw fish."
Currently Japanese food is not so familiar in European style home parties.
But Ichizumi had another impression about "Japanese food according to foreign people". It is that many people respect for Japanese food and culture.
When did Ichizumi felt this impression?
"Street food festivals are held in Berlin and Japanese foods such as rice ball and pancake are sold like hot cakes.
In local supermarkets, miso, plum vinegar and Hijiki seaweed are usually available. Those who can taste subtle broth flavor are not only Japanese.
Sometimes people from other countries may be more sensitive to flavor than some Japanese people who usually have foods with additives (lol)."
"How can I promote this well-respected Japanese food to be tasted by more people?" thought Ichizumi.
There are many tasteful vegetables in Europe thanks to the fertile farmlands. Vegetarian menus are available in every restaurant in Europe.
When he found that vegetable meal could be shared with everyone regardless of belief and religious law, he came up with the idea of VEGESUSHI.
About an expression method using no word, art and cuisine are actually the same. Responsibility of creators is to express quality of ingredients and flavor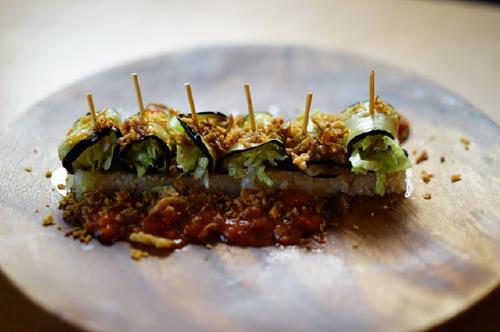 The hoxai kitchen has no fixed hub and the members come and go to Berlin, Paris, Kyoto and Tokyo for the activities.
Coming and going to each culture allows them to disseminate VEGESUSHI from a neutral point of view.
VEGESUSHI tells about veggie and bio culture in Europe for Japanese people and introduces Japanese food for European people.
One of charms of VEGESUSHI is that the same dish shows different faces to the person experience it.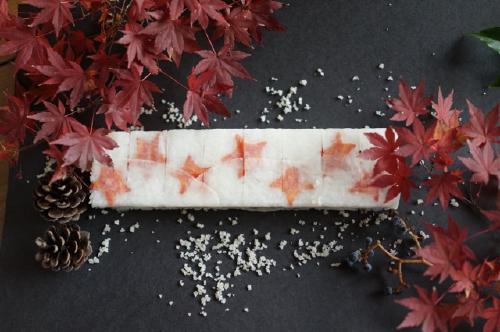 "Maple-shaped carrot seen through snow on sushi"
Carrots are seen through thinly sliced Daikon radish look like a picture.
This VEGESUSHI was inspired by the art method to express letters through layers of sheets of transparent paper.
VEGESUSHI, Japanese food collaborating with art.
Both art and cuisine have the same aim to make the most of the materials and to express the charms.
They want to make VEGESUSHI a Japanese food established in foreign countries. Create a food culture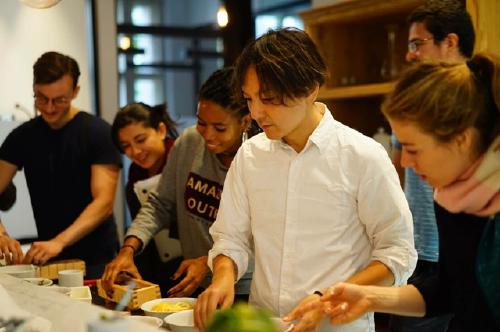 VEGESUSHI doesn't have borders. How does it grow in the future?
"We want to make VEGESUSHI a standard menu such as Japanese pancake and octopus balls enjoyed by everyone.
Curry and ramen noodles served in Japan are different from the originals. I think sushi born in Europe should also be accepted."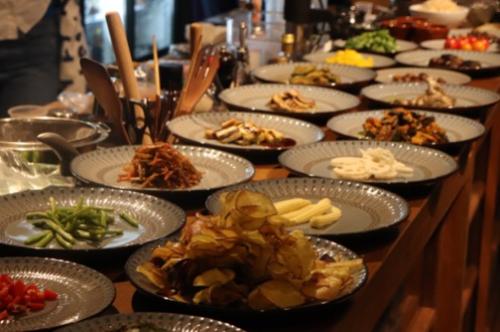 Because they want people to enjoy making VEGESUSHI as a cultural experience, the main field for the activities of hoxai kitchen is workshop.
In their workshop, participants choose their favorite ingredients among many vegetables and lay them in sushi press.
It is very fun to lay vegetables while chatting with other people and imaging the finished sushi.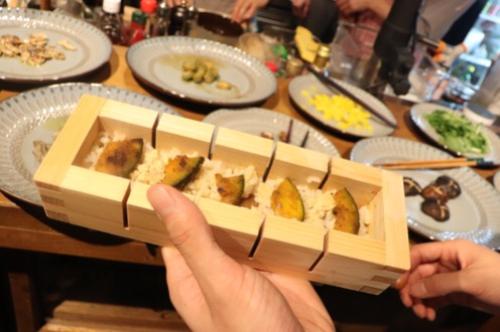 "We want to be a bridge between cultures by coming and going to each country"
said Ichizumi.
We should follow their activity to see how the new Japanese food trend will grow!
【VEGESUSHI by hoxai kitchen】
http://vegesushi.eu
*The information contained in the article is as of the date when we interviewed and subject to change. We strongly recommend that you make an inquiry to the store prior to your visit.
Healthy Restaurant Search
Did you know you could search for restaurants on Vegewel?
We provide searching services centered on healthy restaurant choices including organic, gluten-free, vegetarian, and more so please give it a try!