"Yuru-veg (Easy-style veg)" in the old Japanese-style house in Waseda – taking part in the roundtable session on the vegetarian lifestyle at Café VG! [Waseda Station]
Updated:2019/02/02 Created:2018/01/12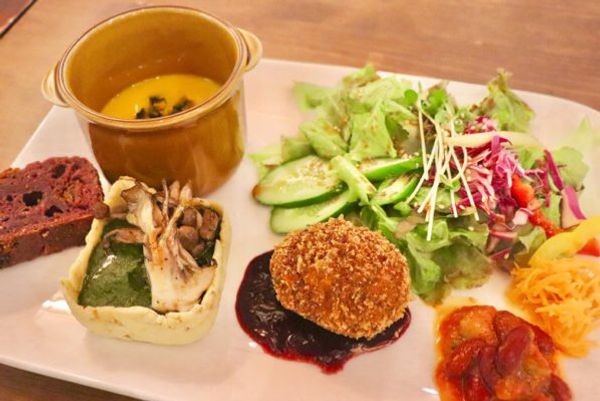 Waseda is a college town often associated with being the hot spot for restaurants that serve filling meals at a reasonable price.
In this neighborhood, there is a vegetarian café which goes by the theme of "Yuru-veg," meaning easy-style vegetarian.
Café VG is situated in an old Japanese-style house renovated by the owner who came to Japan from the United States.
We had the honor of participating in a roundtable event on the topic of vegetarian lifestyle, which was hosted at this café. Read more to find out about our experience.
Click here for location and detailed information on Café VG.
Visit Vegewel to search for veggie, vegan and gluten-free restaurants!
A favorite café just for yourself. Enjoy the out-of-this-world atmosphere in the fully made over traditional Japanese house.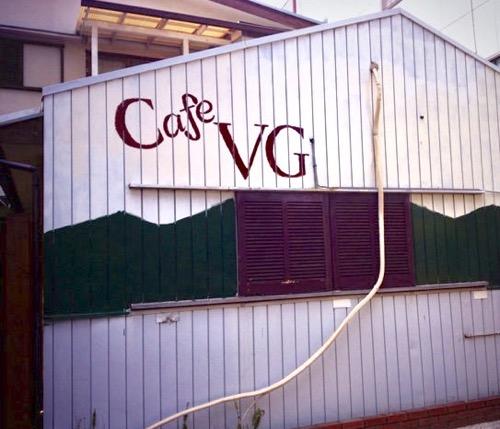 The café is located just 5 minutes from Waseda Station on foot. It is a hidden gem, quietly tucked away from the bustle of the area surrounding the station.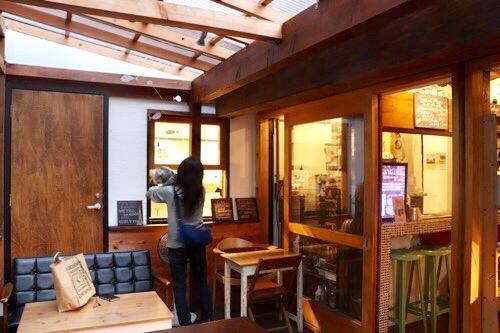 The vegetarian owner, who came to Japan from the United States, renovated the traditional Japanese house 5 years ago together with a carpenter.
After 8 months of diligent labor, the store has a cozy atmosphere manifesting the thoughts that were put into building the store by hand.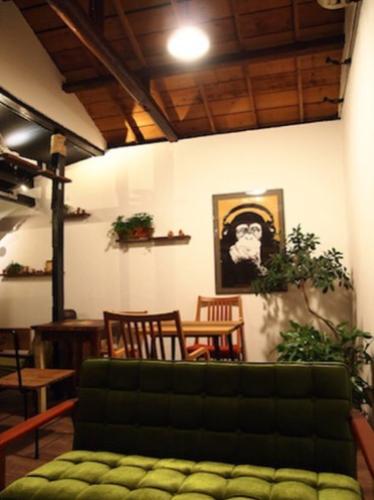 The tasteful furniture, collected piece by piece from the owner's travels abroad, match perfectly with the old nostalgic atmosphere which still remains in parts of the store.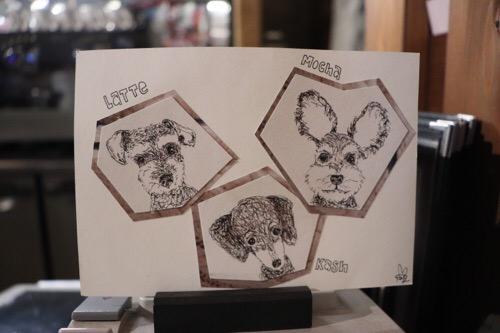 Meet the mascot dogs that welcome you at the Café VG.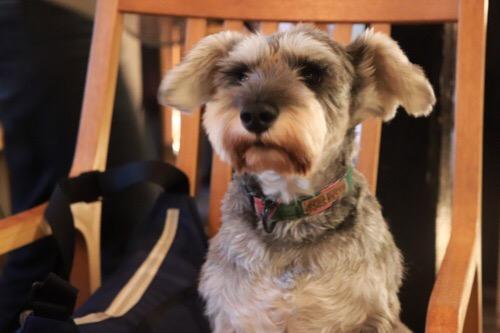 The cute canine friends will be startled at your visit at first, but it won't be long until they become used to your presence and start approaching you. They're a pleasure to watch.
If there's nothing out there for us vegetarians… let's open our own café!

The owner Mr. Shigetani was born in the United States into a vegetarian family.
In the U.S., vegetarianism is very common, and he never faced the difficulty of following a vegetarian lifestyle.
However, upon coming to Japan eight years ago, he was confronted with the harsh reality that there was nothing for him to eat in Japan.
With limited ability to read Japanese, he was never certain of whether the menu was vegetarian or not; furthermore, the restaurants lacked knowledge about vegetarianism.
"I tried to keep away from purchasing anything with meat or '魚へんsakana-hen (a kanji radical meaning fish)' in the kanji character," says the owner.
There have been times when he felt ill after eating what he thought were free from meat or fish, only to find out later that fish had been used in the stock.
This unfortunate experience prompted him to create a place where vegetarian meals can be enjoyed, so he quit his job and opened a café.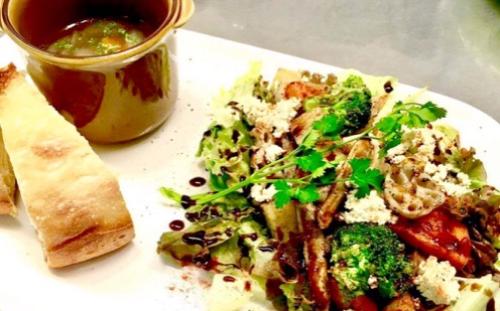 Café VG promotes a "Yuru-veg (Easy-style veg)" menu, a principle of the owner who wishes for people to start a vegetarian lifestyle in an easy style rather than by enforcing strict restrictions.
Below is a salad plate of the day.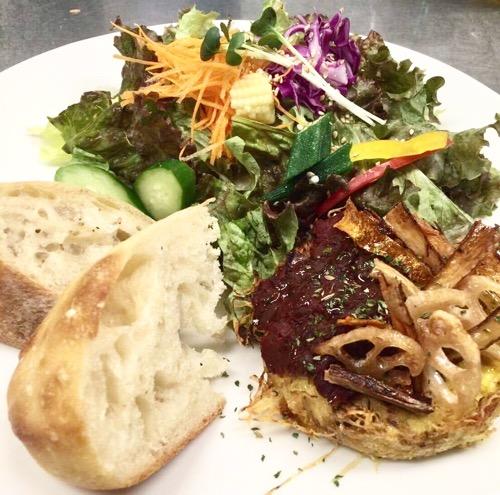 To make it easy on the wallets of the local college students, there is a lineup of menus that are under 1,000 yen,
such as the VG Plate of the Day (850 yen with tax) and the VG Taco Rice of the Day (900 yen with tax), which are both served during lunchtime.
Vegan and oriental veg options are also available, as well as a Vegan Course (4,000 yen with tax) by reservation.
Hosting fun events. How did you become a vegetarian? Vegetarian women discuss their lifestyle.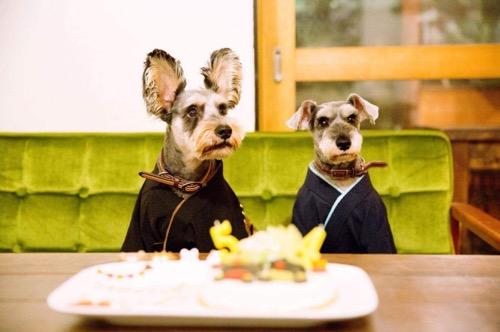 One of the annual events at Café VG is the birthday party for their mascot dogs, Mocha and Latte. How cute and dapper they look!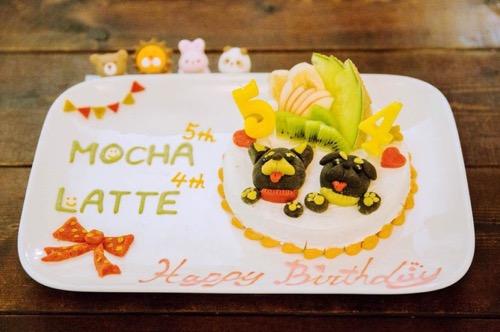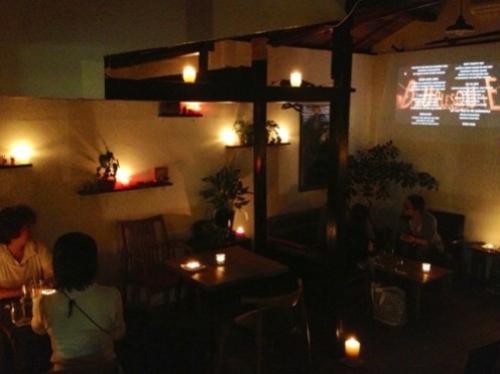 Pictured above is the candle night event which takes place every summer. The atmosphere is just magical.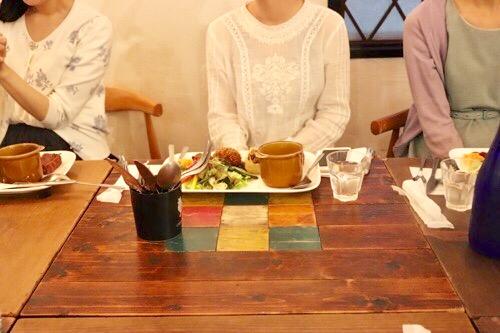 We participated in a lifestyle roundtable session with the developers of cosmetic products to have an open discussion about the concerns and the needs in order to commit to vegetarianism.
The roundtable was hosted to raise awareness for vegetarianism, not only about the dietary aspects but also about personal care products for daily use, such as cosmetics and shampoo.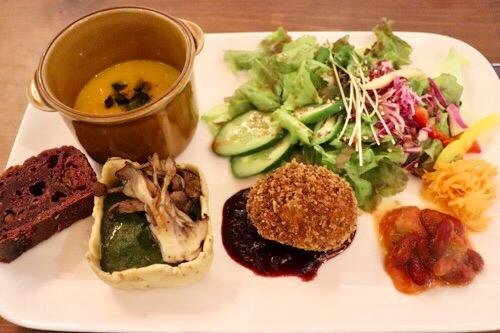 We were accommodated with a special vegan plate for the occasion!
All of the vegetarian women who gathered raved about the delicious plate which included the vegan quiche with mushrooms and spinach, and the meatless "minced cutlet" with red wine sauce!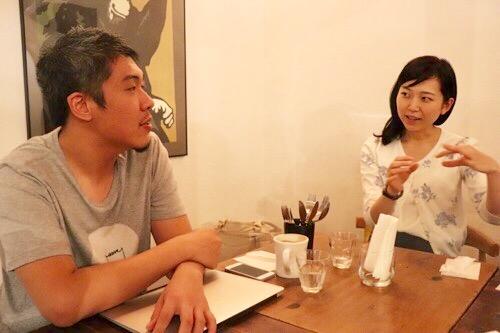 The event was facilitated by owner Mr. Shigetani (pictured left).
Each participant had different reasons for choosing a vegetarian diet.
From those who started for health and longevity reasons to those who pursue a sustainable way of eating from an ethical standpoint,
and some with concerns for animal welfare as well as those who just enjoy eating delicious vegetables – the reasons are manifold.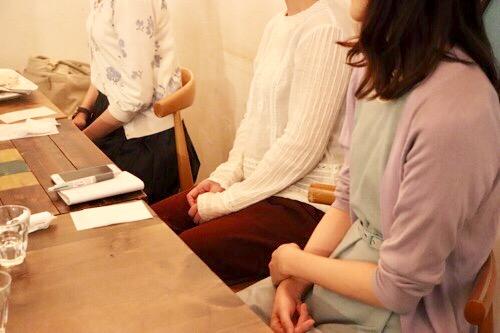 The women had similar concerns that we can all relate to:
"I've been told that I'm living in a bubble."
"I totally agree! The other day, someone told me I was a sennin (an enlightened immortal). Maybe they think I'm following some sort of ascetic practice?"
"I'm often asked if I don't feel fatigued from not eating meat. In truth, I actually feel so much better."
The lively talks continued as the women shared their common experiences with the social biases toward vegetarians!
There was one participant who became a vegetarian during her life overseas, and she has had trouble adjusting to the difference of how vegetarianism is handled in Japan when compared with other foreign countries.
She shared with us her experiences of how establishments in other countries prepare the vegetables separately from the meat on different cutting boards.
She also remembers being able to enjoy meals with everyone where vegan options were available even at steakhouses.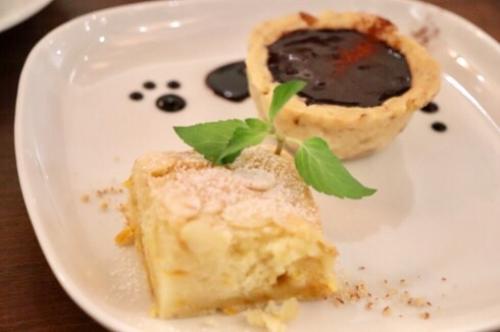 So what kinds of cosmetics do vegetarian women prefer?
We're all curious to know, because it's not often that we bring up these kinds of subjects that are unrelated to eating.
"My skin would become irritated from using products that contain proportionately high chemical substances after I switched to a vegetarian diet."
"Me, too. I've also become more sensitive to artificial odors like perfumes. It's like my body would naturally rejects things like that."
For these reasons, there are many people who choose products with organic raw ingredients; however, how specifically a person follows that practice differs for each individual.
According to the participants, some of the criteria for choosing products depended on whether they: have been tested on animals, use ethical packaging, or contain fair trade ingredients, while others look for the most affordable product as long as there is an organic label.
Some people even prepare handmade cosmetics for themselves.
"Eating out as a vegetarian can get very costly, so it takes a toll on my finances.
Healthy eating is top priority and I try to stay on the safer side for other things, but I can't get around to buying organic cosmetics because they are so expensive."
So we are seeing the issue with the high cost of raw ingredients.
It's not often that we have the opportunity to talk about these topics, so all of the participants were really engaged in the discussion.
Could these talks lead to the invention of new cosmetics?! It's great to know that corporations have begun to show interest for vegetarianism.
Café VG hosts these events in a casual and easy manner. Feel free to visit the café at any time to enjoy the perfectly relaxing atmosphere.
*The information contained in the article is as of the date when we interviewed and subject to change. We strongly recommend that you make an inquiry to the store prior to your visit.
Store Information
Click here for location and detailed information on Café VG.
Healthy Restaurant Search
Did you know you could search for restaurants on Vegewel?
We provide searching services centered on healthy restaurant choices including organic, gluten-free, vegetarian, and more so please give it a try!