Mikawaya, natural food restaurant in a fine liquor store. Enjoy a variety of drinks and a vegan friendly menu! [Mejiro]
Updated:2019/02/01 Created:2017/12/23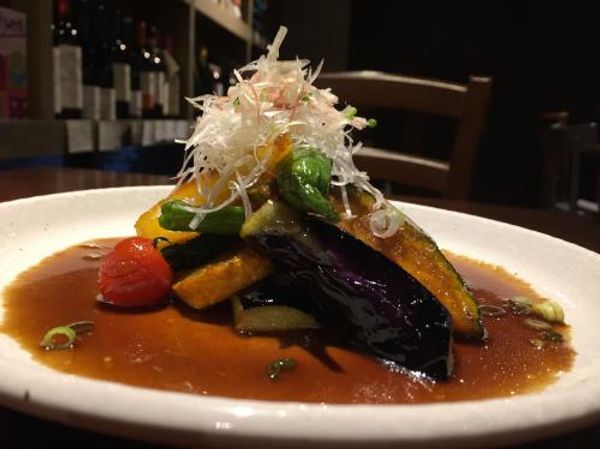 A third generation fine liquor store situated in Mejiro has refurbished its store premises in 2017.
It now has more variety of organic alcohol and since 1st May it has opened a natural food restaurant called "Mikawaya" inside their store!
The restaurant also has a vegan friendly menu and has become a popular topic of conversation amongst local people.
We had an opportunity to interview Mr. Takashi Komiya, the owner of Mikawaya as well as the third generation owner of Mikawaya Komiya store to ask him about the background stories of the restaurant opening, his passion for alcohol and food etc.
Click here for location and detailed information on Mikawaya.
Visit Vegewel to search for veggie, vegan and gluten-free restaurants!
A fine liquor store deeply rooted in the local community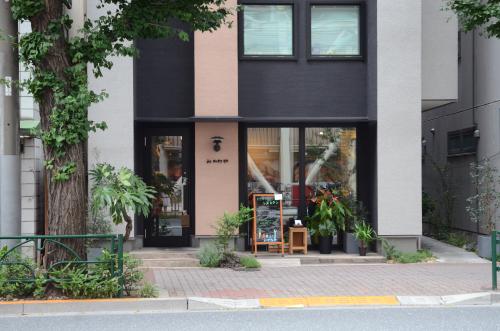 "Mikawaya" store is about an 8 minute walk from Mejiro station on the JR Yamanote line. The store is situated on a busy road used by local people.
"We have refurbished our store premises before the 20th March when I become the independent owner.
We then opened the restaurant on 1st May. We now have many regular customers from the neighborhood.
Some of the long-term customers of the liquor store now often visit the restaurant as well."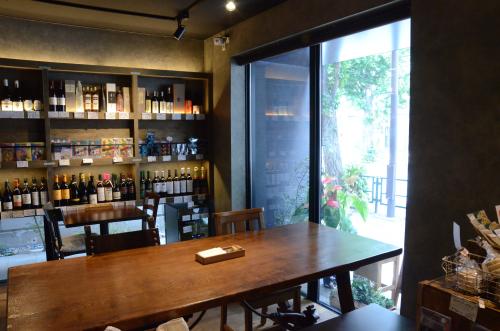 The store has a laid back and relaxed atmosphere inside and out. It's a perfect space to enjoy alcohol and meals.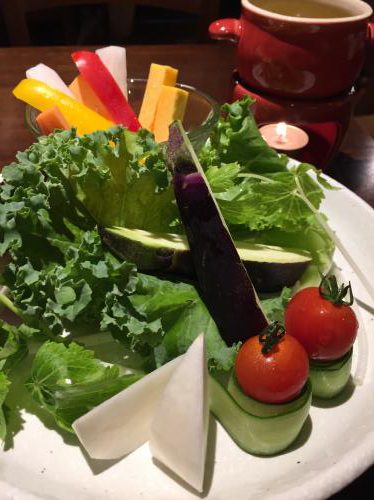 Vegetables are a main part of most dishes at Mikawaya, and their sales point is that the ingredients are free from additives or any chemical seasoning.
Also all dishes are made to accompany the alcoholic drinks served at the fine liquor store.
"We purchase vegetables from farms I know and trust. I used to work for an organic food store and I am still appreciating the network and contacts I have developed.
Now we purchase from various farms and thus we are able to provide a variety of ingredients evenly from different areas."
The vegetarian and vegan friendly menu is marked with a star "☆" on the menu.
Cooking oils and pans are used separately from those used for meat and fish meals in order to create thorough vegetarian and vegan friendly meals.
What a lovely support for rigid vegetarian and vegan customers!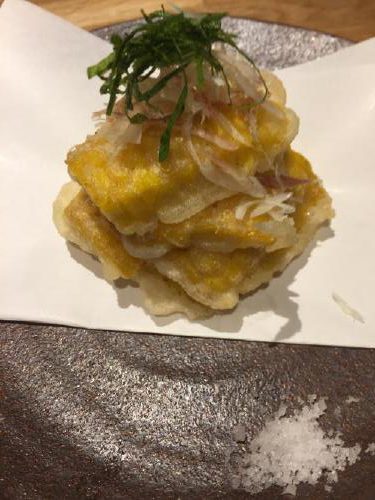 The above image is of "a Chiba prefecture grown sweet corn Tempura (480 yen, tax excluded)". The sweet corn is compact and the tempura is quite filling.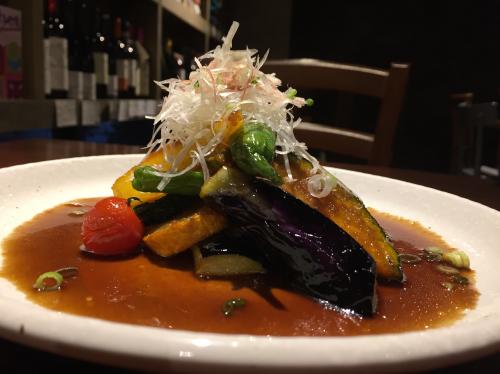 This is one of the most popular dishes, "stir fried seasonal vegetables with ginger sauce (1,080 yen, tax excluded)". It looks a perfect side dish for drinking!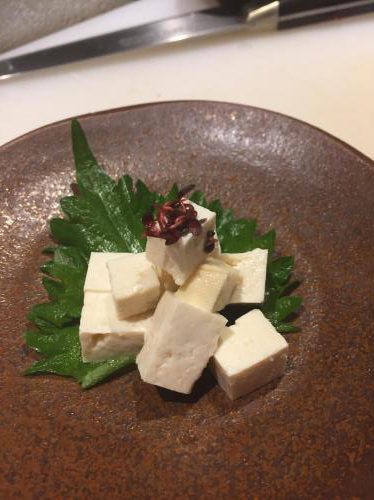 Appetizer dishes are available such as "tofu preserved in miso (380 yen, tax excluded)" and "assorted smoked food items (680 yen, tax excluded)".
All food is hand cooked by Mr. Komiya. Imagine Saikyou-zuke (fish pickled in sweet Kyoto-style miso) and smoked food items prepared by the fine liquor merchant store.
Expectations rise by using your imagination! You can order vegan friendly smoked food items such as tofu and nuts.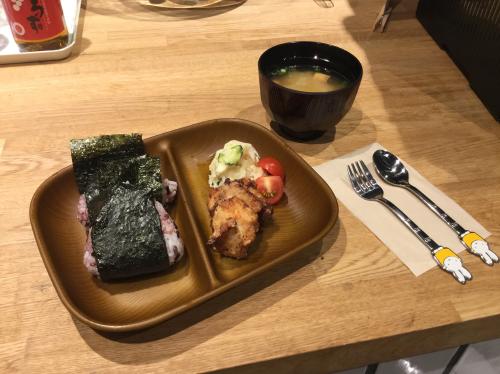 Kids meals are available as well which is great for families.
"Kids meals (580 yen, tax excluded) include fried chicken, but if you want the fried chicken can be replaced by vegan friendly choices."
The soup stock for miso soup served at Mikawaya is made from vegetables and vegan customers can enjoy too. It has a mild flavor and is suitable for children to try as well.
Traditional Japanese homemade meals are heartwarming for Japanese people.
Whilst being meticulous about the ingredients and preparation, the prices are still very reasonable. I'm not surprised to know that the store has many regular customers.
Recommended bottles are lined up! Enjoy organic wines selected by the owner.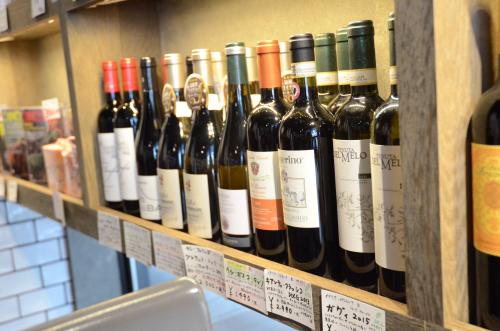 Customers can of course enjoy drinks. Bottles are lined up! It makes our choice difficult which one to try first.
After Mr. Komiyama became the third generation owner of the store, he has changed the line-up of products.
"Since the store's refurbishment, many bottles were selected with particular thought in their accompaniment to the dishes served at the restaurant.
Also we've actively started ordering organic products. We have vegan friendly alcoholic drinks which have no animal products used in the process of making."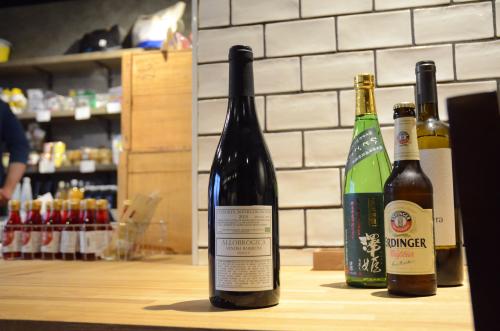 The above is a red wine that has a lovely taste throughout the year. It has an organic logo.
As a tip, it's nice to cool red wine for a while before drinking it. If you eat meat, Mr. Komiya's recommendation is that red wine goes well with pork or chicken.
The above image is of totally vegetable originated wine, suitable for people with a vegan diet.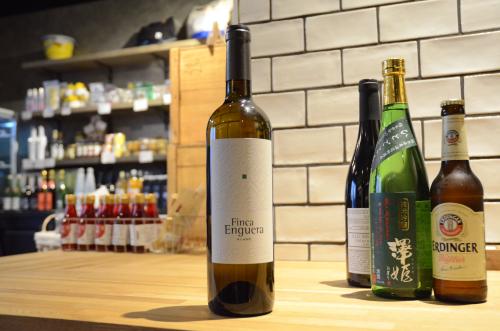 The above is an organic, completely animal-free white wine.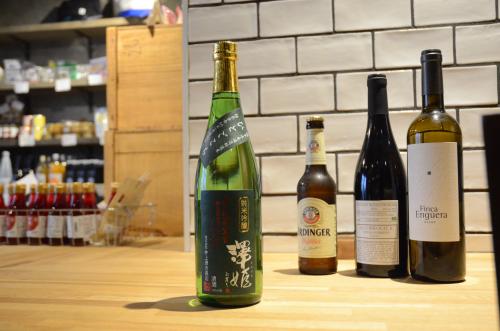 "Above is the one I recommend to the customer who would like to try sake but not sure which one."
It's "Sawahime" made in Tochigi prefecture. It's dry, and generally goes well with dishes served at Mikawaya. If you are unsure which one to try, please order this one!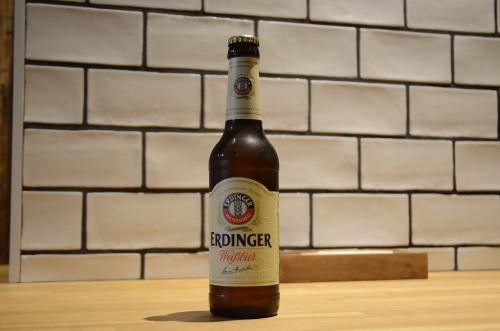 I recommend a German made beer "Erdinger" if you would like a bottled beer.
German beer is made purely from "barley, hops, water and yeast". Please enjoy the natural taste!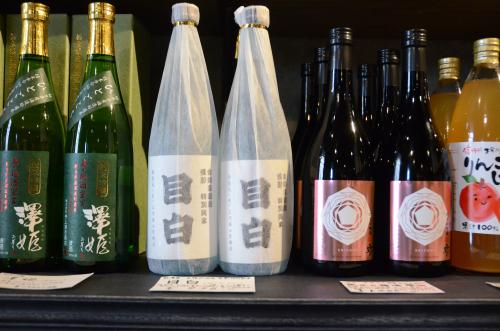 The above is a Mikawaya original labeled sake called "Mejiro".
"The ' Mejiro-no-mori park' situated at the back of the store used to be a part of the mansion belonging to a wholesale liquor store.
The lady living in the mansion comes from a sake brewery in Niigata. She kindly offered for us to have our own labeled sake and the 'Mejiro' sake has been made since then."
Why don't you have one bottle as a token of visiting Mejiro?
Customers can taste any of the drinks sold in the store. What is the special deal 'cork charge' system?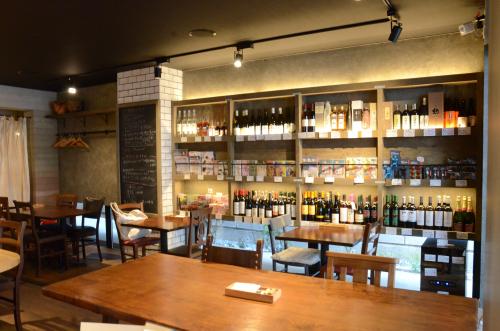 At Mikawaya, customers can enjoy any drinks in the restaurant, which include alcoholic drinks sold in the store.
And it offers a very reasonable "cork charge" system – only found in the fine liquor store!
"Many of you might have experienced that if you want to taste a particular bottle, it can be expensive at restaurant prices and you may not be able to finish the bottle during your meal.
At Mikawaya, customers only pay the marked price on the bottle plus a cork charge and then they can taste any bottle at the restaurant.
And if you cannot finish it, you can take it home with you. Please make use of this system!"
The cork charge is as the name suggests the charge to cork the bottle.
At Mikawaya, the charge price is set as 1,000 yen if the bottle is 700ml or more, and 300 yen if the bottle is less than 700ml,
and once you pay the marked price together with the cork charge, any drink can be enjoyed together with the meals. Comparing the prices to a normal restaurant charge for bottles,
they are very reasonable! And it's like a dream to pick up a bottle of your choice from a wide range at the liquor store!
You can take the leftover drinks home, so it's a good system even if you are not a regular customer.
"We are originally a fine liquor store and therefore we would like many people to know about the cork charge system.
Not only the healthy dishes we serve, please enjoy the drinks specially selected at the fine liquor store as well!"
If you enjoy fine liquor please make note of this restaurant!
*The information contained in the article is as of the date when we interviewed and subject to change. We strongly recommend that you make an inquiry to the store prior to your visit.
Store Information
Click here for location and detailed information on Mikawaya.
Healthy Restaurant Search
Did you know you could search for restaurants on Vegewel?
We provide searching services centered on healthy restaurant choices including organic, gluten-free, vegetarian, and more so please give it a try!