Vegetarian or not, the locals love the"Original Vege Food"at 6889cafe! [Minami-Machida]
Updated:2019/02/01 Created:2017/12/21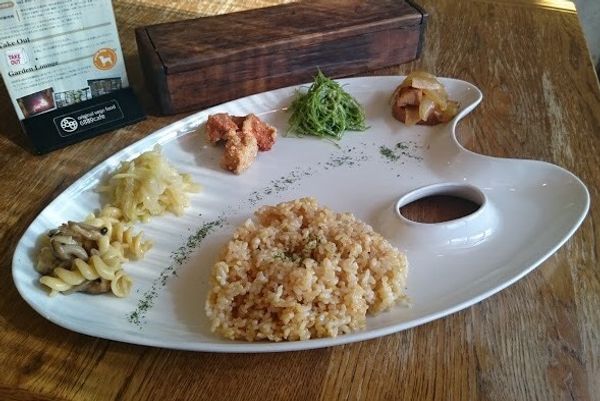 6889 cafe was closed on 31/7/2018
The "original vege" restaurant, 6889cafe, just celebrated its 8th year in business this year on July 7th.
Just a 5-minute walk from Minami-Machida Station, which is currently undergoing a massive renewal, is where you'll be able to enjoy the "Original Vege Food" created by owner Ayumi Tomoi.
Her original vegan recipe has been attracting a large fan base, vegetarian and non-vegetarian alike.
We met with Ms. Tomoi to hear about the concept of the restaurant, how she became a vegan, what she feels is important in making vegan food, and more.
Click here for location and detailed information on 6889cafe.
Visit Vegewel to search for veggie, vegan and gluten-free restaurants!
Original Vege restaurant located in the trendy Minami-Machida Station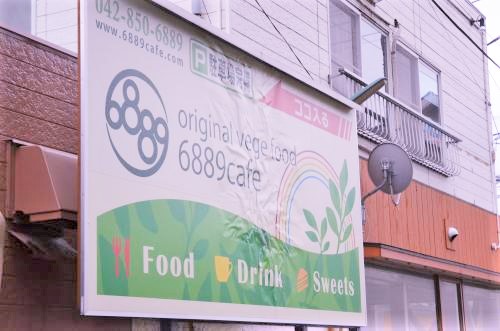 At Minami-Machida Station on the Denen Toshi Line, there used to be a popular shopping complex called Granberry Mall;
however, it is currently closed due to redevelopment. The construction is due to continue for another few years until the large-scale shopping mall is completed.
"When Granberry Mall was still there, many shoppers stopped by 6889cafe.
When the new shopping mall opens, I think they'll be more foot traffic and this area will regain its livelihood again!"
The café is now bustling with the locals.
Many of the patrons are those who stop by while walking their pets to take a break in the porch area (Pets are only allowed in the porch area).
The café is located in a residential neighborhood, but there are large signs along the way to lead you from the station!
The area is sure to be a point of great interest in a few years, so how about getting a head start on getting to know the café before it starts to get too busy?
Approved by Happy Cow! The international vibe attracts many foreign customers.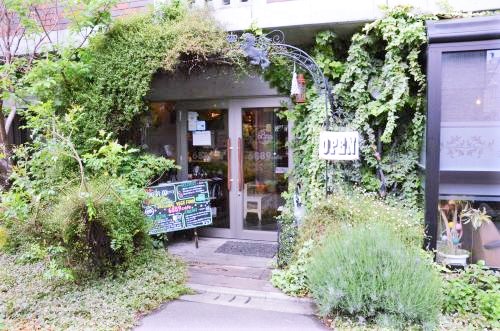 "The Zama military base is close by, so we occasionally have vegan and vegetarian customers from the base," says Ms. Tomoi.
Sure enough, when we were interviewing, about half of the patrons were foreigners.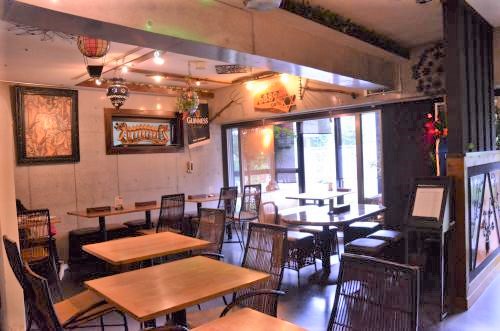 The fun interior is decorated and styled with all of the things that the owner loves.
The tables are placed with enough space in between to ensure a comfortable setting.
"The director of HappyCow visited us with his wife. At the time, I wasn't aware of who they were, but they visited two days in a row and just as they were leaving, they said,
'We give your store five stars!' and gifted us with a 5-star sticker."
HappyCow is a world-famous online dining search site for vegans and vegetarians.
Many foreign travelers in Japan rely on HappyCow to find restaurants to suit their culinary preferences, so being featured in the site will certainly attract more foreign customers.
Undoubtedly, 6889cafe is a true vegan restaurant, approved by the director of HappyCow, who has visited numerous vegetarian and vegan eateries!
What does 6889 mean, and what is that yin-yang-like symbol?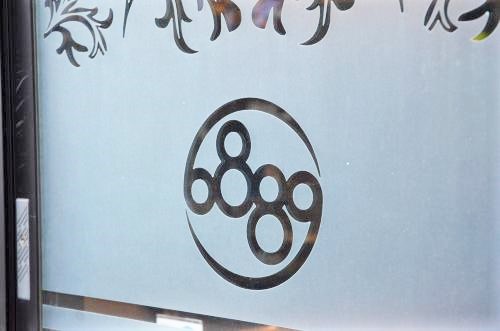 The first question we wanted to ask in the interview was the origin of the name, 6889cafe. Is there a profound meaning in the numbers 6889?
"No. It just so happens that the former address for the location of this café was '688-9 Tsuruma.'
There is no particular meaning to it, but the number 6889 is still 6889 when it's flipped upside-down.
So I thought I'd be able to make a logo that looks like the yin-yang symbol.
Moreover, I figured if I used numbers in the store name, it would stand out in the search results and capture more traffic."
Indeed, the numbers 6889 does stay the same after they've been turned over. The logo is also very well designed with an apparent nod to the yin-yang symbol.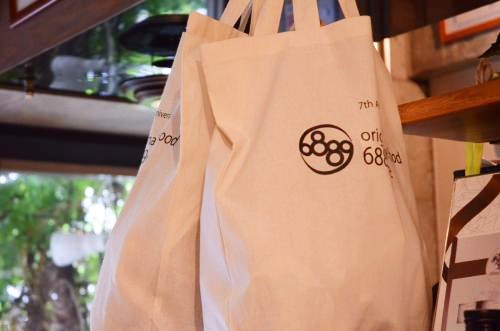 Inside the store, you'll see some merchandise that feature the 6889 logo available for purchase!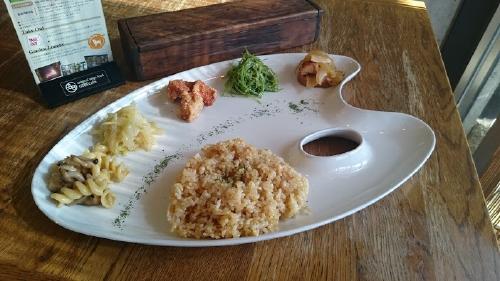 Even though the shop logo incorporates the yin-yang symbol, the menu at 6889cafe does not follow a strict macrobiotic practice. There is a very good reason for this.
"While I do have knowledge about macrobiotic cooking, I don't publicize that we are completely macrobiotic.
I thought if we put too much emphasis on our macrobiotic or vegan aspects, we would end up narrowing our range of customers.
We think about how we can satisfy even the non-vegetarian customers with our vegan-style and well-balanced foodstuffs. That is why we dubbed our menu, 'Original Vege Food.'"
The most popular menu is the Café Select (1,280 yen inc. tax), which consists of brown rice and five deli selections of the day.
"Women tend to prefer to eat a little of everything; and since we cater to a lot of female customers at 6889cafe, the Café Select has become a customer favorite."
*Arrangement of the actual dishes may differ from what is shown in the picture above.
Other plate offerings are the Soy Meat Karaage (deep fried), 1,280 yen inc. tax; and the Vege Taco Rice, 1,280 yen inc. tax.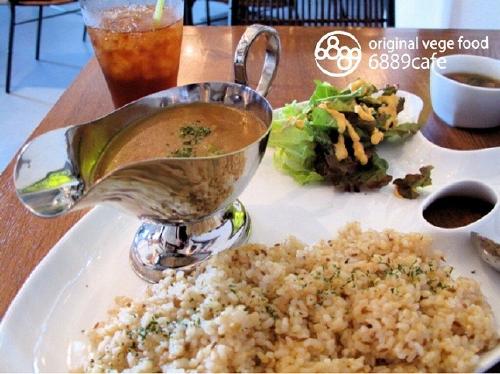 The curry is popular, too!
6889 Original Curry (1,280 yen inc. tax) is served with a choice of rice or chapati, with multiple topping options such as Kuruma-fu Fry (Fried Weat Gluten) and Soy Meat Fillet Cutlet that'll have your mouth watering.
*Arrangement of the actual dishes may differ from what is shown in the picture above.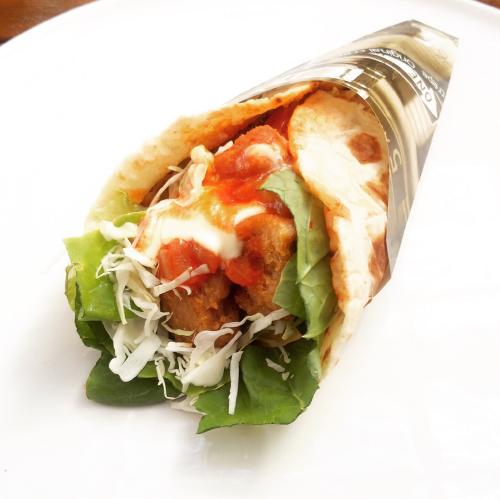 Chapati is a type of unleavened bread common in South Asia.
6889cafe uses these chapatis to serve a variety of Chapati Rolls.
*Arrangement of the actual dishes may differ from what is shown in the picture above.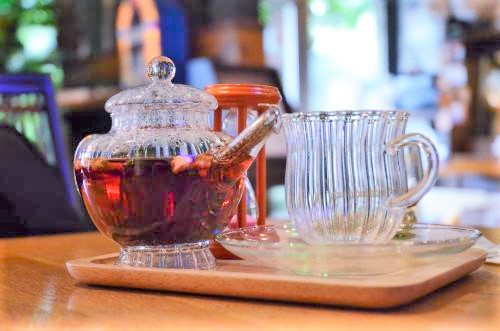 During our interview, we were offered herbal tea. The selections of herbal tea all have tempting names: Bihada (Beautiful Skin), Stress, Kenko (Health), and Hie (Cold Sensitivity).
The pictured pot of tea is the anti-aging blend of Bihada.
It was a very hot day and we felt the sour note of tea soak into our body… Do try the soothing effects of the hot tea, even in the hot seasons!
They offer a wide range of drinks from coffee, tea, juice, soy drinks, to alcohol.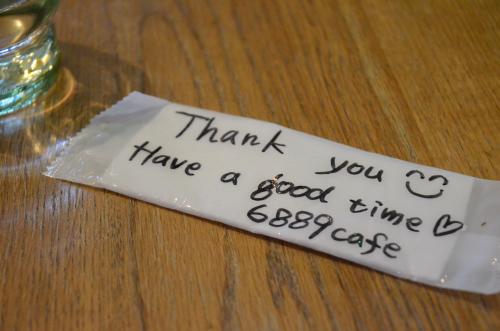 There's even an uplifting message on the napkins you receive on arrival! 6889cafe has so much appeal that will make you want to come back again and again.
*The information contained in the article is as of the date when we interviewed and subject to change. We strongly recommend that you make an inquiry to the store prior to your visit.
Store Information
Click here for location and detailed information on 6889cafe.
Healthy Restaurant Search
Did you know you could search for restaurants on Vegewel?
We provide searching services centered on healthy restaurant choices including organic, gluten-free, vegetarian, and more so please give it a try!