"Marugo Deli Ebisu"- A Pioneer of the Healthy Smoothie Boom!
Updated:2019/02/01 Created:2017/11/19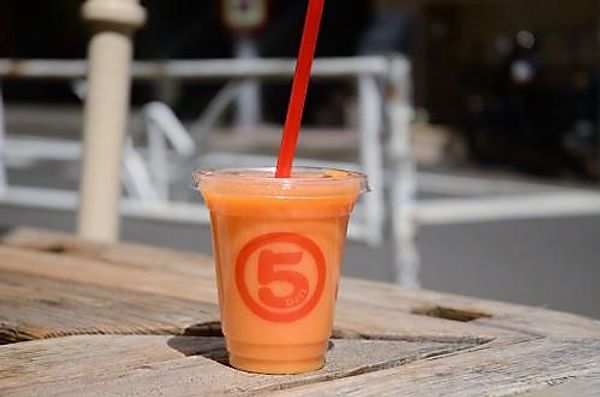 The "Marugo Deli Ebisu" commemorates 7 years since it's opening in May 2011. It originated from a juice shop chain in Okayama prefecture.
It serves mainly fresh and healthy smoothies made from specialty fruits and vegetables, and also has a variety of other food and drinks which are good for your body.
Therefore, one might be able to say that it's a pioneer of the healthy smoothie boom.
We were fortunate to have an opportunity to interview with Ms. Kazumi Hashimoto, the owner of the "Marugo Deli Ebisu" and ask her about the background stories of the store opening, about her passion for the store and the food, about the menu etc..
Click here for location and detailed information on Marugo Deli Ebisu.
Visit Vegewel to search for veggie, vegan and gluten-free restaurants!
Easily stop by while out for a stroll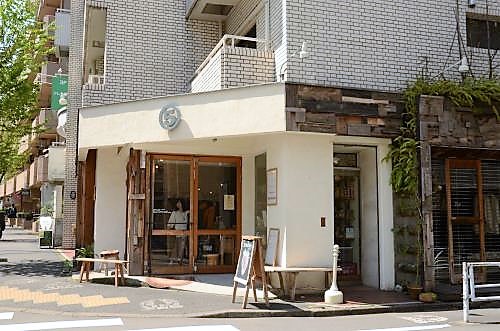 The Marugo Deli has a fashionable exterior and looks as if it's situated in a foreign country.
The weather was very nice when we went to the interview and we felt as if we were in Hawaii! Maybe because of the atmosphere at the store, about 40% of the customers are foreigners.
During the weekdays, the store receives customers from the local neighborhood constantly.
And weekends are even busier with new customers as the store has been featured in magazines and other publications.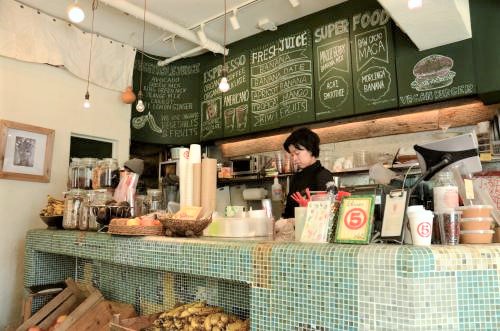 You might think the Marugo deli has more female customers, but we have seen quite many individual male customers while we were visiting.
Most of them were ordering smoothies to take out in an accustomed manner.
The Marugo deli accepts customers who bring their pets, so there were customers who stopped by whilst out walking their dogs.
It makes you smile when customers sit down on the outside bench to rest with their dogs whist enjoying their smoothies under the sunny sky.
A healthy smoothie is the best drink to enjoy whilst taking a break from a stroll.
Ms. Hashimoto says "during the warmer months, we leave the door open. Please feel free to stop by".
Calabas speaker and hemp wall paper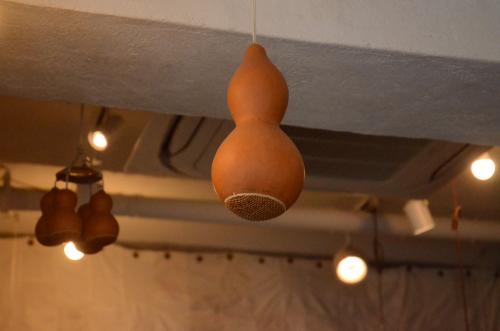 As was expected from its fashionable exterior, you can find that the store is very particular about its interior selections.
Calabasas are hanging from the ceiling – and as you observe closely, these calabasas are speakers!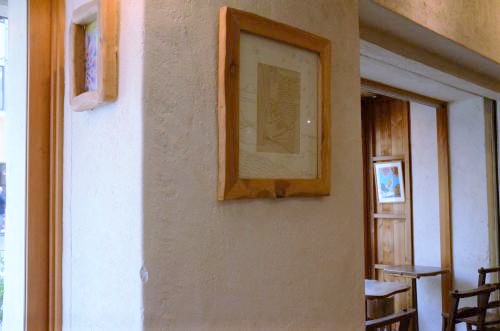 It's wall paper is made of hemp fabric.
Hemp is a kind of linen, and is a natural material which has good characteristics for your body such as good water absorption, antibacterial, UV protection.
Hemps do not require pesticide or chemical fertilizer to grow. Also, they can be used as fabric, food, paper and construction materials.
Therefore, hemp is considered as one of the great resources to stop the World from environmental destruction.
Don't forget to check out the specialty store next door!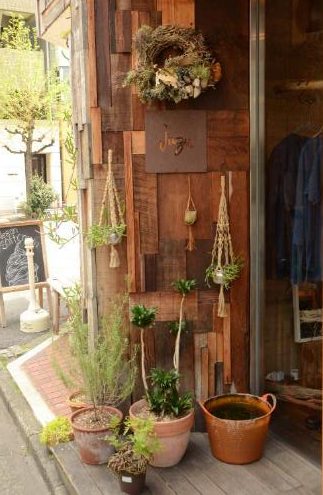 The specialty store "Juzu" next to the Margo Deli is run by Ms. Hashimoto's husband.
This store sells good quality denims, and also its original brand hemp fabrics called "GOHEMP".
Smoothies making use of the natural taste of the ingredients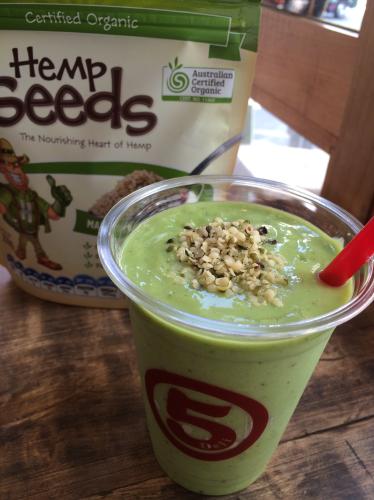 The signature drink of the Marugo Deli is smoothies. A wide variety of choices are available such as vegetable based and superfood smoothies.
What is the most popular drink?
"Green flavored smoothies are selling most".
"The Hemp King Mix (850 yen inc. tax)" is particularly popular.
"It's a mixture of very nutritious hempseed, Komatsuna (Japanese mustard spinach), banana and avocado. Depending on the season, we replace Komatsuna with kale".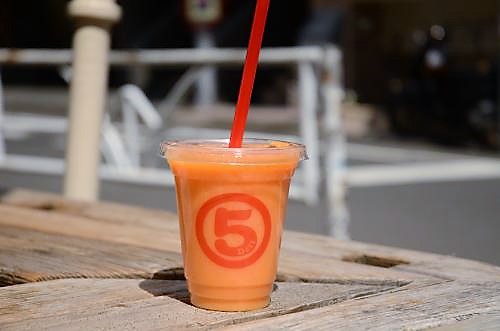 When we had the interview with Ms. Hashimoto, I had the "Orange mix (620 yen inc. tax)" smoothie.
You can definitely taste the orange and other ingredients, and at the same time, it is mild and smooth with the sweetness provided by the bananas.
Some of the smoothies at the Marugo Deli use unrefined sugar, but most of them do not include sugar. Instead they use natural sweetness from fruits such as dates.
On a side note, during the season when bananas ripen and become widely available, the store does not use sugar in their smoothies at all.
It is delightful to have a tasty sweet drink, using only natural ingredients.
"Our smoothies were milk based initially, but have now been replaced with a soya milk based. This is because of the increasing demand by vegan customers."
According to the store, almost all smoothies are vegan friendly in response to the needs of the customers. This is a reflection of the recent healthy trend in society.
Smoothie bowl – it is good for your body and good for your eyes too!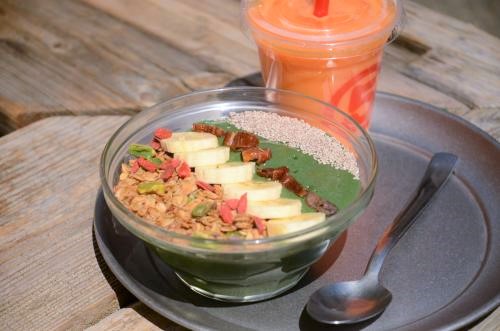 I tried the "Raw Spirulina Smoothie Bowl (1,500 yen inc. tax)". (see the photo)
The granola placed on the smoothie was so yummy! It was a smoothie but it provided me with a substantial meal as the granola and goji berries were part of the ingredients.
It looked colorful and it made me feel excited just looking at it!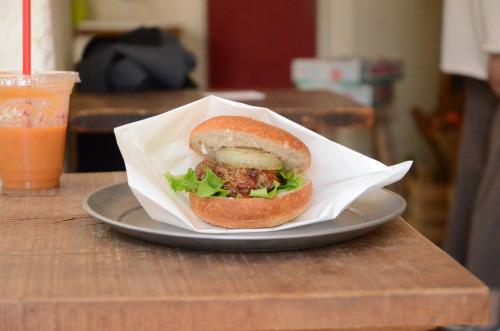 The Marugo Deli has developed a wide range of dishes for their menu such as smoothies, drinks menu, sweets, brown rice balls, hamburgers etc.
"The brown rice balls are one of the favorite dishes amongst their regular customers.
It's because cooking tasty brown rice takes time and requires experience to get right. Please come to our store and taste our delicious brown rice. "
The Marugo Deli has initially started as a juice store but they have expanded their menu from juice and smoothies to a wider variety of healthy food for their menu.
"One day I want the store to serve a wider variety of food on our menu just like a restaurant, although it's difficult to do so at the moment!
Also I want to expand the menu of our side dishes like a deli".
Ms. Hashimoto is full of ideas. We are really look forward to the forthcoming new menu!
*The information contained in the article is as of the date when we interviewed and subject to change. We strongly recommend that you make an inquiry to the store prior to your visit.
Store Information
Click here for location and detailed information on Marugo Deli Ebisu.
Healthy Restaurant Search
Did you know you could search for restaurants on Vegewel?
We provide searching services centered on healthy restaurant choices including organic, gluten-free, vegetarian, and more so please give it a try!