Fancy a vegan burger? You must visit ORGANIC TABLE BY LAPAZ【Gaienmae】
Updated:2019/02/01 Created:2017/07/17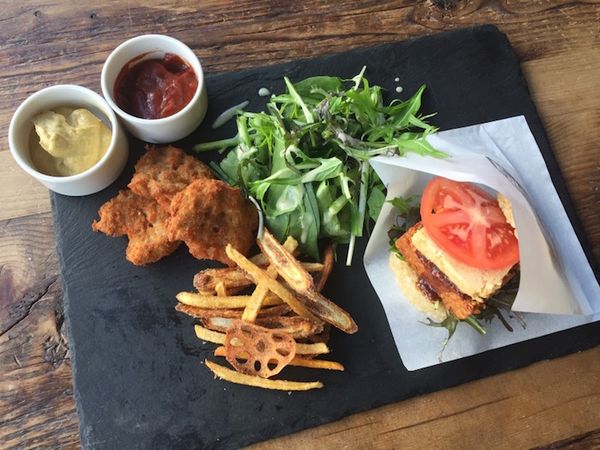 A café located in Gaienmae, ORGANIC TABLE BY LAPAZ has offered only vegan food since February 2017.
Ms.Toyoda, director told us about the philosophy and history of café.
Click here for more detail on the café including its location.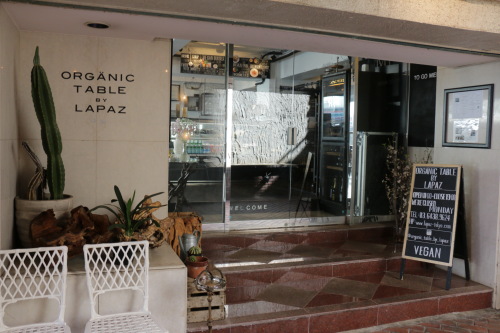 LAPAZ was established in August 2011 and relocated to the current address in April 2014.
They have started to offer vegan foods since January 2017 and limited only vegan menus to be served since February.
Needless to say, their food contains no animal ingredients such as meat, fish, dairy and egg.
Now let's see what kind of menus is served in LAPAZ.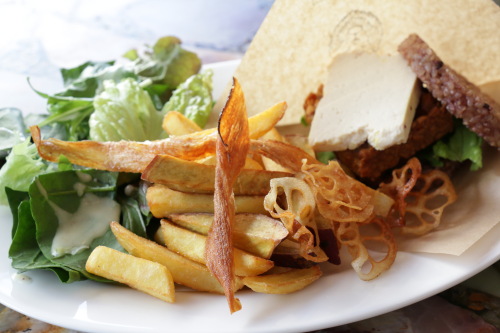 Vegan Burger (1000JPY) served with a side dish, FRIED VEGE (450JPY)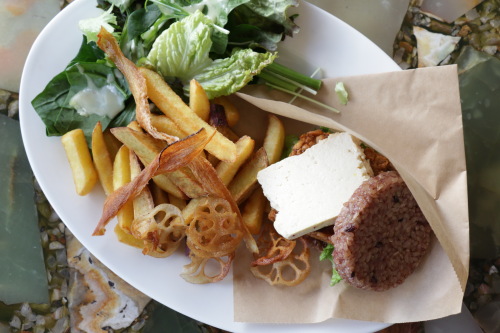 For Vegan Burger, 3 types of bun as well as filling are available to choose one each.
The image is a combination of cereal bun (brown glutinous rice, black rice and adlay) and TOFU cheese & tempe filling.
Tempe is a traditional Indonesian fermented soy bean food. But it has neither strong smell nor stickiness.
It's a very gorgeous cereal bun's burger with crispy deep-fried tempe and rich miso tofu cheese. Cereal bun is rich in fiber and vitamins which we may not be able to take enough in our daily life.
FRIED VEGE is a side dish of deep-fried organic lotus root, burdock root, potato and sweet potato. Aromatic root veggies and sweetness of potato and sweet potato are irresistible.
In general burgers are considered as a junk food but LAPAZ changes completely its ill reputation. Additionally, the dish also makes hungry chap's tummy happy.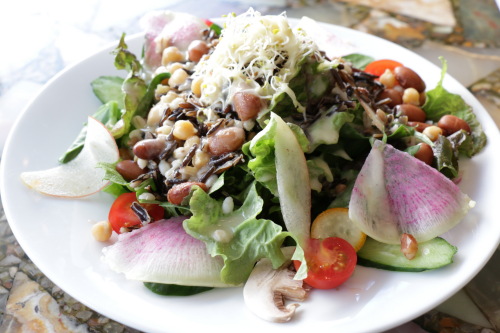 Here is grain salad on rice (1200JPY).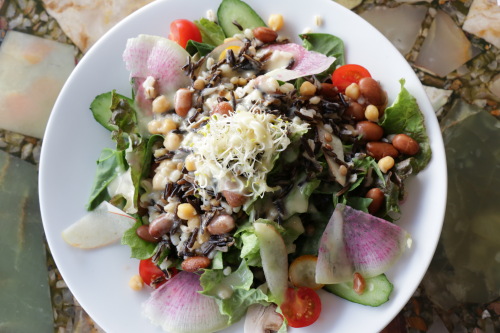 Organic leaf vegetables are served on organically grown Koshihiari brown rice from Yamagata.
It's rich in vitamin and fiber and makes your tummy satisfied, too!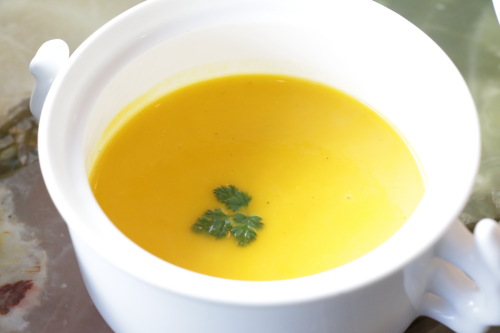 For the grain salad on rice, soup of the day is served. The image is rich and creamy carrot and ginger soup.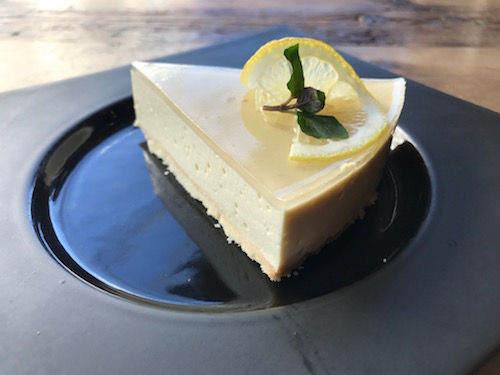 Why don't you try vegan cheese cake (700JPY) for dessert? It is made with lemon, soy milk cheese and cashew nut cream. Its creamy taste is just like usual cheese cakes.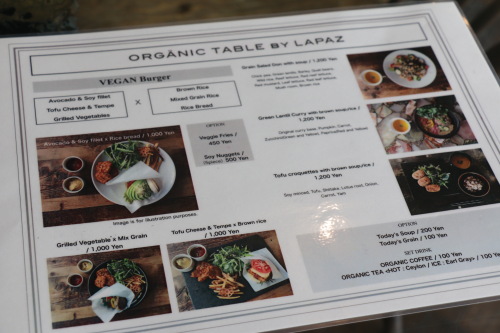 English menu with images is also available.
Spacious café space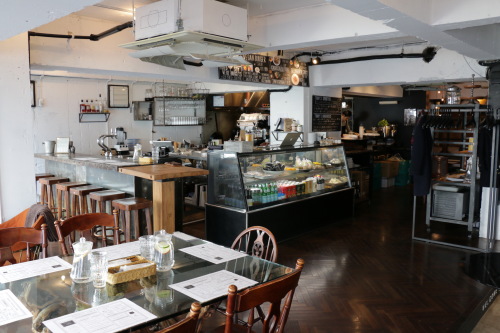 Large glass windows up to the ceiling make the café space bright. They welcome also group guests.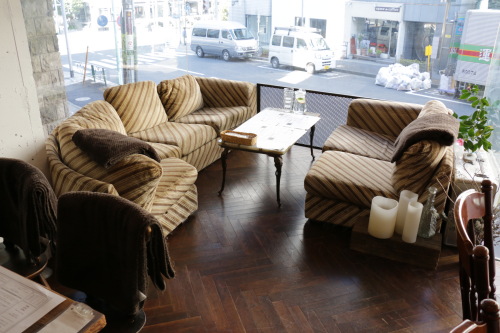 Take a sofa seat if you want to have a relaxing time.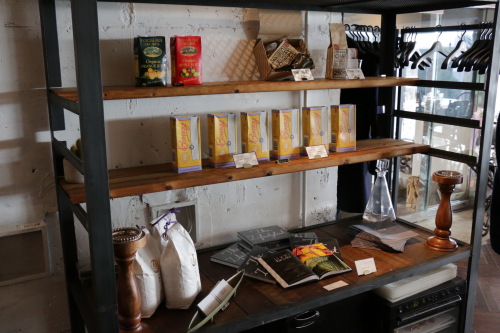 LAPAZ selected products such as Bonsoy, organic soy milk are also available to purchase.
Think about guests, make careful preparations and serve the foods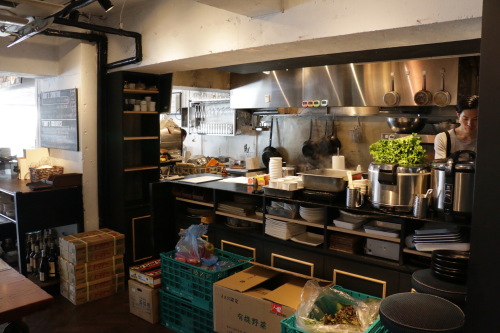 As you can see a word "ORGANIC" in its name, LAPAZ uses organic ingredients or ingredients grown with less pesticide as much as possible and they have never compromised in quality.
As they have served only vegan menus since this February, no animal ingredients are used.
The chef who worked at a vegan restaurant in NY organizes its menus inspired by macrobiotic diet. Thus all the foods contain no white sugar.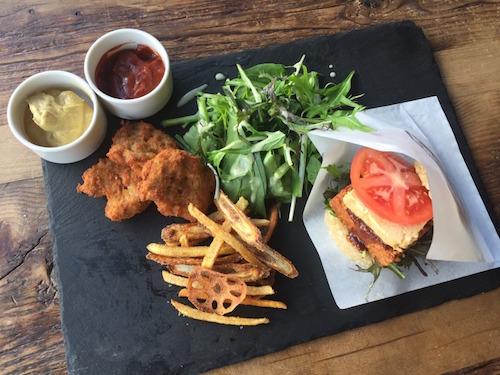 Ms.Toyoda said that we would like you to know something to be changed if you eat something good for your health at least once a week.
LAPAZ's philosophy is,
Think about guests, make careful preparations and serve the foods
Since all the staff and producers work together under this philosophy, the café is always busy with a lot of customers.
Don't forget stopping by the café when you go to Gaienmae!
ORGANIC TABLE BY LAPAZ
Click here for location and detailed information on ORGANIC TABLE BY LAPAZ.