Café Mugiwarai, Where You Can Enjoy Natural Yeast Bread and Healthy Side Dishes! [Minowa]
Updated:2019/02/01 Created:2017/11/17
Located near the Minowa Station in Taito Ward, Café Mugiwarai just celebrated their 12th year anniversary since opening in December 2004.
Because of their special natural yeast bread and health-conscious cuisine which can be enjoyed in the dining area,
the café has a devoted following of fans from the local community as well as from afar after hearing of its reputation.
Vegan and macrobiotic menus are also available, a relief to those who practice a strict plant-based diet.
We've asked the owner, Masae Nakagawa, about her special bread and the healthy dishes that accompany them.
We were also able to touch on her wonderful personality and her passion for her creations.
Click here for location and detailed information on Café Mugiwarai.
Visit Vegewel to search for veggie, vegan and gluten-free restaurants!
A Charming Storefront Adorned with Flowers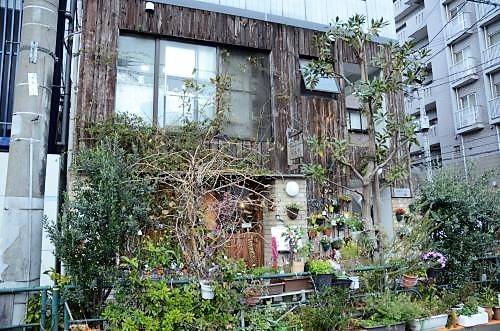 Walking along a busy street with heavy traffic, you'll suddenly come face to face with this wooden building surrounded by greenery.
This is Mugiwarai with a suggestive appearance that something good must be served here.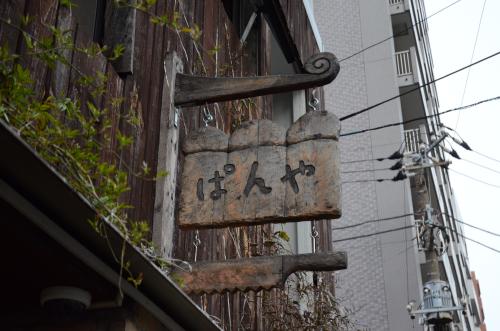 The welcoming sign looking like it came straight out of a children's book reads, "Pan-ya", meaning bakery.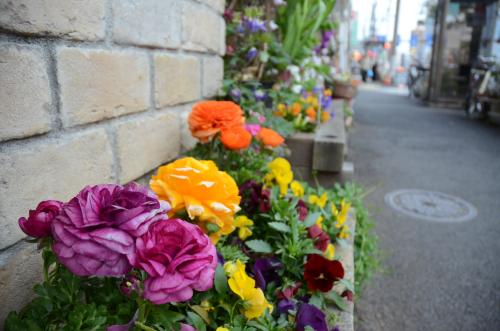 In front of the store are rows and rows of flowers! Enough to make you want to stop and appreciate them.
All of these flowers are tended by the staff, and blooming beautifully to please the eyes.
Warm Wooden Interior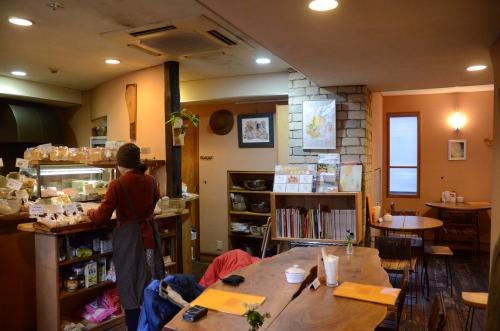 As you can probably guess from the exterior of the store, the inside is also designed with wood and bricks, creating a warm and cozy atmosphere.
It's exactly what you would imagine a bakery would look like in a fairy tale.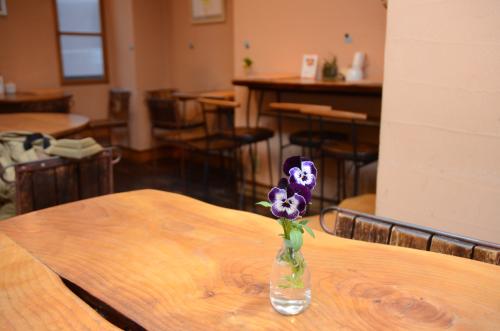 Each table is tastefully adorned with flowers.
Popular Natural Yeast Bread Attracts Customers from Afar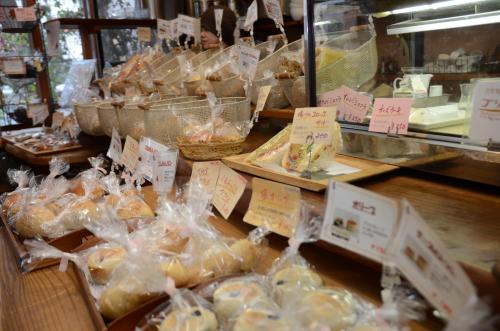 As soon as you walk in, you'll see a section of delicious-looking bread!
Their bread is made with natural yeast – very healthy and undoubtedly scrumptious!
You're sure to notice Nakagawa's passion for her bread making once you have had a bite of her bread.
The bread is so good that people come from far and wide just to buy them.
A lot of their offerings are sold out by the afternoon so it's best to get there early if there is any bread you want specifically.
Healthy Sides to go with the Bread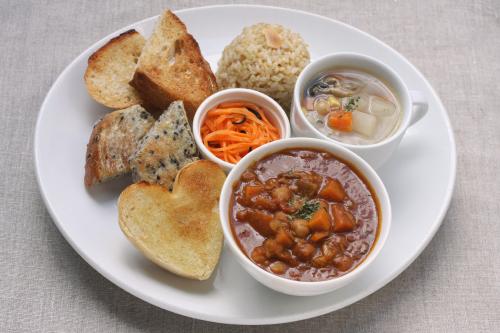 Mugiwarai serves a range of meals in addition to their bread for you to enjoy.
"Our menu is created with the thought of matching them with bread." They offer a vast menu, requiring many visits if you intend to try them all.
"We've served some limited-time-only menus, but we'll still make them if we get a request from the customer.
Everything in the menu is like that – haha. I feel bad if I can't provide them with the dishes they came here for.
So I ended up including the requested dishes in the regular menu."
That's proof that everything on the menu is tasty enough to be regularly requested by their patrons!
The menu includes a wide range of dishes from vegan and macrobiotic style diets to dishes partially using dairy, eggs, or ham.
You'll have the option of omitting the butter, which usually accompanies your order of bread, or change it with inca inchi oil for an extra fee of 50 yen.
Only the finest and carefully selected ham, eggs, and dairy are used. Even Ms. Nakagawa, who normally does not eat meat, was amazed at how delicious the additive-free ham was!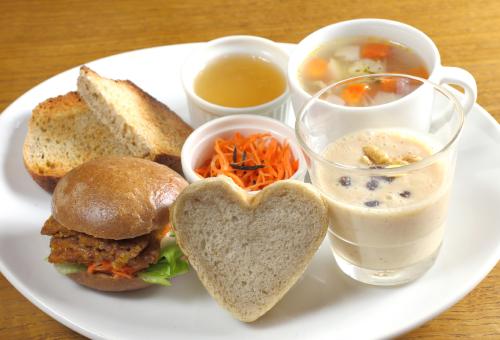 Above is the Macrobiotic Kirei Kirei Plate (2,000 yen with tax). (kirei=pretty)
The plate follows a macrobiotic principle, made without the use of animal-based ingredients.
The lavish meal includes a millet burger, steamed bread, salad, soup, drink, and a treat to wrap up the meal.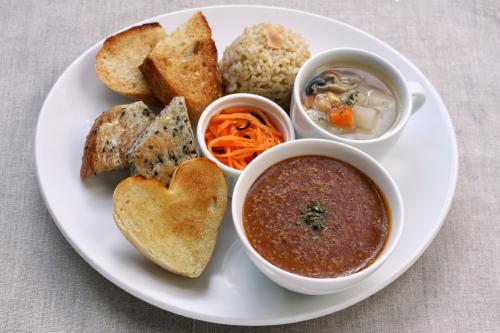 They offer three types of curry, all of which are vegan. (Some of the bread is buttered, but you may order without the butter if necessary.)
The picture above shows the Tomato and Millet Curry Plate.
The plate including brown rice and three kinds of toast to go with the curry is 1,200 yen with tax; and the one with a choice of brown rice or a set of three kinds of toast is 1,000 yen with tax.
The grainy and crunchy texture of the millet adds an interesting accent to the curry, creating a perfect harmony with brown rice!
Also available are the Chickpea Curry Plate and the Millet Coconut Curry Plate.
The chickpea curry is made with a generous portion of peas and seasoned to a taste that is easy on the body!
The tomato and millet curry is zesty with just the right amount of acidity, letting all the goodness fill your stomach and circulate your system.
There are many other mouth-watering offers on the menu to explore – like the bread and soup set, ham and egg sandwich plate, and more!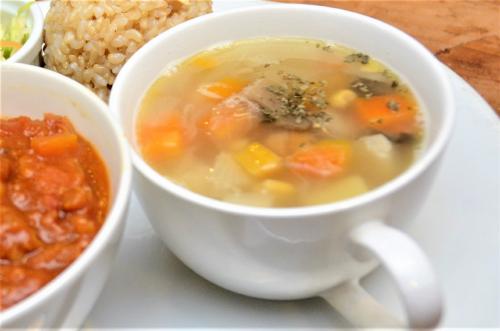 By the way, the soup, which accompanies all of the plates, is Mugiwarai's specialty, made with a cooking method called kasane-ni (kasane=layering, ni=stewing).
Kasane-ni is a macrobiotic cooking method of which the ingredients are layered in the pot in the order of yin to yang to balance out the complementary forces and bring out the wonderful inherent flavors of each food.
"At first, it was a lot of work to make the soup every day, but it turned out so incredibly good that I just continued making it.
Our regular customers have become very fond of it and it's become our signature dish.
The single seasoning I use is salt and nothing else. The soup is a reminder of how amazing nature and salt are."
I tried the soup, and sure enough, the soup has such a rich flavor that it's hard to believe only salt was used to season it.
I was able to taste all the savory goodness of the ingredients – it was a pleasant and comforting soup.
Taking full advantage of the forces of nature and preparing the food with tender loving care makes everything wonderfully delicious, even with minimal seasoning.
*The information contained in the article is as of the date when we interviewed and subject to change. We strongly recommend that you make an inquiry to the store prior to your visit.
Store Information
Click here for location and detailed information on Café Mugiwarai.
Healthy Restaurant Search
Did you know you could search for restaurants on Vegewel?
We provide searching services centered on healthy restaurant choices including organic, gluten-free, vegetarian, and more so please give it a try!