L'atelier de maison de campagne + veganique【Jiyugaoka】
Updated:2019/02/01 Created:2017/07/09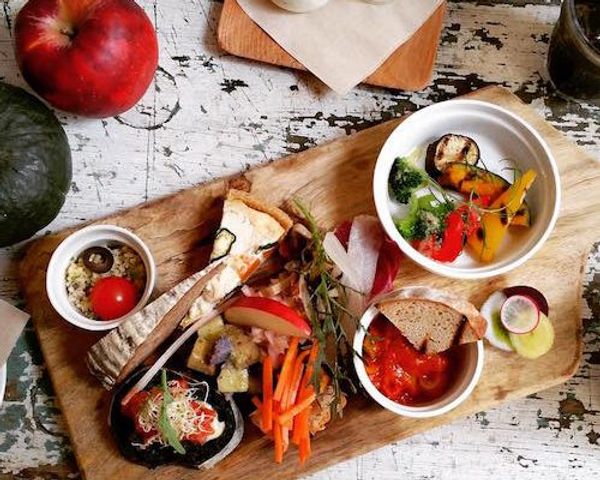 "L'atelier de maison de campagne + veganique," a fully organic vegan cafe and restaurant in Jiyugaoka, opened on October 7, 2016. Thought not much time has passed, they already have a loyal following, and the numbers are clearly on the rise due to word-of-mouth, an exciting and colorful menu, and their unremitting focus on quality, taste and visual appeal.
We interviewed owner/chef Mr. Yoshio Kato and his wife, and are happy to present our report over a three part series. In this installment, we'll focus on the menu. Part 2 and part 3 focus on different aspects of the business.
We've of course got location and detailed information for the shop at the ready.
A Warm Interior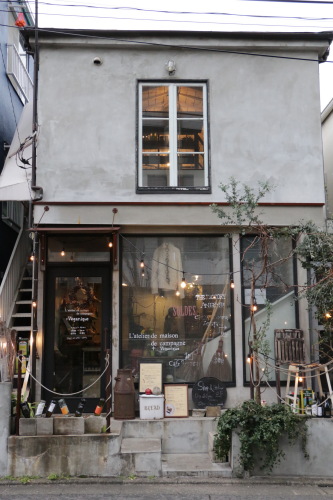 Exiting the popular Jiyugaoka station, a ten minute walk leaves most of the crowds behind. You then find yourself in front of an artfully decorated free standing home, the first floor of which is "L'atelier de maison de campagne + veganique."
Originally there was another restaurant with the same name here, but the restaurant closed. After the building had been vacant for a while, an invitation was put forth to Mr. and Mrs. Kato to open a new restaurant there. In line with Mr. Kato's wife's aesthetic, a vegan, organic and macrobiotic approach was taken to the new restaurant, with "+ veganique" being newly attached to the former restaurant's name.
It's only been four months since their grand opening, but their reputation is already excellent. It is for this reason that people are visiting from distances far and wide, with large suitcases in tow.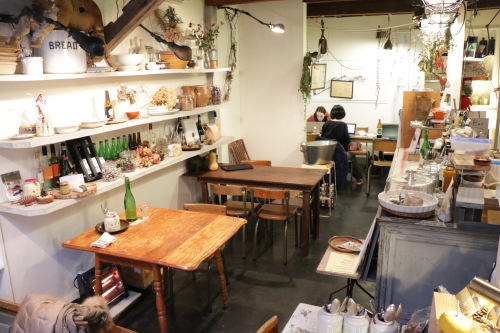 The restaurant's interior is warm and comfortable. On the day of my visit, It was a pretty cold and bleak scene out there, with snow in the forecast, but upon entering the cafe, all tension and chill rushed out of my body with a great sense of relief.
"I am not interested in turning over tables quickly so as to increase revenues. I'd like you to stay as long as your time allows, and for you to enjoy your meal slowly," Mr. Kato said to me soon after entering. At this point, I had a sneaking suspicion that, without even realizing it, I was going to pass a nice, long, and pleasant stretch of time here.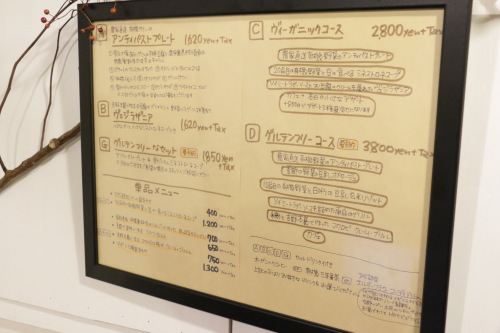 The standard offerings include Set A, a course of antipasti, Set B, a course which features a vegan lasagne, and an oh-so-very grand "Veganique" course (Set C) which brings you a vast cornucopia of flavors drawn from Sets A and B. By prior reservation, a gluten free set is also available, so gluten allergy sufferers need not worry. Based on the macrobiotic ideal that deliciousness is defined by the seasonality of the day, the menu's composition changes from day to day.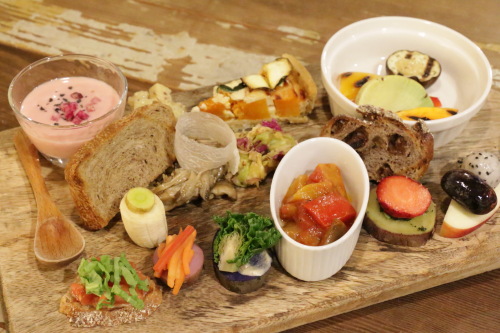 Pictured here is the A set as it looked on the day of my visit. With a vegan harvest as plentiful and appealing in shape, color, and style as this, it's nearly impossible to not be excited about the meal you are about to enjoy! The staff is also upbeat, making for a perfect atmosphere. With the lack of variety vegans sometimes face when eating out, it is a blissful experience to enjoy so many different vegan culinary statements in one sitting.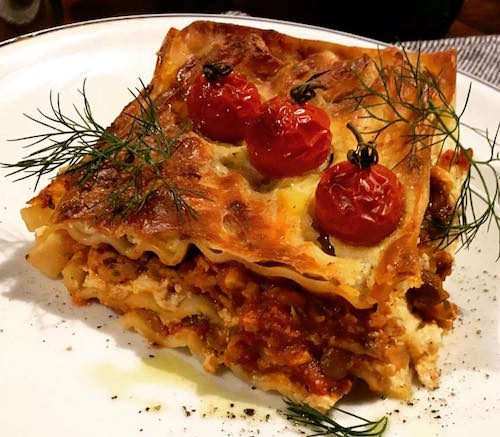 The owner also recommended me to try the B set. Mr. Kato has been cooking Italian cuisine since the days long before this restaurant, and he had strong ideas about what kind of vegan lasagne to make. Whereas many vegan and vegetarian lasagnes pack in the soy meat, thus resulting a smell sometimes considered rather unappealing, Mr. Kato has chosen to load up the layers with gobo root and mushrooms. Organic red wine is enlisted judiciously, naturally complementing the other flavors.
But oh what to do if both the A and B sets are irresistible?! You choose set C, the "Veganique" course — of course! This is a lavish laundry list of deliciousness that starts with an antipasto plate, moves on to a minestrone soup, then heads deeper with the aforementioned lasagne, finally hitting a sweet note with dessert. It seems the Veganique course is the most popular choice for customers coming from afar.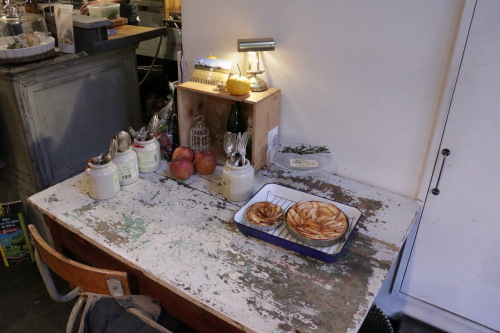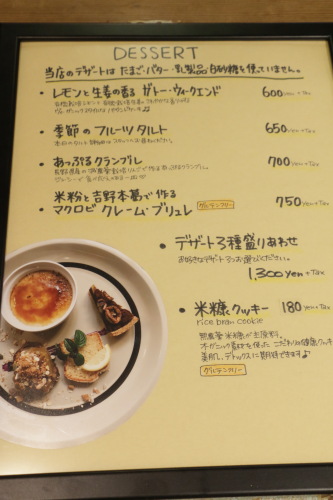 By the way, dessert is headed up by Mr. Kato'swife, Shinobu. You may enjoy them right there in the cafe even if you aren't having a full meal beforehand. All desserts are free of eggs, butter, other dairy products, and white sugar. The healthy but whimsically delicious dessert menu beckons for your attention.
Mrs. Shinobu continues to learn more and more about Vegan sweets, continuing to devise delicious concoctions under the tutelage of a knowledgeable teacher.
Continue to part two…
Next time we'll explore the owners' commitment to using only the best raw materials and also their particular requirements about the kind of wine they serve. Something definitely worth looking forward to!
Store information
Click here for location and detailed shop information.