All menus can be turned into vegan! Dishes prepared by a chef of French cuisine making the most of the tastes of vegetables. Restaurant himizutsuchi【Ginza】
Updated:2019/02/02 Created:2018/01/04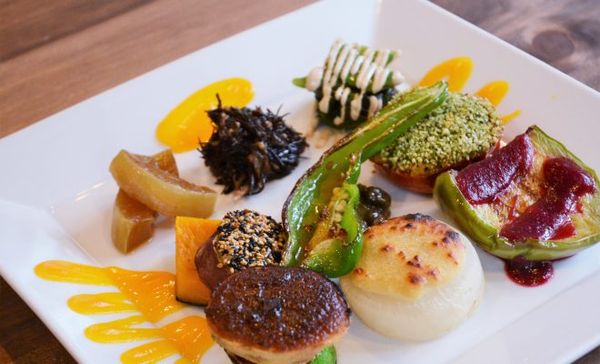 After the half a year restaurant closing, "himizutsuchi" restaurant reopened on August 8 2017.
The restaurant serves meat and fish, but the main ingredients of the menus are quality vegetables! You can enjoy seasonal fresh vegetables cooked in the best possible way.
We had an interview with the head chef, Hayato Asakawa for this article. Here are the story on his passion about the restaurant and wonderful veggie menus!
Click here for location and detailed information on Restaurant himizutuchi.
Visit Vegewel to search for veggie, vegan and gluten-free restaurants!
Finally reopened! Enjoy the natural foods in the natural space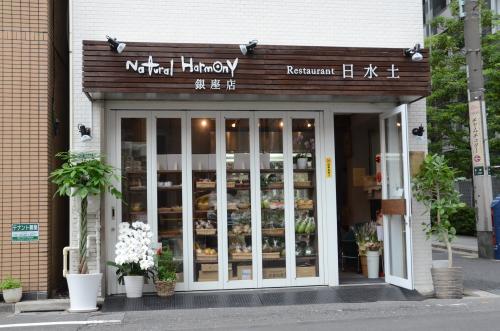 The regular customers looked forward to the reopen!
The restaurant himizutsuchi is on the third floor of the building located near Shintomicho Station where the former restaurant was also located.
"Natural Harmony Ginza Branch" selling quality vegetables and foods occupies the first and second floors of the building.
The himizutsuchi is a restaurant operated by the Natural Harmony serving the dishes cooked mainly with vegetables.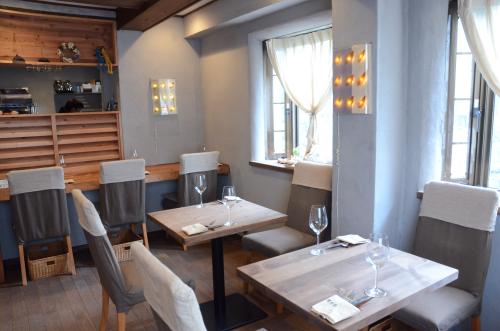 When we reach to the third floor, a wonderful space appears!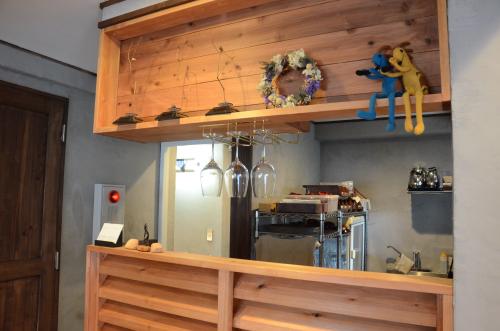 The restaurant has a homey atmosphere making us feel like we are at a friend's house. We can relax and enjoy meal here.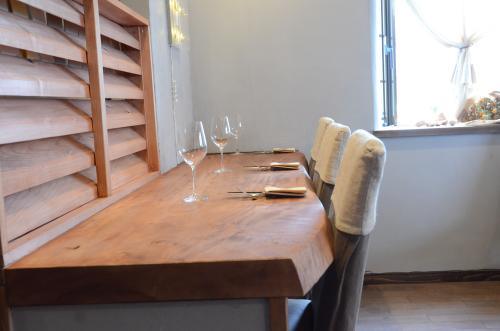 "If we count the years of the former restaurant, the restaurant has 10 year history in total and we have a lot of regular customers.
The current restaurant has fewer tables than that of the former restaurant. Therefore sometimes the tables are fully booked in advance" said Asakawa Chef.
If you want to have meal at the restaurant, it is better to make a reservation.
As all the menus can be turned into vegan, many vegans from foreign countries also come to the restaurant.
The restaurant serves also meat and fish. Thus both vegetarians and non-vegetarians can enjoy the dishes!
For small children, the restaurant may prepare dishes easy to eat. For example serve steamed vegetables instead of raw vegetables.
Enjoy thoroughly! Colorful vegetable dishes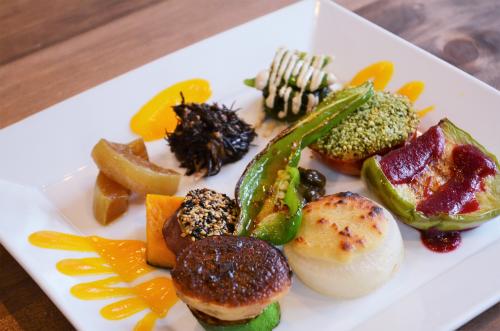 In this interview we actually tasted "Assorted Vegetable Dishes" which is served in the lunch course menus,
"Harmony Lunch-Hi-(1,800 yen incl. tax)" and "Harmony Lunch-Mizu-(2,500 yen incl. tax)"!
Beautiful vegetables…it is hard to choose which one to eat first.
The contents of the Assorted Vegetable Dishes are some regular dishes and some special dishes prepared depending on the procurement of vegetables.
Therefore the details are not indicated on the menu. Some regular customers come to the restaurant every other day to have a surprise.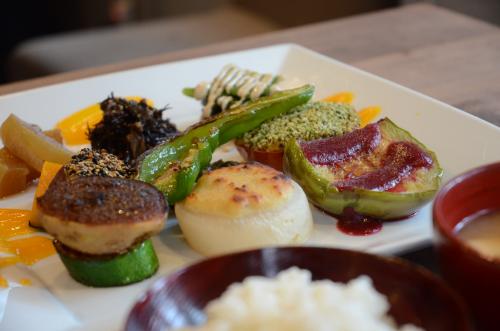 The center is Daikon Radish Gratin. It is juicy and delicious! And it is simply cooked!
"Daikon Radish Gratin is very popular and some customers ask for a second helping only for the Gratin."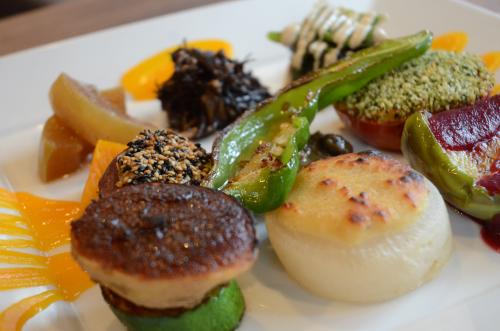 The tastes of Manganji pepper and green pepper on the plate are very different from what we usually eat!
They are meaty and juicy. They taste less bitter and a slightly sweet. This plate is delicious enough to be served as the main dish.
"Our vegetables don't require removal of harshness. With vegetables at peak quality, we can enjoy them as they are."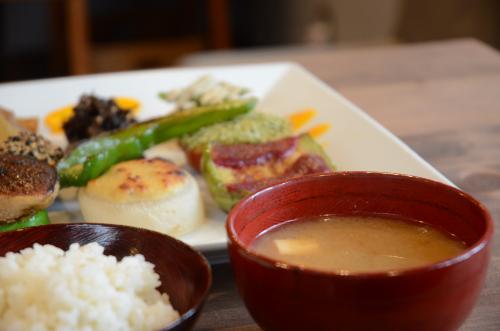 Lunch time miso soup is cooked with the Natural Harmony original miso. It is available to purchase at the shop.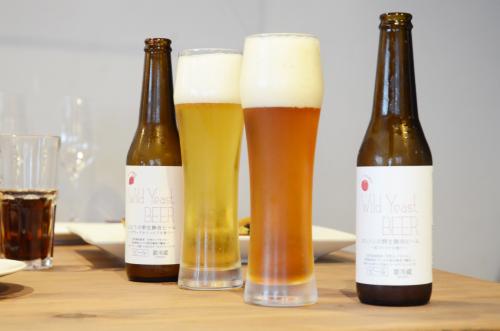 "Natural wine is trendy these days and an increased number of customers enjoy their meals with drinks. A selection of quality drinks such as wine and beer is also available."
Vegewel staffs tasted also the beers this time. They are unique beers brewed with wild yeasts from grape and orange.
They are also one of the Natural Harmony's original products.
They taste fruity and rich! The colors are also beautiful.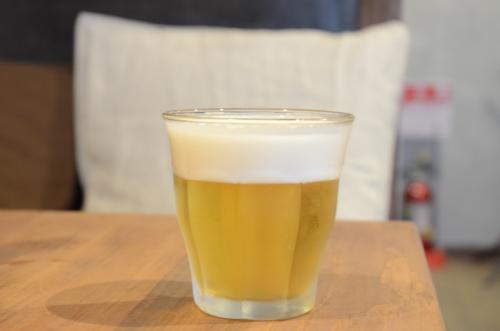 This is a beer brewed with wild yeast of dried persimmon. This is very rare, too! It also tastes fruity and smooth.
Just for your information, all the seasonings used in the restaurant are available at the "Natural Harmony" store down stairs.
Considering "the way we think about food", he changed his career from a chef of French cuisine to vegetable cuisine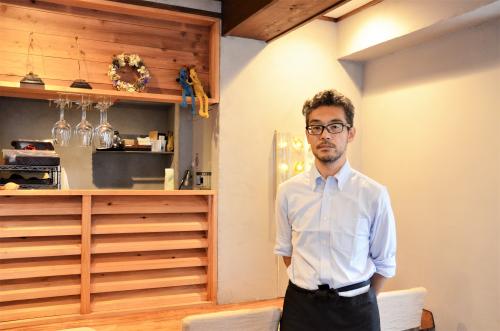 Asakawa Chef has been the head chef since 2007 when the former himizutsuchi restaurant opened. Originally he was a chef of French cuisine.
But why he changed his career to be a chef of vegetable cuisine?
"A friend of mine introduced to me a company who wanted to open a restaurant serving dishes cooked mainly with vegetables.
The company is Natural Harmony. At that time, people were concerned about foods due to the news about BSE.
Unsurprisingly French restaurants handling beef were affected. As a chef, I was also seriously considering 'the way we think about food'."
At that time, when he made online research about particular foods, he was not sure whether the information was reliable.
But he found the Natural Harmony could give him the answers.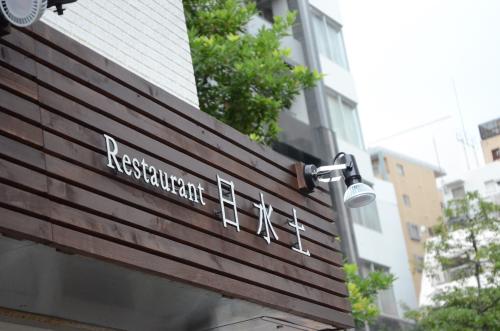 As the head chef of himizutsuchi, he privately eats more vegetables and he noticed some changes on his body.
"Until I started working for the Natural Harmony, I didn't much pay attention to what I eat. But I realized my new food habit has accelerated metabolism.
I could sweat more when I moved my body. I didn't much care about such a thing in the past, but now I could notice such a small change."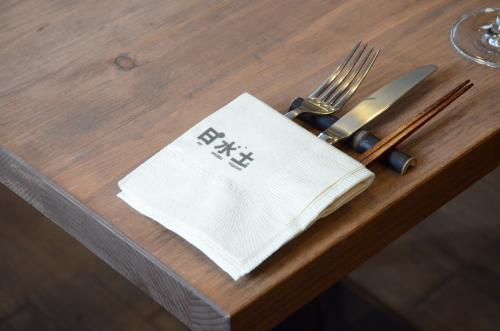 Lastly we asked Asakawa Chef about his next challenge.
"To be honest, I have no room to think something else since we just reopened. But I want not only to cook delicious dishes but also to somehow contribute to producers.
Although an increased number of young people are farming these days, the majority of farmers are still aged people.
They have problems to look for someone taking over their farms. Also due to lack of labor, they have difficulty in harvesting depending on the weather.
I want to support farmers by gathering people who are willing to help them. Without vegetables, I could not cook!"
Asakawa Chef is faithfully thinking of vegetables and continues cooking them by making the most of the quality.
You can enjoy blissful beautiful cuisine cooked not only with quality ingredients but also with care about the best possible cooking method and with care about vegetables!
*The information contained in the article is as of the date when we interviewed and subject to change. We strongly recommend that you make an inquiry to the store prior to your visit.
Store Information
Click here for location and detailed information on Restaurant himizutuchi.
Healthy Restaurant Search
Did you know you could search for restaurants on Vegewel?
We provide searching services centered on healthy restaurant choices including organic, gluten-free, vegetarian, and more so please give it a try!