Gluten and Additive Free"Wellness Curry" – Curry Shudh [Kayabacho]
Updated:2019/02/01 Created:2017/12/19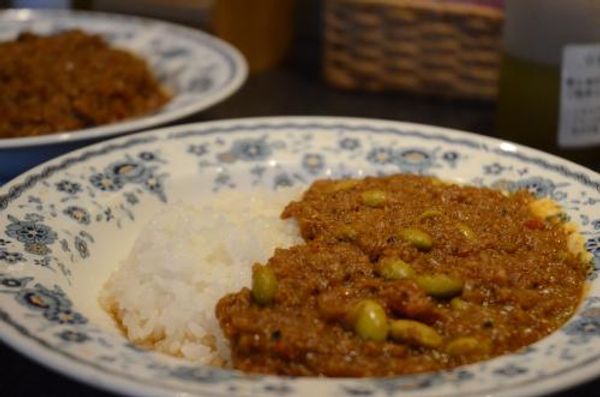 Curry Shudh is an amazing curry specialty restaurant which has continued to be favored by many since its opening in 2004.
The healthy curry, which the restaurant expresses as "Wellness Curry," is free of gluten and additives, and is made from a vegetable-based roux.
We met with the owner of Curry Shudh, Shigeru Wada, to receive an extensive lecture on curry! We'll hear about his passion for curry and how he came to open the store.
Click here for location and detailed information on Curry Shudh.
Visit Vegewel to search for veggie, vegan and gluten-free restaurants!
13 Years in Kayabacho! Covered in many media outlets for the amazing curry.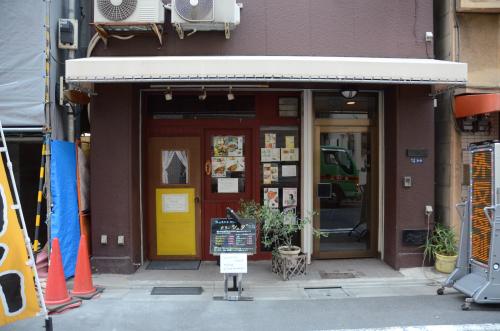 Curry Shudh has been in business for 13 years in Kayabacho. The opening hours are 11:30 – 13:30 (last order) during lunch on the weekdays.
Their simple menu consists of just curry (with salad) and drinks.
Having worked for an IT company for over 30 years, Wada retired from the career to open a curry shop.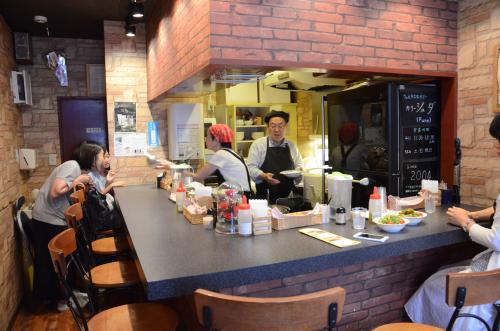 Only counter seating is available in this eatery and the seats can become quite packed with the regulars and local office workers during lunchtime.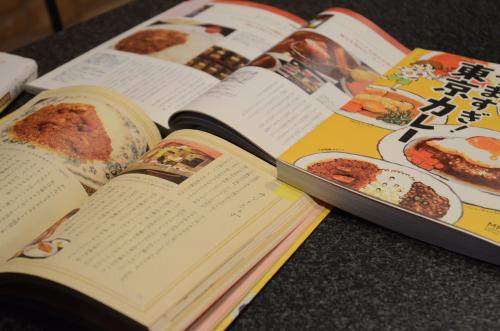 Curry Shudh has been picked up by many media outlets and it continues to attract not only the local workers but also curry lovers nation wide.
You'll witness a collection of magazines and books on curry that have featured the shop.
Vegetable-based, gluten-free, low-fat, and easy on the salt – a very healthy curry!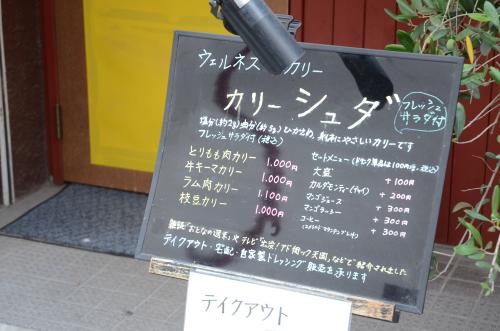 There will always be four varieties of curry offerings at Curry Shudh.
The standard menu is the Tori Momo-niku Curry, or the Chicken Thigh Curry (1,000 yen), and the Beef Keema Curry (1,000 yen).
The remaining two curries are seasonal offerings that change periodically. At the time of the interview, they were offering Lamb Curry (1,100 yen) and Edamame Curry (1,000 yen).
"The standard menu will always include meat.
The curry takes 3 to 4 hours to prepare everyday, so if you would like a vegan curry, please let us know one week in advance," says Mr. Wada.
We made a request for a vegan menu prior to the interview and they prepared the edamame curry for us.
(*Please note that they may not be able to meet your needs depending on the timing of your request.)
Curry Shudh's curry roux is made with only vegetables. What's more, it's gluten-free, additive-free, and low on fat and sodium!
The curry is comparatively healthier even when it includes meat.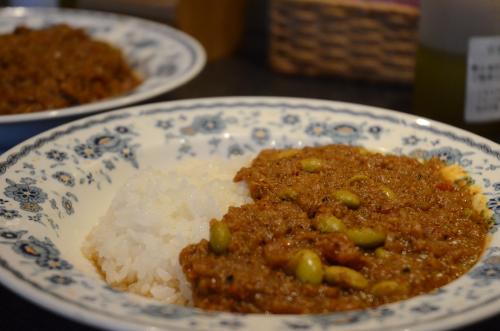 Pictured above is the edamame curry. The roux is healthy and savory – made from the shop's own blend of 19 different spices and a generous amount of onions.
In fact, one large onion is used for a single serving!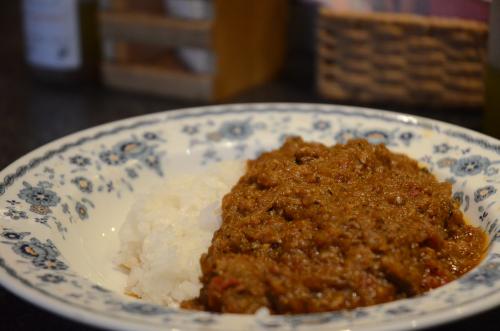 This is the Lamb Curry.
You won't taste much of the strong flavor usually peculiar to lamb, and it is not too fatty. The curry is light and mild despite it being a meat dish.
The gluten-free curry made with an abundance of onions was originally a dish that the owner's wife made at home.
The curry at Curry Shudh was developed from Wada family's home cooking to which Mr. Wada combined his special blend of spices and refined to perfection.
It is a curry that only Mr. Wada can create.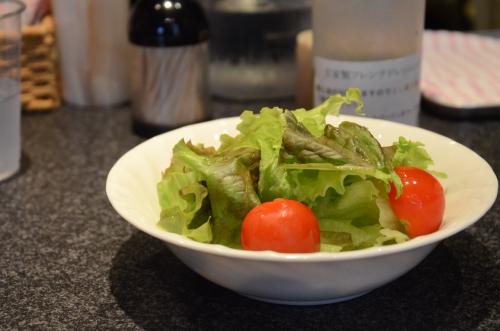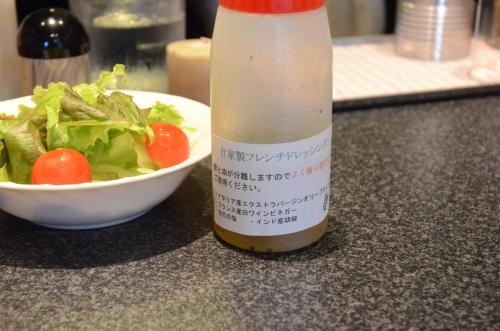 The dressing used for the salad, which is served with the curry, is made from Mrs. Wada's own recipe.
Prepared with much care and thought, it has a fan base of its own. Shake well and enjoy!
The spicy curry of wellness is the creation of the owner's diligence to create a taste like no other.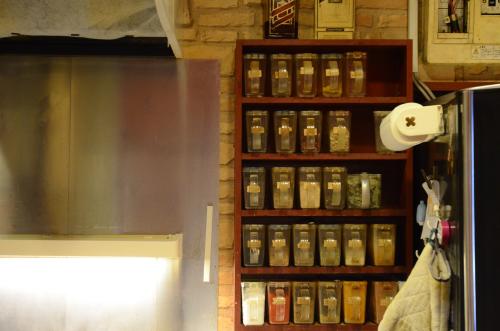 Mr. Wada opened Curry Shudh after retiring from his long-time employment at an IT company. Why curry?
"I was an engineer and a sales person at the company. When I was out making the rounds on sales, I would often eat curry, which was my favorite food.
I especially liked the spicy Indian curry, but I always felt that the Indian curry I had at restaurants was heavy on the ghee and very greasy.
I wanted to try making a spicy curry that was not so greasy and also different from the homemade curry, and that's how I began making my version at home."
There were many Indian employees at the IT company, so Mr. Wada decided to have his Indian co-workers try his curry and ask for their opinion.
"I had a positive response from my Indian acquaintance, and this boosted my confidence.
I had Indian friends so I studied the spices that they used and experimented with the blends of spices on my own.
It took a lot of trial and error but I kept going.
There were many Indians working in the Japanese IT companies from back when I was working.
I speculate that the progress of the IT industry and the growth of Japan's curry culture is not entirely irrelevant."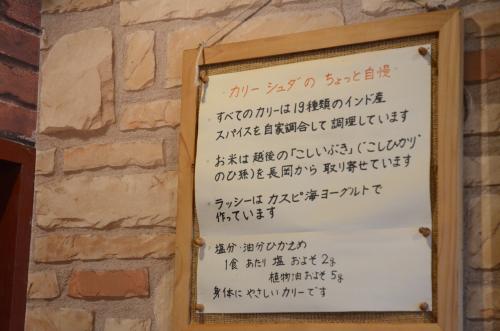 The end result of Mr. Wada's efforts is a healthy curry loaded with spices, prepared to match the palate of the average Japanese customers.
The term "Wellness curry" has been used as the slogan for the shop since its opening.
"The reason we were able to remain unwavering and unaffected by trends all of these years is that we had this 'Wellness' attribute," says Mr. Wada.
The world is trending towards a healthy consciousness. Is it that the times have finally caught up with Mr. Wada's wellness curry?
Shudh(=Pure) Curry – unaffected by the trends of the times and maintaining a solid stance.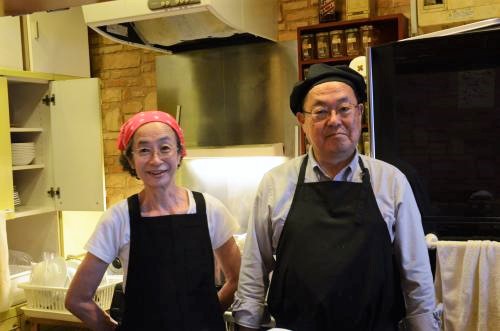 Shudh in Hindi means pure. Curry Shudh's name comes from the idea to keep things simple and to avoid all that is extra.
"We believe what is best for us is to continue with what we have been doing and to remain oblivious to the trends of the times.
We prefer to focus on satisfying our visitors and to have them come back again rather than going out of our way in the attempt to acquire new customers.
We'll remain unchanged nonetheless."
As Mr. Wada speaks of his passions, we bring our attention to Mrs. Wada who is always by his side to support him.
"He would frequently ask me to make curry. When he decided to leave his former company, I was like, 'If you want to do it so much, why not?'
At first, he couldn't even provide service to the customers so I had to stay by his side.
I started with coaching him on how to greet the customers," Mrs. Wada says laughingly.
She is very friendly and energetic! And they both have beautiful glowing skin. Could it be because they are always eating their curry?
"No, No! We never eat curry at home. We have Japanese food when we get home!" They reply in unison.
The wonderful couple is modest and down-to-earth. The curry at Curry Shudh is pure and of wellness.
They are only open for lunch so it's best to be prepared for a full house. It is advisable to go in the early hours.
*The information contained in the article is as of the date when we interviewed and subject to change. We strongly recommend that you make an inquiry to the store prior to your visit.
Store Information
Click here for location and detailed information on Curry Shudh.
Healthy Restaurant Search
Did you know you could search for restaurants on Vegewel?
We provide searching services centered on healthy restaurant choices including organic, gluten-free, vegetarian, and more so please give it a try!