Vegeo Vegeco, a Stylish and Fun Yaoya Grocer in the Heart of Tokyo [Nezu]
Updated:2019/02/01 Created:2017/11/25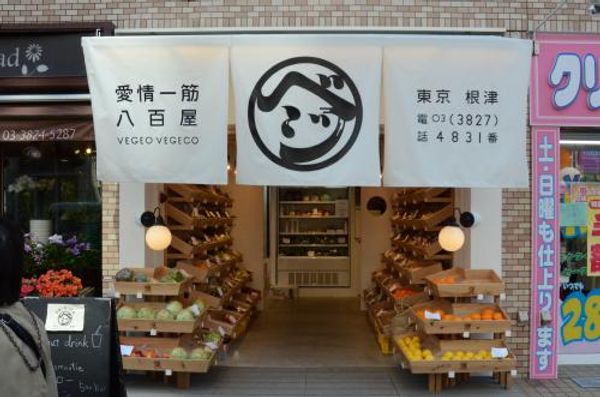 Situated just 5 minutes on foot from Nezu Station in downtown Tokyo, this shop offers fresh produce in a stylish establishment.
Watch for the eye-catching "ベジ (Vegi)" logo in the white noren (Japanese store curtain)!
Vegeo Vegeco recently opened on January 13, 2017. At first glance, it doesn't have the appearance of a conventional yaoya grocer (Japanese greengrocer) and it'll make you want to stop on your tracks.
This time we asked Soichiro Hirabayashi, Representative Director and President of Vegeo Vegeco Co., Ltd. to tell us about how he came to open the store, his passion for vegetables, and more!
Visit Vegewel to search for veggie, vegan and gluten-free restaurants!
Aiming for the No. 1 Yaoya in Japan!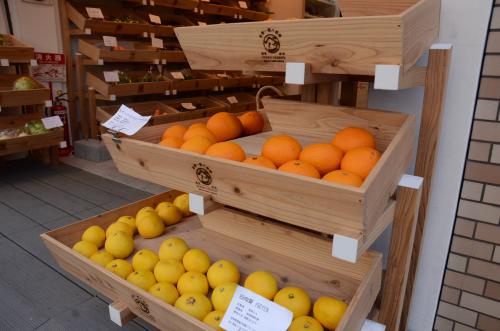 Vegeo Vegeco is located in Nezu close to the famous tourist attraction, the Nezu Jinja Shrine. This downtown area is always bustling with tourists and locals alike.
There are many other shops lining the streets together with Vegeo Vegeco.
"I was looking into opening my store in this area and when I came to see some properties, there just happened to be a vacancy here.
The very reputable fish store, Nezu Matsumoto, is just two stores over. Run by the owner of a younger generation, the No. 1 fish store in Japan has been featured on TV.
I thought, 'Why not open a No.1 greengrocer in Japan next to a No. 1 fish store in Japan!'"
The Stylish Interior is a Must-See!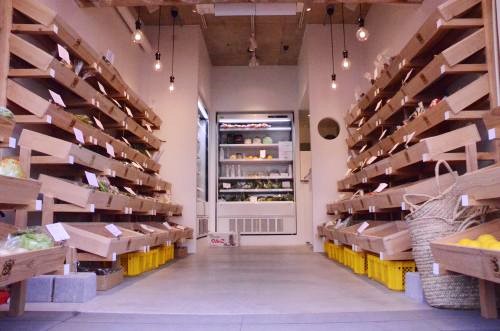 Fruits and vegetables aren't the only things that are appealing at Vegeo Vegeco. Their stylish interior has also gained a large fan base.
It is a destination spot for some tourists who come from afar to appreciate the store design.
"We've had an Australian TV program feature the store once. Many foreign visitors come to see the design because we've had worldwide coverage by online media outlets.
To them, it is interesting to see the traditional Japanese yaoya."
This vegetable store is unique in every essence of the word – stylishly designed with great attention to detail. The fresh produce is tastefully displayed and visually entertaining!
Vegetables with Transparency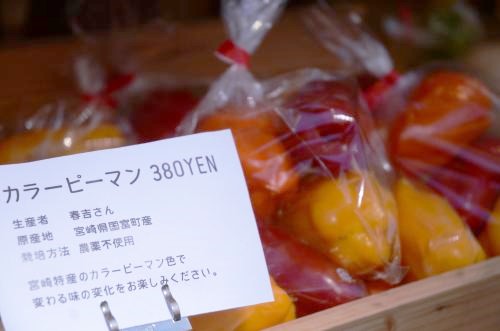 All of the vegetables sold at Vegeo Vegeco are labeled with information regarding where and by whom they were made to ensure transparency to the customers.
"There is an increasing number of farmers practicing visibility and transparency. You've probably seen some vegetables packaged with names and pictures of the farmers.
The customers may be able to see the faces of the farmers, but the farmers can't see the consumers' faces. We put a lot of our efforts into providing consumer feedback to the farmers.
We want to create an environment where the consumers are visible to the farmers as well. We try to bridge the gap between the customers and the farmers."
Mr. Hirabayashi hopes that each customer will find a preferred farmer for the household.
For the customers, they'll have a trusting farmer with whom they can continue the relationship for a long time; and as for the farmers,
it's wonderful that there will be more customers that they can actually "see."
Going forward, in order for the farmers to secure a stable income, the consumers must change their ways of thinking
– a consciousness towards well researched and selective buying rather than going with the cheap and temporary choices.
"It would be great if it becomes common practice for customers to have conversations at home like, 'This is the vegetable from so-and-so's farm.'
Knowing who is making the vegetables will also change how the consumers feel about eating them.
Customers will become likely to choose what dishes to make based on the vegetables they have on hand. The dining table becomes a happier place once you have changed your mindset."
At the supermarket, most vegetables are available all throughout the year, so you may be missing out on the opportunity to really feel the freshness of the seasonal vegetables.
Making dishes with the fresh seasonal vegetables sent from your preferred farmer means that you have the opportunity touch on and learn about the seasons' offerings right at your dining table.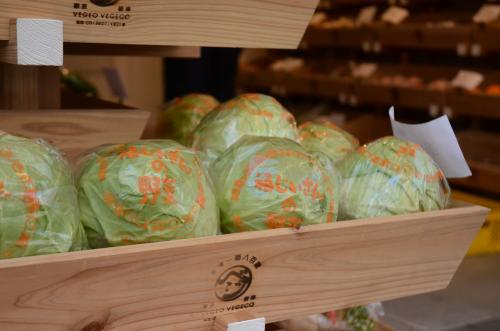 By the way, what is the most popular vegetable at Vegeo Vegeco?
"'Fuku ji-san's vegetables (Old man Fuku's vegetables)' are extremely popular. The elderly farmer who makes the vegetables is named Fukushige, and has been promoting organic farming for over 40 years.
It is a family-run farm having settled in Kyushu from Mie, and Fukushige and his son are growing the produce together.
The vegetables grown with delicious water from the laurel forest is exquisite!
Cabbage and leek are so popular that they sell out soon after they arrive. We're basically the only store that sells them."
Thorough Selection of Vegetables Made with Loving Care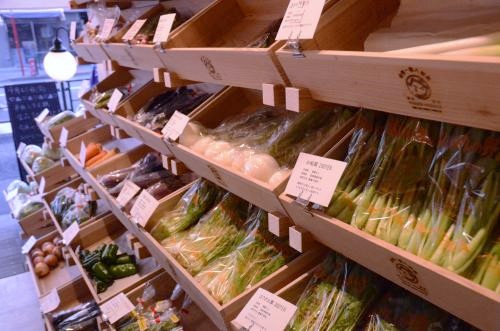 Vegeo Vegeco aims to procure organic and pesticide-free vegetables as often as possible.
"We make it our top priority to sell the products from farmers who have a strong passion for making good quality vegetables.
We especially want to support the farmers who grow pesticide-free, organic produce."
Mr. Hirabayashi told us that he visited each and every farmer when procuring fruits and vegetables for the store.
He and his team select and order only the delicious and fresh produce from the farmers to sell.
He buys from over 100 farmers, including the procurement of seasonally limited vegetables, with the most farmers being in the Kyushu region.
"There are many people from Kyushu, including myself. It just so happens that we carry a lot of vegetables from Kyushu, but we have no preference for a specific region.
The store chief is from Hokkaido so we are looking into increasing more vegetables from there.
We're always looking for special produce specific to a certain region, like Okinawa pineapples and vegetables from the remote islands of Kagoshima."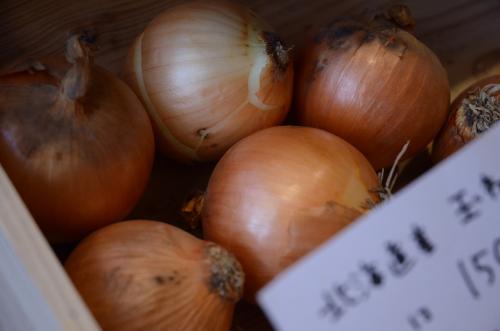 There seems to be a greater demand for vegetables that aren't often seen in supermarkets in the Kanto region and this is where Vegeo Vegeco seeks to place itself.
The search for tasty and safe fruits and vegetables continues.
"I'd like for everyone to eat delicious vegetables at home at least once a week to begin with.
I hope that many people will become acquainted with the fruits and vegetables at Vegeo Vegeco!"
*The information contained in the article is as of the date when we interviewed and subject to change. We strongly recommend that you make an inquiry to the store prior to your visit.
Store Information
Vegeo Vegeco
03-3827-4831
1-26-5,Nezu,Bunkyo-ku,Tokyo

Healthy Restaurant Search
Did you know you could search for restaurants on Vegewel?
We provide searching services centered on healthy restaurant choices including organic, gluten-free, vegetarian, and more so please give it a try!