New style Morioka Reimen in Shibuya! Vegan noodles served in Italian style, in curry soup or in hot. 【Reimen Dining TSURUSHIKO】
Updated:2019/02/02 Created:2018/03/17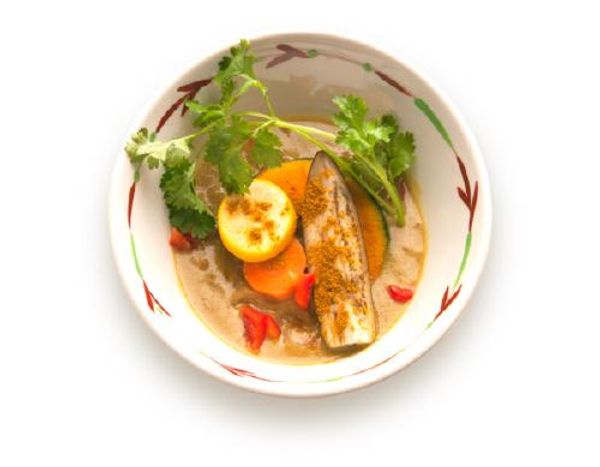 Morioka Reimen is usually served in beef bone soup. But newly opened in Shibuya "Reimen Dining TSURUSHIKO" serves 8 kinds of vegan Morioka Reimen!
Super smooth noodles are irresistible. The restaurant whose president learnt macrobiotic diet serves safe and reliable noodles without using chemical seasoning.
In this article, hot noodles good for this season are also introduced.
Click here for location and detailed information on Reimen Dining TSURUSHIKO.
Visit Vegewel to search for veggie, vegan and gluten-free restaurants!
The bright shop space inviting customers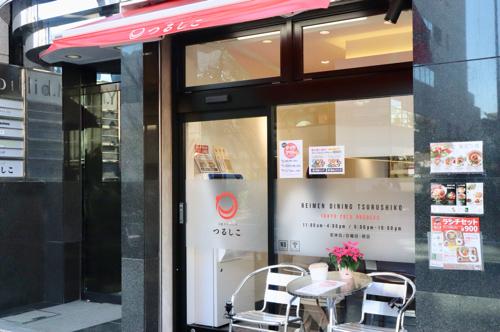 It takes about 10 minutes from the Shibuya Station walking straight on the Meiji-dori Avenue.
Reimen noodles are often served in Korean BBQ restaurants.
However we heard that an authentic Morioka Reimen noodle shop serving a variety of vegan noodles was newly open in Shibuya and we visited there this time.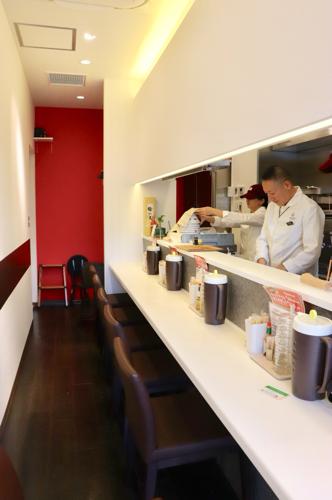 Female customers came to the modern white restaurant space one after another during our visit.
As Reimen has less oily compared to Ramen noodles, they come here to have more healthy lunch.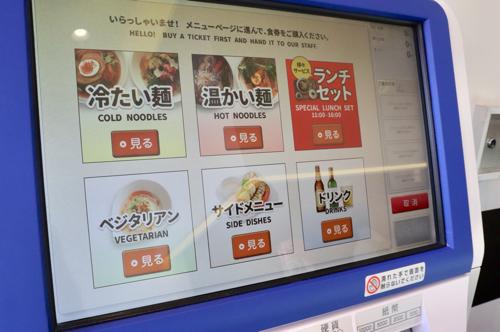 The display of ticket machine shows the vegetarian icon, which is very handy!
Does the vegetarian icon mean that a variety of vegetarian noodles is available?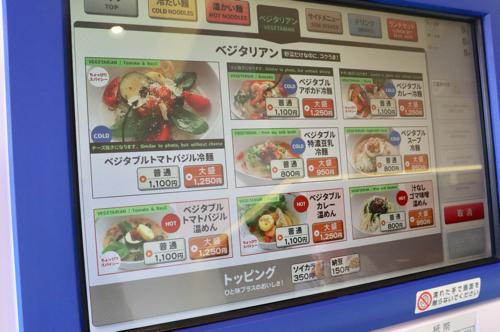 Wow, actually 8 vegan noodles are available!
Typical toppings for Morioka Reimen are kimchi and a slice of water melon. But try other menu in TSURUSHIKO! The concept is "Tokyo Reimen" with unique soup and toppings.
We had the most popular Italian style noodle. Morioka Reimen fits any styles!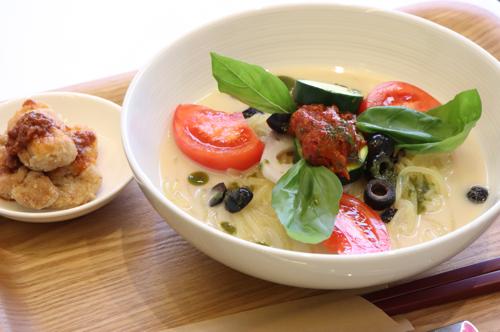 We ordered "Tomato Basil Reimen" (1100 yen including tax). This noodle can be served in hot. If you are hungry or Reimen lover, have a large portion paying additional 150 yen.
We also had deep-fried soy meat "Soy Kara" (350 yen including tax).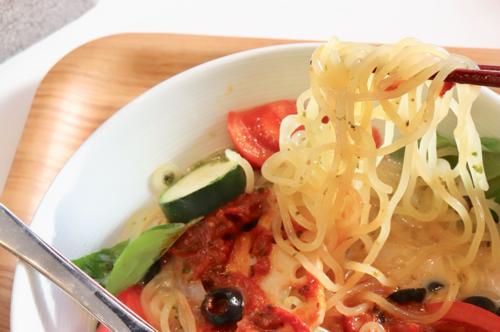 The noodles made with Hokkaido potato starch and Iwate wheat flour.
Its smooth and chewy noodles are created based on the decades of improvement efforts using the natural spring water of Iwaizumi in Iwate Prefecture famous for "Ryusendo" which is ranked among the top 100 springs in Japan.
For the toppings, black olives, lotus root and courgette are used.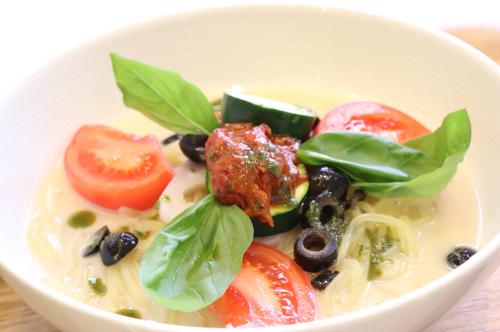 Taste the soy milk soup at first to enjoy rich vegetable stock!
Tangy taste of dried tomato sauce and basil sauce are gradually penetrated in the soup and you can enjoy its changing flavour.
We just wonder why nobody tried Morioka Reimen noodles in Italian style before. They suit very well Italian tastes.
It has completely changed what we thought about Morioka Reimen.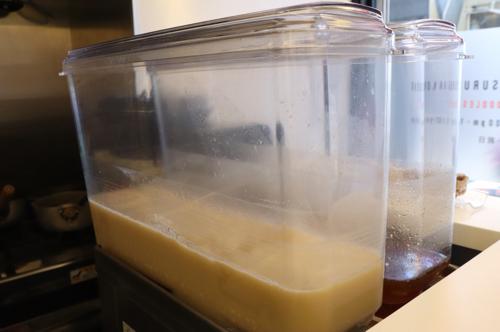 For its rich soup, the shop takes time to extract broth by slowly simmering stir-fried vegetables. Using steam pan allows to gently warm the ingredients and to get the flavour for soup.
The shop gets soy milk from the Heian Shoten in Iwate.
The president who learnt macrobiotic diet creates delicious food wanted by our body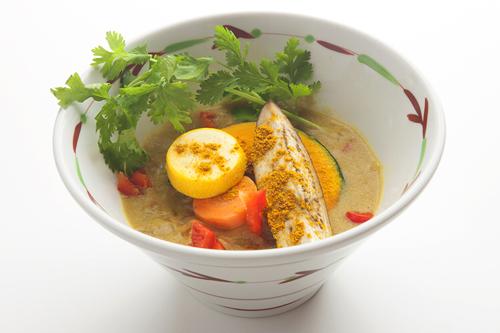 More new style Morioka Reimen noodles are available.
This is "Vegetable Curry Hot Noodles" (1100 yen including tax). The noodles are served in rich and creamy curry soy milk soup with various vegetable toppings.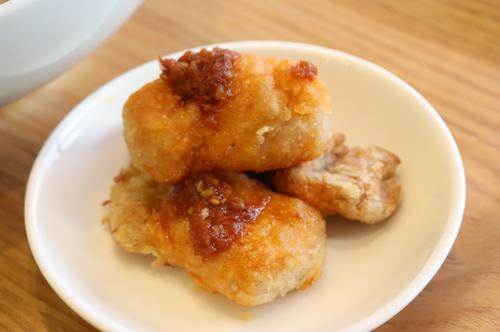 Reimen Dining TSURUSHIKO also well utilizes Japanese traditional fermented food. We had "Soy Kara" with bean miso.
The bean miso is made with Iwate soybeans seasoned with chili pepper and sesame oil. It is a miso sauce without chemical additives but with unique bean miso taste and flavour.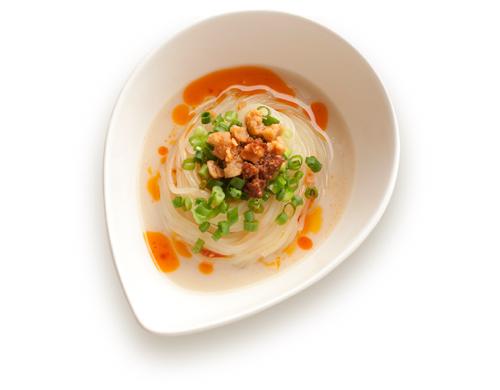 Vegetable Super Rich Soy Milk Hot Noodles with Soy Meat and Bean Miso (800 yen). Soy meat is soft and juicy! A recommended dish for soy meat lovers!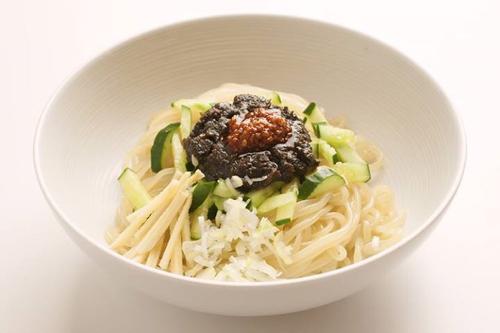 A plenty of miso is also used for "Sesame Miso Hot Noodles" (800 yen including tax).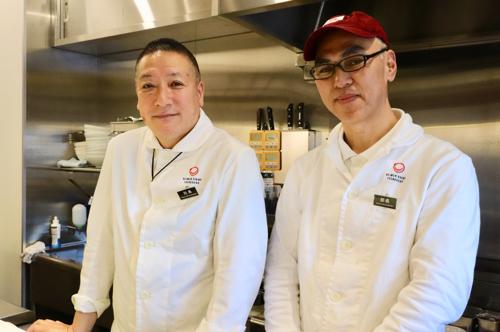 "Our customers say our soup is healthy. It has no chemical seasonings. In order to extract vegetable taste, our soup is produced by hands in our studio in Iwate without using machines"
said the president Yoshiyuki Choshi (left) and the production and development director Keiichi Fujine (right).
Reimen Dining TSURUSHIKO is operated by FOODS LAB developing and producing food without food preservative and coloring "in order to change the society by changing eating habits".
When the company produced a macrobiotic shop in Iwate, the president had learnt about macrobiotic diet for 2 years in Sendai.
The passionate president also had an experience to grow brown rice.
They want to provide an environment to enjoy healthy eating a few times a month to those who have unhealthy eating habits. Thus most of their menus can be adapted to vegan.
If you choose its lunch set, you can have Morioka Reimen or Vegetable Hot Noodles at 900 yen (tax included).
If you are vegan, simmered soy meat on a bowl of rice and pickles are served for lunch.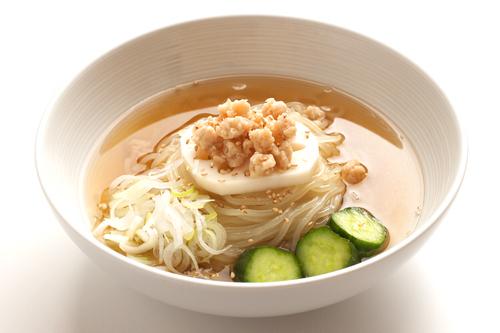 They told us how to order value vegan "Vegetable Soup Reimen" (photo) lunch set which is not on the regular menus!
Purchase a ticket of "Vegetable Soup Reimen" on the vegetarian menu and tell the staff "Lunch Set Please".
Then you can enjoy the lunch set at 800 yen (tax included). This is a useful tip!
*The information contained in the article is as of the date when we interviewed and subject to change. We strongly recommend that you make an inquiry to the store prior to your visit.
Store Information
Click here for location and detailed information on Reimen Dining TSURUSHIKO.
Healthy Restaurant Search
Did you know you could search for restaurants on Vegewel?
We provide searching services centered on healthy restaurant choices including organic, gluten-free, vegetarian, and more so please give it a try!