Whole food Nezunoya-Established in 1978, a whole foods store and brown rice vegetarian restaurant loved by the locals in a downtown of Tokyo
Updated:2019/02/02 Created:2018/03/14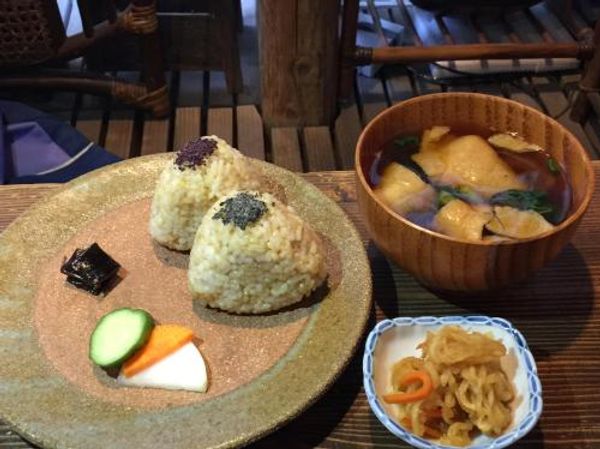 Nezu retaining old streets which survived after the 1923 Great Kanto earthquake and the war is a popular area also for visitors.
A popular whole foods store Nezunoya is ideally located within a minute walk from the Nezu Station.
When we enter the traditional style grocery store, we will see a restaurant space in the back.
At first, we took a look at the shop.
Click here for location and detailed information on Nezunoya.
Visit Vegewel to search for veggie, vegan and gluten-free restaurants!
Good store handing reliable daily products/h2>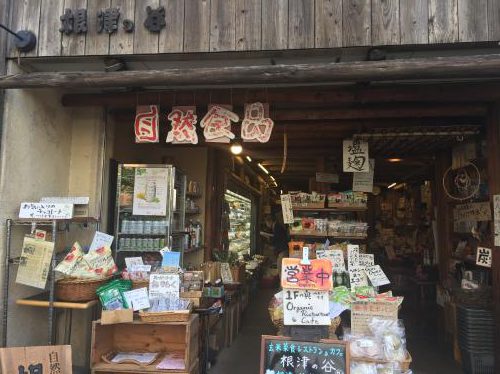 A variety of quality and reliable items from vegetables in season to rice, seasonings, processed foods and house hold goods is available.
There are so many items including rare products that we are tempted to purchase them out of curiosity.
Home delivery service is also available.
Open the shop to promote healthy growth of children
The owner, Fusae Torii was born in 1940 and started "Nezunoya" in 1978.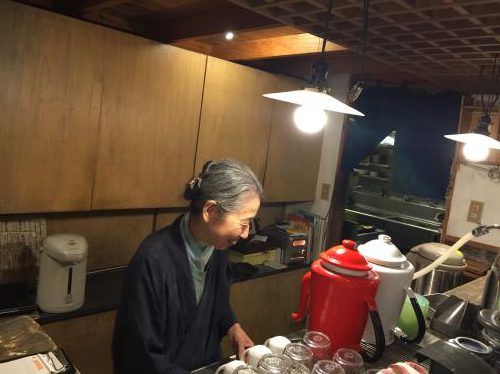 Why did you get interested in organic and brown rice vegetarian food?
"I have been suffered from poor circulation since I was young. When I was a student, I did not much concerned about it.
However when I had short pants for PE class in winter, my legs turned purple and I also had severe pain during my period.
When I was a university student, I read a book about brown rice diet written by Dr. Keichi Morishita (the current director of Ochanomizu Clinic) and realized the importance of food. It was the beginning.
Then I had brown rice for the first time at a natural food restaurant, "Tenmi" in Shibuya of which John Lennon was also a regular customer during his stay in Japan.
I found that I loved brown rice in my first experience and started working there as a part-timer in order to get to know about more natural food.
Soon the restaurant started whole sale business for food and I got a job in the new operation. I could learn about procurement, sales as well as macrobiotic" said Mrs.Torii.
Why did you start your own shop in Nezu?
"At that time, my older brother had seven children and I wanted them to have safe and reliable food.
I chose this location because here is my family house.
Today this place is called Yanesen and becomes very popular for visitors. However, at that time, here was an ordinary shopping street and a lot of empty spaces. Children enjoyed Hanetsuki game and kites.
Also when the shop was open, macrobiotic and organic were not common at all. Therefore I could not imagine how the shop was accepted by people.
Particularly in a downtown, we have long relationships with the neighbours and I paid extra attention."
A foreign customer at the entrance told us "This shop serves delicious food". Do you have many foreign customers?
"We have received more foreign customers these days. Perhaps the number of guest houses in this area is increasing.
Thus people ask me to open the shop also in evening. But it might be very difficult to prepare ingredients for both lunch and dinner."
Discover something unusual! Unique selection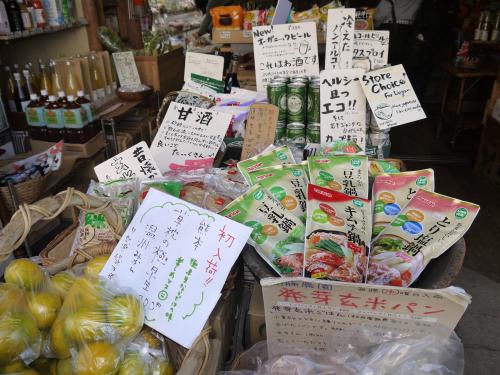 You have a wide variety of items from food to house hold goods.
"Taking requests from the customers, the number of stock items has been increased.
Once media feature the items which I have handled for a long time and they become a trend, such items occasionally run out of stock. So I need to have more stock and varieties.
It is hard but I will make efforts to meet the demand. I also want to keep traditional good products, too. Therefore the number of SKU is just increasing."
Soothe our body and soul…carefully prepared food
After enjoying shopping, move to the restaurant.
The chef who creates menus and food is not Mrs.Torii. He is a former Japanese cuisine chef.
He is always thinking of main dish containing no meat and fish but satisfying customers' tummy. The set meal is changed on a daily basis and the restaurant has many regular customers.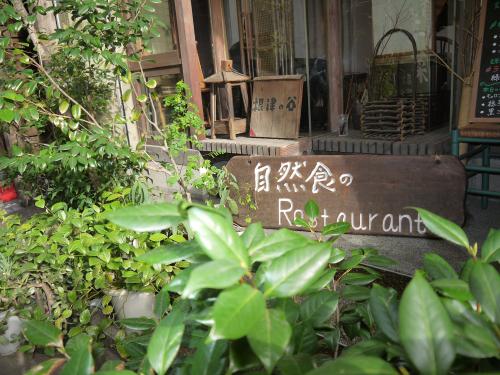 There is a note on the restaurant wall about their policy.
"The restaurant policy
1.Chewy brown rice
1.Use domestic and organic products as much as possible
1.No animal products (meat, fish, dairy and egg), white sugar and chemical seasoning
1.Cooking method making the most of ingredients
Choose ingredients in season and carefully prepare dishes for physically and physiologically healthy eating"
Such a clear statement will enhance reliability.
The top leaders of macrobiotic society, Kazue Omori (macrobiotic cooking expert), the late Hideo Omori and the late Japan CI association Katsumata chairman also came to the restaurant.
For lunch, the restaurant serves Daily Set Meal 1200yen (incl.tax), Seasonal Vegetable Curry Set 1100yen and Rice Ball Set 800yen.
They also serve homemade desserts from 450yen, grain coffee and tea for your relaxing café time.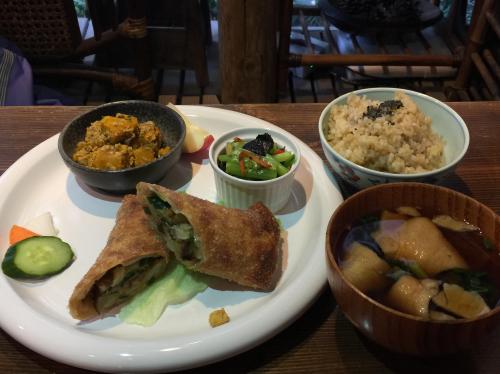 On the day we visited, the main dish of daily set meal contained spring rolls of brown rice vermicelli and vegetables, pumpkin sesame miso salad and Japanese mastered spinach mixed with Nori seaweed.
It came with brown rice, soup, pickles, fruits and daily healthy tea.
The taste was simple but thanks to quality ingredients, everything was delicious and we never got bored.
Especially soft brown rice was chewy, sweet and delicious! Considering those who eat brown rice for the first time, the chef makes it softer.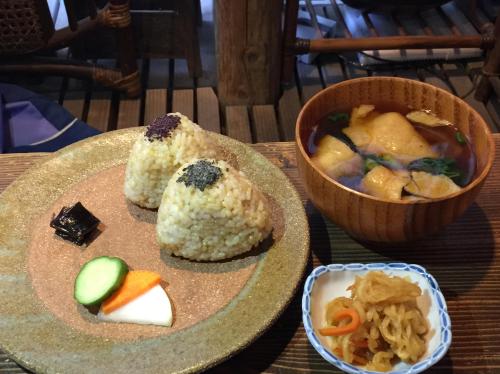 Mrs.Torii said,
"We saw many healthy food booms but they didn't last long. If you want to try brown rice, I want you to continue it for at least three month.
Today many people love the food made with flour. However I think for Japanese people, rice, vegetable and koji (malt) are the best.
I don't think bread and milk for school dinner are ideal because those products depend on import. I am seriously concerned about post-harvest and genetically-modified food problem.
The educational level of the schools in this area are much higher than average since the Toyo University is located in the neighbour area.
But before forcing children to study at their desk, I want them to be fed with proper meal."
When we asked Mrs.Torii about her future vision, she modestly said, "I just hope many people have enjoyed our food and products."
She has expanded her business in her own way since when brown rice vegetarian diet was less popular.
We believe that she will continue welcoming people who seek for safe and reliable real food.
*The information contained in the article is as of the date when we interviewed and subject to change. We strongly recommend that you make an inquiry to the store prior to your visit.
Store Information
Click here for location and detailed information on Nezunoya.
Healthy Restaurant Search
Did you know you could search for restaurants on Vegewel?
We provide searching services centered on healthy restaurant choices including organic, gluten-free, vegetarian, and more so please give it a try!