Started with one bicycle and now becomes one of the shops in Japan handling the largest selection of whole foods. "The Sun Smile" for naturally grown true-breeding vegetables【Fujimino, Saitama】
Updated:2019/02/01 Created:2018/02/07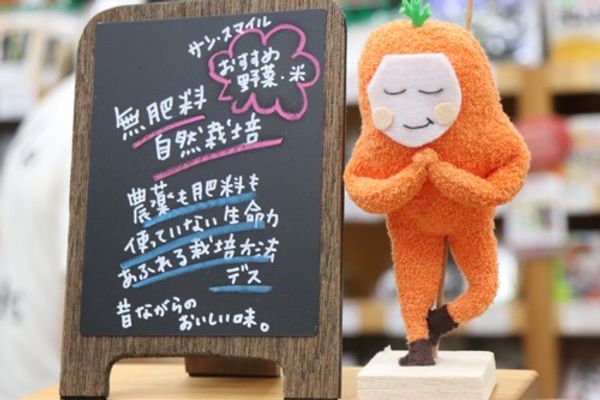 It is said that natural farming without fertilizer and agrochemical is very difficult.
The Sun Smile in Fujimino City, Saitama is a shop handling a large selection of naturally grown vegetables.
Including whole foods and health-related products, the shop handles amazing approximately 2,500 items and people visit this shop from all over Japan.
The Sun Smile celebrated the 20th anniversary this year and we asked the president of Sun Smile, Tomonori Matsuura about the story of the birth of the shop.
Visit Vegewel to search for veggie, vegan and gluten-free restaurants!
A lot of items available only this shop! Cannot help carrying many shopping bags on the way back home!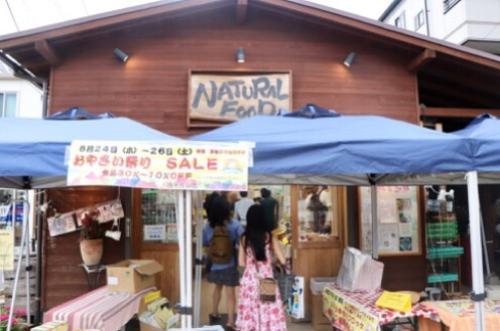 It takes 24 minutes from Tokyo by limited express train on the Tobu Tojo Line. The Sun Smile is located at "Fujimino Station" a little far away from the centre of Tokyo.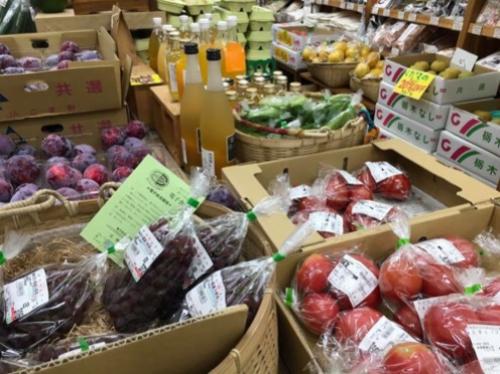 The space is packed with vegetables like supermarkets. Surprisingly most of those vegetables were naturally grown without fertilizer.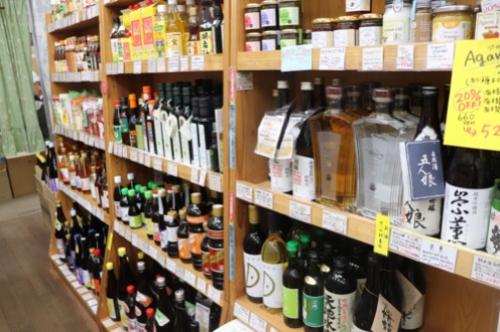 Not only vegetables, also processed foods, seasonings, snacks and more which are produced with naturally grown products are occupying the shelves!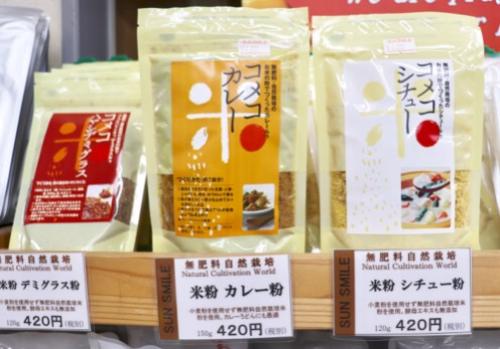 A wide variety of the Sun Smile original items is available. These are curry powder, demi-glace powder and stew powder made of rice-flour.
Some spices available in the market use genetically modified ingredients. Off course the Sun Smile original items don't use such ingredients at all.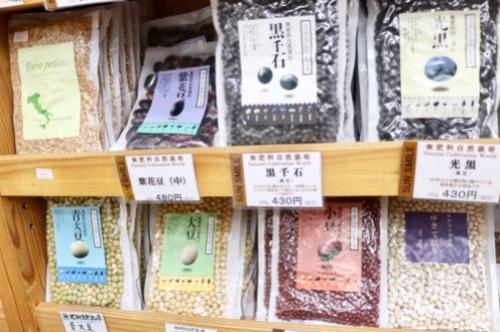 The Sun Smile started producing the original products when they purchased tons of remaining beans which a natural farmer was troubled with.
Mr.Matsuura had trial and error such as boiling or grinding them to find the way to sell them.
Let's check again, the Sun Smile's passion, "Natural Farm" and "True-Breeding"! Reliable and safe foods the modern society looks for.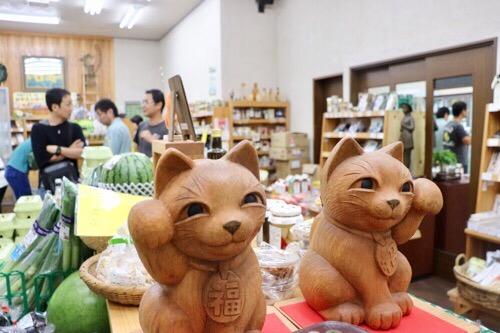 The Sun Smile's passion is to handle "true-breeding and naturally grown without fertilizer" products and "processed products without using genetically modified ingredients".
Some vegetables grown with a reduced volume of agrochemical are also sold after the Sun Smile reviewed the farming method.
About true-breeding…
True-breeding vegetables only produce offspring with the same traits. We harvest the seeds and grow them and repeat the cycle.
It is an ordinary cycle but the harvested seeds are not common in the market and endangered spices.
It is often difficult to grow true-breeding vegetables in terms of shape, colour and taste and then the amount of crops tend to be small.
Also the F1 hybrid seeds which bring commercially favorable offspring are widely accepted. It is one of the reasons why true-breeding vegetables become less popular.
About natural farming…
Natural farming is a method relying on the ability of soil and plants without using agrochemical including chemical and organic (animal and plant) fertilizers.
Creating soil environments for coexisting of a variety of microorganisms, plants are grown in a natural environment.
Organic vegetables are grown with naturally occurring fertilizers instead of chemical fertilizer or synthetic pesticides.
However some vegetables are grown with agrochemical allowed by the JAS Standards for organic plants.
Some plants may be grown with animal-based fertilizer but the animals may be fed with genetically modified foods.
People obtain tons of uncertain information and are confused about what to eat.
Those who visit the Sun Smile are choosing the reliability of the Sun Smile rather than vegetables just promoted as pesticide-free or naturally grown vegetables.
Started with one bicycle. Kept selling naturally grown vegetables every day without any business connection.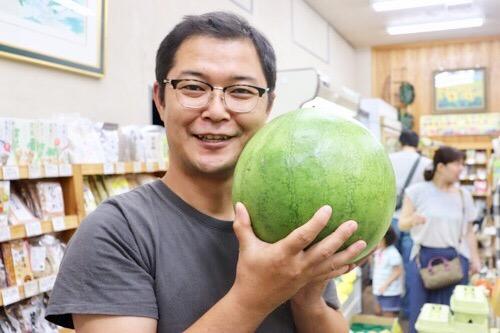 The operation of the Sun Smile was started when Mr.Matsuura sold pesticide free mandarin oranges by bicycle every day.
He did not have regular customers. He was declined by some customers but kept going.
He could continue his business because he had an unforgettable experience.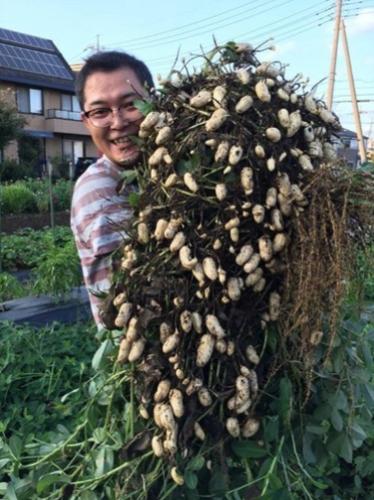 His mother has been suffered from chemical sensitivity. Only foods she could eat were pesticide free vegetables and her body could not accept other vegetables.
His life was changed when Mr.Matsuura was at second grade high school.
"When I was back from school, I found a post card written by my mom. It was a thanks letter for the producer of pesticide free vegetables.
The letter was expressing her gratitude for their reliable and delicious vegetables. She told that all family were well thanks to the vegetables.
Seeing the letter, I was shocked and touched. I discovered the job so much appreciated by people."
He was so impressed that he wanted to start pesticide free farming for himself. Then immediately he talked to his school teacher.
The answer of his teacher was "no students had wished to be a farmer and no advice available. Therefore find the way for yourself."
Then Mr.Matsuura decided to study at a faculty of agriculture in university under a professor studying natural farming.
He learnt not only farming but also the mechanism of distribution of vegetables in Japan.
He found the reality and difficulty that an increasing number of farmers produced pesticide free vegetables but a limited number of channels handled them.
In order to change the situation, he worked at a logistic company after graduating the university.
And then he started selling pesticide free vegetables by bicycle. This is the beginning of the operation of the Sun Smile.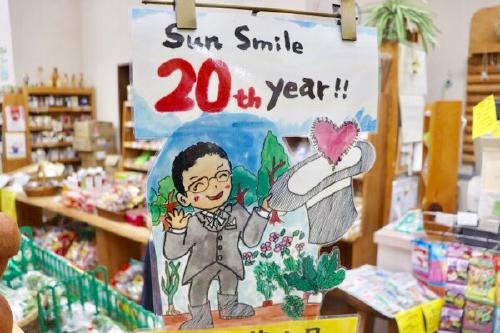 Mr. Matsuura firmly determined to step into the farming industry.
Hearing his tough experiences, our writer asked an uninteresting question, "How did you fell when you were declined by customers? Was it tough?"
Then Mr.Matsuura replied to it while looking back the time.
"It was my mission. I was upset about the reality of Japanese farming! I determined I should do something.
Without food, we can do nothing. Our lives are depending on food. I want to tell people about naturally farmed vegetables and wonder of nature by operating the Sun Smile."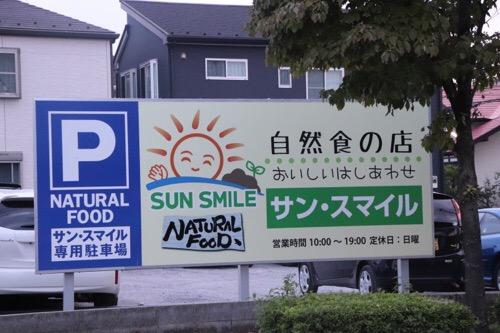 While people are focusing on the reliability of Japanese vegetables just before the 2020 Olympic Games, we would like to know about the future direction of the Sun Smile.
"We must think about the next after the Olympic Games. How to reorganize the distribution system?
I wish that more naturally grown vegetables are used by companies, hotels and restaurants!"
For closing this article, here is a word from Mr.Matsuura for those who want to start natural farming!
"Don't be over confident. Earnestly face your soil. When you start something new, you should not care about your pride. We will use all we have got, otherwise it is not fun!"
The Sun Smile
ADDRESS:1-15-27, Naema, Fujimino-shi, Saitama
TEL:049-264-1903
http://www.sunsmile.org/index.php
*The information contained in the article is as of the date when we interviewed and subject to change. We strongly recommend that you make an inquiry to the store prior to your visit.
Healthy Restaurant Search
Did you know you could search for restaurants on Vegewel?
We provide searching services centered on healthy restaurant choices including organic, gluten-free, vegetarian, and more so please give it a try!