Select the Vegan Deli of Your Choice at Sairam Okurayama!
Updated:2019/02/01 Created:2017/12/13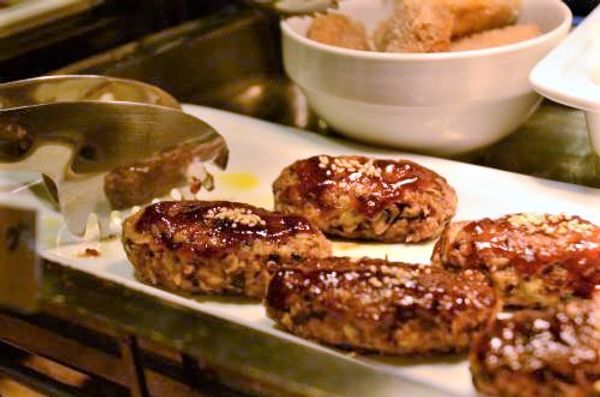 Sairam Okurayama Branch is located just right near the Okurayama Station on the Tokyu Toyoko Line in Tokyo.
Here you can enjoy a variety of vegan delis, made with carefully selected naturally grown vegetables, in the store or to go.
We met with Kenji Shimamura of Sairam to hear from him about food and housing:
how he came to open the store, his passion for his creations, the home building company that he is a part of which specializes in using natural materials, and more.
Click here for location and detailed information on Sairam Okurayama.
Visit Vegewel to search for veggie, vegan and gluten-free restaurants!
Putting a lot of thought not only into the food but also in the store space.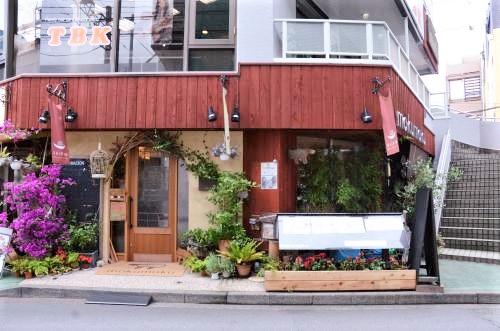 The entrance of the well-situated eatery, located just a minute away from Okurayama Station on the Tokyu Toyoko Line, is beautifully adorned with trees and flowers.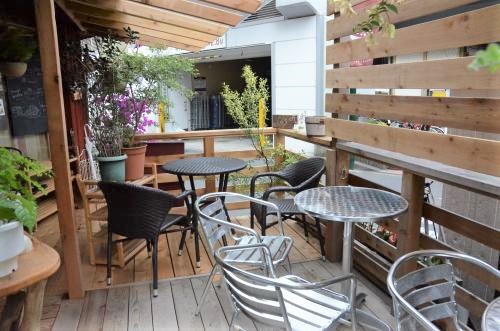 The terrace tables are highly recommended on sunny days to spend some leisurely time surrounded by greenery.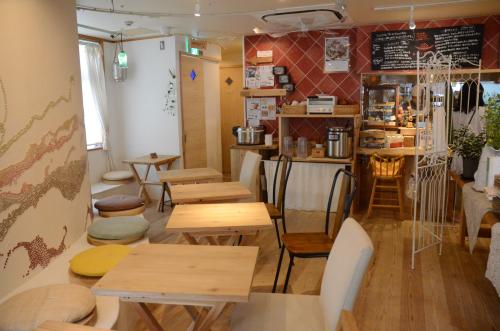 The wooden interior gives the store a warm and inviting atmosphere. All of the wood used at Sairam is natural lumber.
Visitors are asked to take off their shoes at the entrance so they can feel the warmth of the wood directly from their feet.
"Most of our customers are from the local community and many of them come with their children. We are careful to use lumber that is safe enough for children to walk on barefooted."
The seats are spacious with plenty of extra room for the children, so patrons can enjoy their meals in peace.
Even the staff uniforms are well thought out.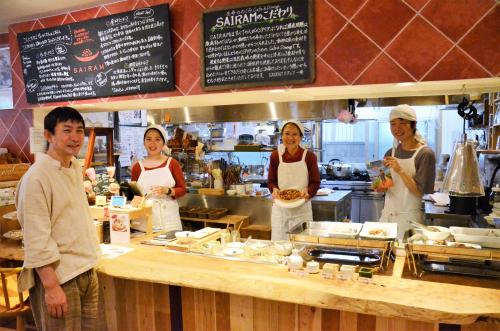 "We use linen for the aprons, and organic cotton and hemp for our T-shirts.
We try to create our space with as much natural materials as possible; and that not only includes the food we provide for our customers, but also the entire store from the eating area to our staff."
Some of the dishes they use are also made from only natural and chemical-free materials called Kenko Toki (healthy earthenware).
"This store is the result of our pursuit to express our passion for what we feel is important rather than prioritizing our business profits. It is an eco-friendly and organic space," says Kenji.
He prefers to wear clothes by Usaato, made with cotton, hemp, and silk materials from Chiang Mai, Thailand. Kenji's gentle character matches very well with the handmade coziness of the Usaato garments.
The vegan deli is 450 yen/100g. Pick and choose however you like.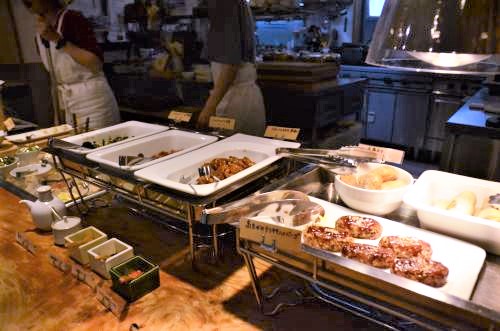 Sairam offers a vegan menu made with naturally grown vegetables.
The delicatessen offerings change daily and are served buffet-style for you to pick and choose whatever and however much you like.
The buffet can be enjoyed in the store, or you can take it to go. The prices are fixed at 450 yen/100g regardless of your selection.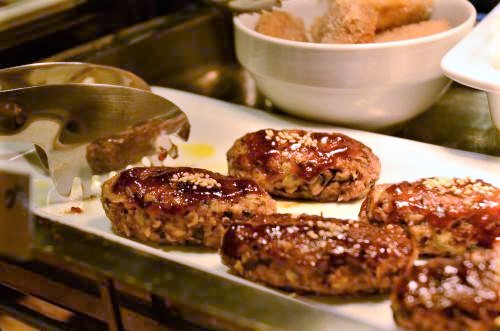 "The popular deli dish is the Sorghum Salisbury Steak.
We're very selective about the ingredients we use for it and we're aware that we could be in the red if we considered the price for just this steak.
We offer many more delicatessens that we have put a lot of care into making."
The interview was conducted just after lunchtime where many of the customers had already left with a satisfied stomach, so many of the popular deli selections were almost sold through.
We suggest going there early if you wish to enjoy a full selection from their lunch buffet.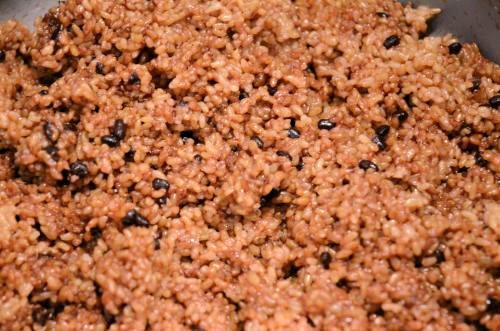 Sairam serves fermented brown rice of the finest quality.
It can be ordered as a set with miso soup for 500 yen plus tax. Other add-ons to the deli are the natural yeast bread and soup set (500 yen plus tax) and the salad cup (100 yen plus tax).
All of these options can be added on to the delicatessens of your choice, depending on what you're in the mood for.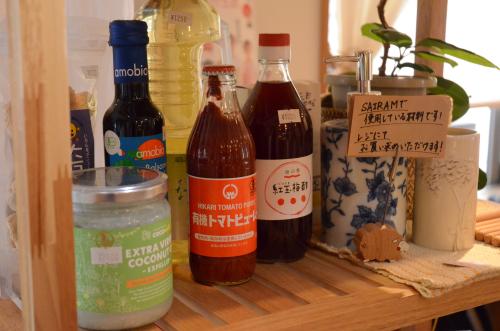 "We're very careful about the ingredients as well as the oils and seasonings we select for our menu.
I started this restaurant because I wanted a place where I can eat the kind of food that I wanted to eat. I, myself, look forward to the menu changing everyday."
The system of allowing the customers to choose the delis as well as the portions of each selection is very effective in reducing food waste.
The staff will eat the leftovers so it is very ecological. The staff must be really healthy if they are able to dine on Sairam's menu all of the time!
Besides the deli, Meal Sets (1,500 yen plus tax), such as the Cobb Salad Rice Bowl Set or the Chef's Curry Set, are also served after 3:00 PM.
The easy to digest Nagaoka-style fermented brown rice is included in both of the sets. Do stop by for a late lunch or dinner after work to try these dishes.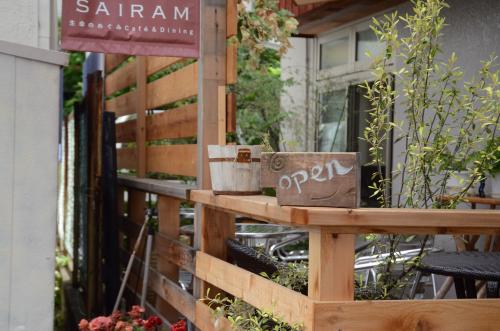 Because Sairam is a vegan restaurant, it is usually a destination place for those in the know, but there is an increasing number of customers who are introduced to this eatery by word of mouth.
Foreign customers also visit after searching for restaurants with vegan options.
"At the time when the Dalai Lama was visiting Japan, we had the honor of serving foreign monks who were dressed in a robe of the same color as the Dalai Lama.
We're assuming they searched and found our location on HappyCow or other similar sites."
100% Vegan desserts served with special organic drinks.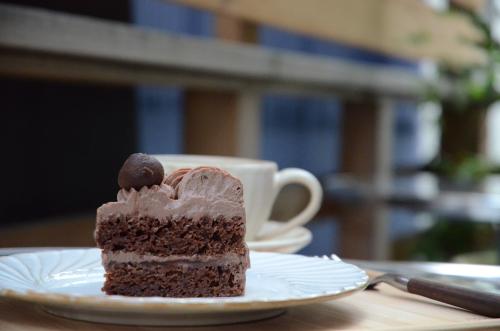 At Sairam, you can also satisfy your sweet tooth with their selection of house-made desserts such as muffins, pastries, and cakes.
The beautifully arranged desserts are recommended as a set with a drink. You'll get a 100-yen discount on some of the drinks when ordered with a dessert of your choice!
Most of the drinks are also made with naturally-gown or organic ingredients. Anything and everything at Sairam is incredibly healthy.
*The information contained in the article is as of the date when we interviewed and subject to change. We strongly recommend that you make an inquiry to the store prior to your visit.
Store Information
Click here for location and detailed information on Sairam Okurayama.
Healthy Restaurant Search
Did you know you could search for restaurants on Vegewel?
We provide searching services centered on healthy restaurant choices including organic, gluten-free, vegetarian, and more so please give it a try!