Saitama vegetarian food information shared by well-informed people!
Updated:2019/02/02 Created:2018/02/03
Ogawa Town, Hiki District, Saitama is a famous organic town known for "Ogawa Organic Fes". It is wonderful place where whole community is working on organic farming.
Here are restaurants and a shop in Saitama for vegetarians which were exhibited in the Organic Fes.
Visit Vegewel to search for veggie, vegan and gluten-free restaurants!
Organic vegetables, "Warashibe"
This restaurant is very popular for delicious homemade natural yeast bread, scone cooked without egg and sugar and pasta.
It takes 20 minutes by car from Ranzan-Ogawa IC on Kan-Etsu Expressway or it is a-5 minute walk from JR Ogawamachi Station.
It is located on the Route 11 where many road bikes are passing. There are the bike racks in front of the restaurant and it is also popular for cyclists.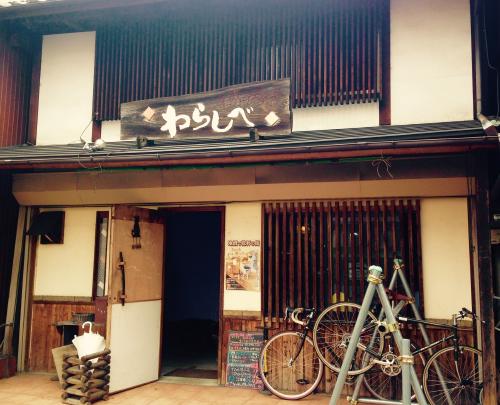 Once we enter the traditional folk house style building, we will see a large counter table and two tables for 4 to 5 people each.
It has a nostalgic and relaxing atmosphere.
There is also a space selling local organic vegetables and home-baked bread and scones. I had the recommended bread plate this time.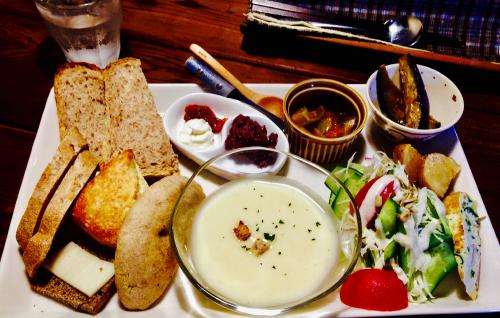 It comes with 5 kinds of bread including wholemeal bread, pita bread and scone. It also includes cold potato soup, salad and small dishes and costs 980yen.
Small dishes, homemade jam and Adzuki bean paste go well with the bread.
Lunch set of the day is available from Wednesday to Saturday. It opens in morning till lunch time and reopens dinner time.
They cook vegetables in season, so why don't you enjoy fresh vegetables and soup?
For the yogurt parfait, you can choose soy yogurt or cow milk yogurt. It can be enjoyed also by vegan or those who have food allergies.
Concerning homemade healthy sweets recommended by the owner, you can ask smaller portion. If you just want to taste a few bites of dessert after the meal, it is perfect.
They use organic vegetables and grain from the farmers in Ogawa Town who pride themselves to their products. Some menus are cooked with local chicken.
But they can adapt them to vegetarian as much as possible if you ask on the day.
"We can serve vegan foods if you contact us in advance!" said the owner.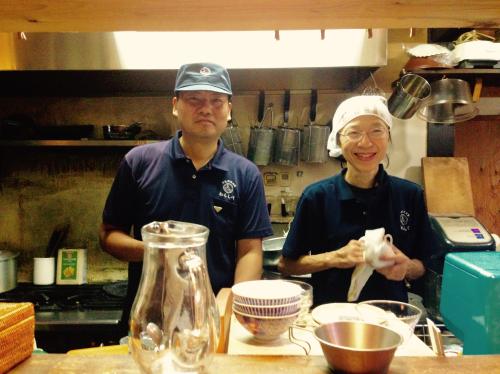 The couple with wonderful smile operate the restaurant.
"Warashibe"
Address:110-1, Ogawa, Oaza, Ogawamachi, Hiki-gun, Saitama
tel:0493-74-3013
"Beri cafe Tsubasayuu" featuring vegetables from Ogawa Town
A unique community cafe where different chefs take turns and cook on a daily basis.
The next is "Beri cafe Tsubasayuu" near the previously introduced, Warashibe and located within a 2 to 3 minute walk from Ogawamachi Station.
It is located on a road near Ogawamachi Station and opposite to "Lyric Ogawa" hall. There is a parking space for 2 cars in front of the restaurant.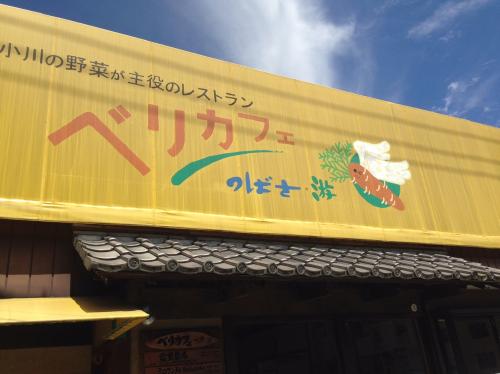 It is organized and operated by NPO Seikatsu-Kobo, Tsubasa-Yuu.
As the name combining "Beri (means chatting in Japanese)" and "cafe" indicates, the restaurant has a homelike atmosphere like your dining room for a relaxing time while enjoying chatting.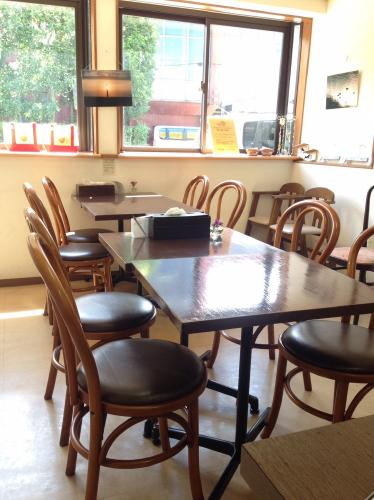 Using organic vegetables from Shimosato Farm and Kazenooka Farm, chefs take turns and serve foods on a daily basis. It is nice that we can enjoy different tastes every day.

When I visited the restaurant on Sunday, the chef of "Genki-no-ki" was in charge. I arrived there at 11:30 when the restaurant just opened.
But at noon, it was packed with neighbours and regular customers. It looks well appreciated by the locals for a relaxing time.
The menus on the day were omelette rice set meal or Hijiki rice and simmered burdock root set meal. It comes with coffee or herb tea and costs 1,080yen.
I chose generously served omelette rice set and organic coffee.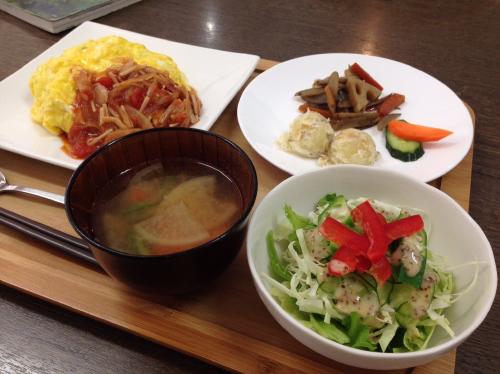 Enoki and Shimeji mushrooms tomato sauce were generously served on Hijiki rice covered with creamy egg omelette.
I can taste dried sardine broth and sweetness of vegetables with the miso soup. It comes with simmered burdock root, potato, pickles and salad.
The deli in the restaurant sells vegetables, muffins, chiffon cakes and deep-fried ring baked wheat gluten. You can also take away lunch set meals.
A few days a week, rice and law egg set meal (fresh free-range fertile egg, miso soup and pickles) is served at 400yen and you can also choose your favourite small dish with additional 100yen.
The menus are prepared mainly with organic vegetables but it may contain meat and fish depending on the day. If you are vegetarian or vegan, contact the restaurant in advance.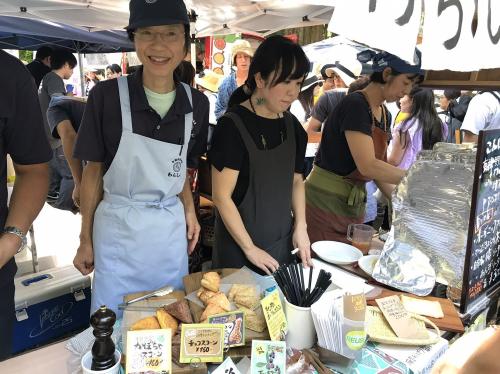 "Beri cafe Tsubasayuu"
Address:1186, Otsuka, Ogawamachi, Hiki-gun, Saitama
tel:090-4453-6355
"Toufukoubou-Watanabe" in Tokigawa with greens and beautiful river
Tokigawa, a town near Ogawa Town is also surrounded by nature.
In Tokigawa, "Toufukoubou-Watanabe" who is making and selling delicious tofu made with local soybeans produced under the theme "reliable soybean firming", is located.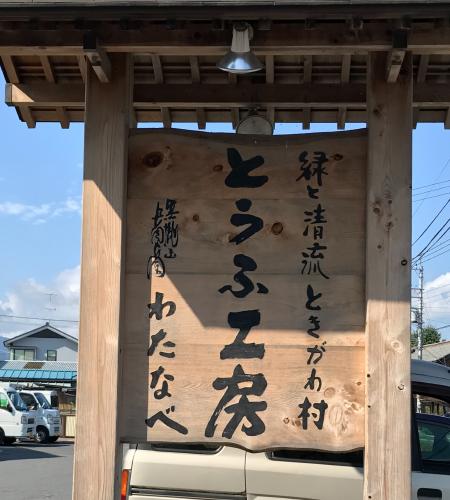 In weekend, many people come to shop and the staffs are controlling the traffic at the car park.
In addition to the delicious tofu, the shop has many other charms.
・Tasting
We can taste seasonal tofu sold at the shop. There are two places to taste tofu, in the shop front and inside the shop. It is great to purchase products after checking the taste.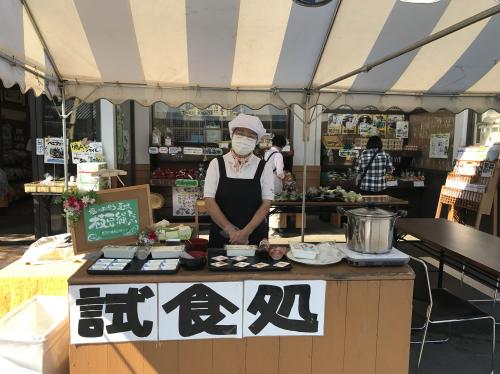 ・Free Okara (soy pulp)
The shop opens at 9 in the morning. But some customers arrive before the opening in order to receive this free Okara. All Okara are usually gone within one hour after the opening.
It was the first time for me to see fresh and still hot Okara.
A lot of recipes using Okara including salad, croquette and Hamburg steak are introduced in the shop. (Due to no tofu production, no free Okara service is available on Wednesday.)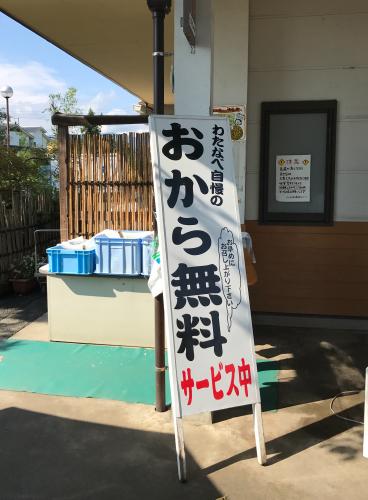 ・Local vegetable sales
Ogawa Town's organic vegetables and Tokigawa's local vegetables are available to purchase. Each pack shows the producer's photo.
Most of them are usually sold out before noon. So you must arrive in the morning!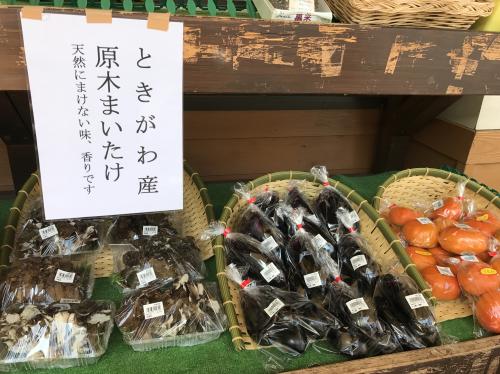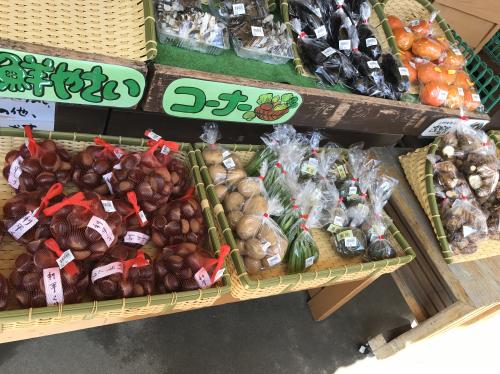 Summer vegetables are sold now and soon autumn chestnuts and Shiitake mushroom will be available.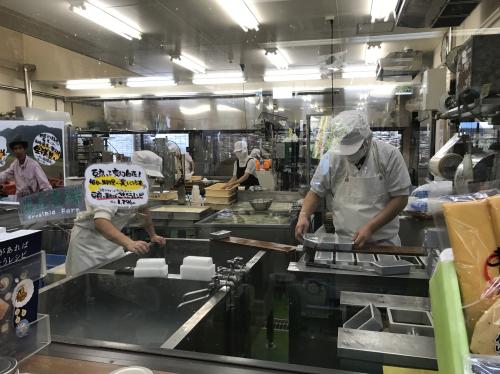 ・We can see the tofu production process
A variety of tofu is displayed in the shop by soybean production region. We can see the tofu production process through a glass window.
In addition to fried tofu, Natto and soy milk, a wide variety of products such as seasonings, Okara bread, doughnut and waffle are available.
The doughnuts are fried in front of the customers and freshly cooked doughnuts are served. Off course we can taste it first!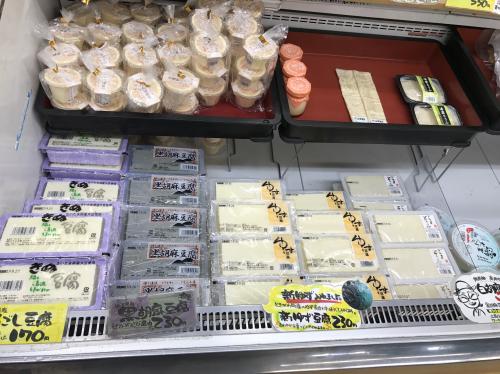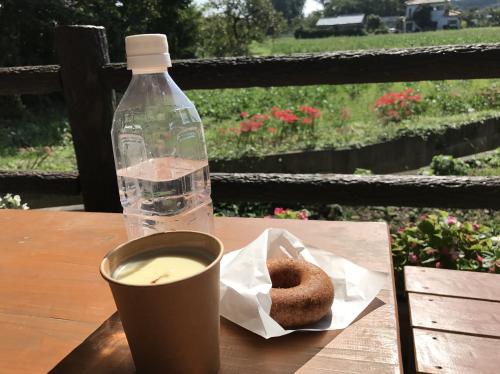 After shopping, let's have late breakfast. Okara croquette and soy milk soft ice cream are also popular.
The special soy sauce for the soft ice cream made me surprized! I had a relaxing time over hot soy milk and freshly cooked Okara doughnut while admiring red spider lilies in the garden.
"Toufukoubou-Watanabe"
Address:380, Oazabansho, Tokigawamachi, Hiki-gun, Saitama
tel:0493-65-0070 / Fax 0493-65-0090
*The information contained in the article is as of the date when we interviewed and subject to change. We strongly recommend that you make an inquiry to the store prior to your visit.
Healthy Restaurant Search
Did you know you could search for restaurants on Vegewel?
We provide searching services centered on healthy restaurant choices including organic, gluten-free, vegetarian, and more so please give it a try!