"mique" – beautiful vegan dishes served with an atmosphere of healing and art. [Komazawa-Daigaku station]
Updated:2019/02/02 Created:2018/02/25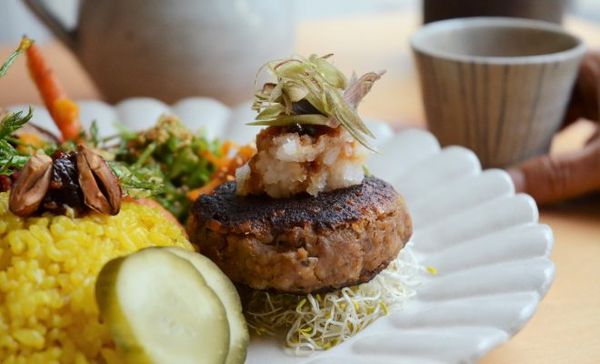 There is another wonderful restaurant which has opened by the Komazawa-Daigaku station in May 2017. This vegan restaurant is called "mique".
The owner Mrs. Keiko Seto manages the restaurant all by herself, and many customers are attracted by the relaxing atmosphere there.
Our Vegewel staff went there to conduct an interview but ended up staying for longer than expected due to its welcoming atmosphere.
We interviewed Mrs. Seto about her passion for food, the restaurant and it relaxing atmosphere, and various appealing point of her beautiful and tasty dishes!
Click here for location and detailed information on mique.
Visit Vegewel to search for veggie, vegan and gluten-free restaurants!
A unique and eye catching building in a residential area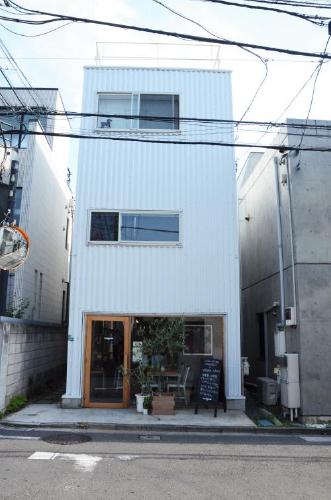 She is originally from an area near the Komazawa Daigaku station but her previous restaurant was situated close by the Ebara-Nakanobu Station on the Tokyu Ikegami Line.
"In January 2014, I opened a restaurant at Ebara-Nakanobu which was the predecessor to my 'mique' restaurant.
This restaurant was opened only during the night, and was for advanced reservations only. Many of our customers were people calling after their work.
The property was owned by my parents-in-law and I rented it for a limited period of 2 years until the property was demolished. After that I moved the restaurant into 'mique'."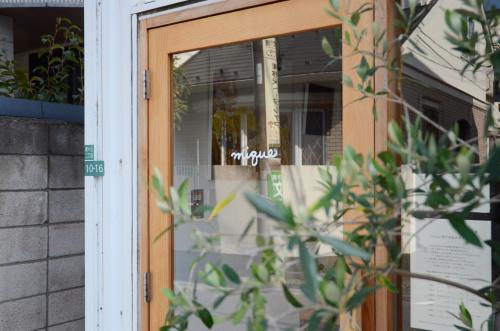 The current building looks great with simple but sophisticated atmosphere! It's eye-catching and stands out within the residential area.
"This is a rented property situated in an empty ground floor garage of my friend's house. My friend still lives upstairs!
It's close to my home and I feel comfortable that my friend is upstairs so there was no reason to hesitate in going forward with the business! "
Mrs. Seto thinks she is fortunate in finding good properties with good timing. She is a very lively, charming and bright person and maybe this encourages her good fortune!?
"Compared with her previous restaurant, the 'mique' has more regular female customers from the neighborhood.
At night, I started receiving regular customers who also visited my previous restaurant."
Vegan lunch plate looks so fascinating!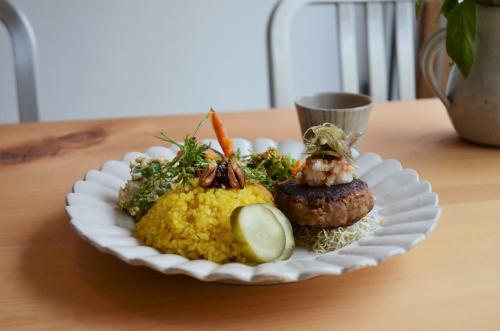 Our interview team ordered "Takakibi (sorghum) burger lunch (1,500 yen exc. tax)" from the lunch menu.
Wow!! The plate was so beautifully and carefully decorated and as soon as we were served the Vegewel staff were so excited.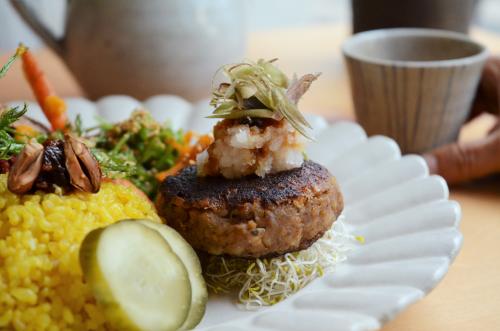 The burger was made of Takakibi (sorghum). And also contains Tempeh (an Indonesian dish made from fermented soy beans), Miso, soy sauce, and black garlic.
It has a voluminous texture and it has somehow a traditional nostalgic taste.
It's an ethnic flavored dish so the brown rice is colored with turmeric, soy sauce koji (yeast) and a raisin chutney accompaniment is placed on top of the rice.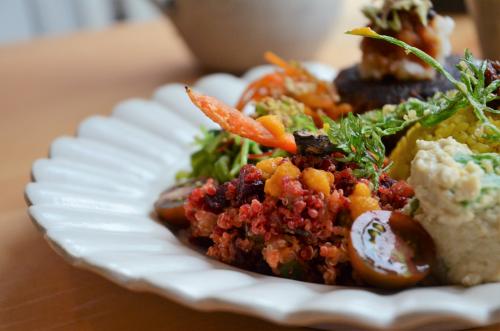 Side dishes for the lunch menu change every day. On the day we visited, there was a dish of Okinawan style sautéed shredded carrots, carrot leaf tempura, cucumber rice bran pickles, and gazpacho etc.
Also Pea sprout and pepper kimpira (cooked in sugar and soy sauce) with a sprinkle of Tartary buckwheat's seed.
Quinoa, beet and cucumber salad flavored with carrot and onion dressings.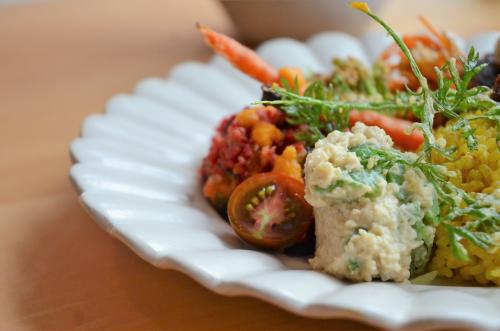 The above is Shiraae styled hummus (chickpea-based paste) mixed with Moroccan bean.
As you can see from the list, there is a large variety of items! It is a delightful lunch plate where you can enjoy a good variety of delicious food.
Main dish can be one or two options, depending on the day. Please enjoy the lunch plate of the day! Vegewel staff are looking forward to return to try the different lunch plate!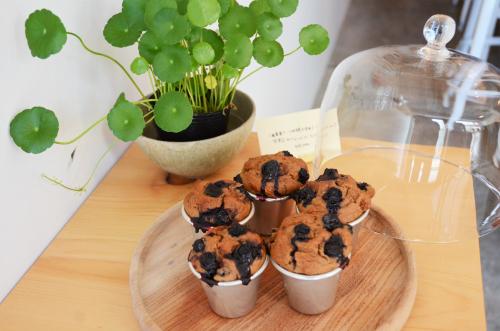 The desserts at "mique" are all vegan friendly as well as gluten free.
The above is "rice flour blueberry muffin (450 yen exc. tax)".
The fruit in the muffin changes daily as well. From autumn to winter, when this report is published it will be the season for apples.
Visitors may be able to come across muffins with naturally farmed apples.
Vegan ice cream was available during our visit as the dessert of the day, and was ordered by a male customer.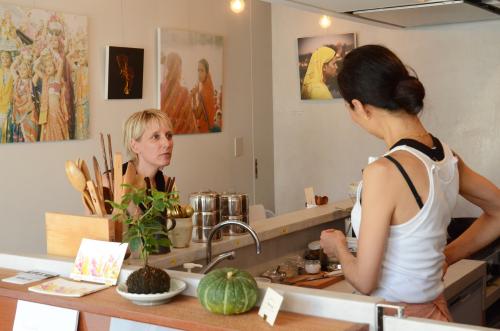 The evening dinner menu at "mique" is for advanced reservation only.
The chef's special selection course has 8 dishes (4,150yen exc. tax.). The menu is dependent on the seasonal vegetables available on that day.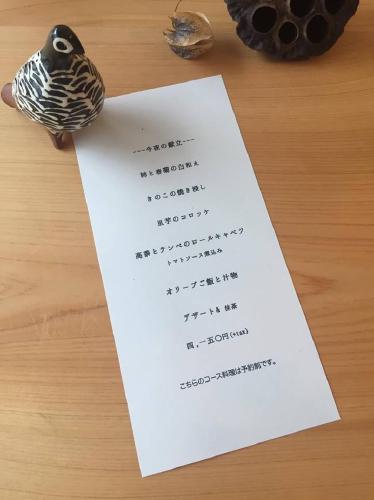 Above is an evening dinner menu.
At "mique", seasonal vegetables are regularly delivered by an organic vegetable shop and therefore customers can enjoy the freshness of seasonal vegetables.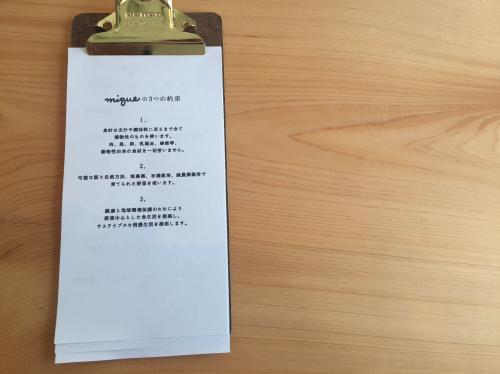 Three promises of "mique". Spelling out its policy like this gives an assurance to customers, especially to some customers with a strict diet.
"At the moment, there aren't many foreign customers. I am hoping many more will visit here", said Mrs. Seto.
Having said that, when Vegewel staff were visiting the restaurant, there was a female customer from Germany.
She told us that she was staying nearby in an Airbnb accommodation and found "mique" by chance as she walked passed.
She loved the dishes and this was her 2nd visit. She was enjoying the conversation with Mrs. Seto.
Originally a garage space! Works of art are displayed regularly on the walls which gives a different atmosphere on every visit.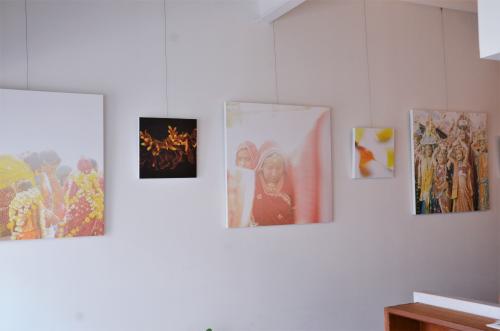 The restaurant space was originally a garage.
"The garage was a vacant space so I have renovated and transformed it into a restaurant. The renovation was done by one of my architect friends. I painted the chairs by myself.
The door of my previous restaurant was made by my father-in-law, and as it happens the door at 'mique' is very similar.
The owner of the property is my friend and she had already renovated the entrance area before I went to see the property so it was easier for me to imagine opening a restaurant here so I could make my decision very quickly. "
As the renovation was being completed by someone close to Mrs. Seto,
the interior design of the restaurant matches with her requirements and this may be the reason for the creation of such a comfortable atmosphere!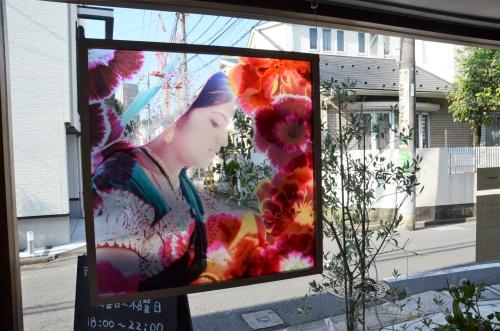 There are many artistic photographic images displayed on the walls of the restaurant.
When we visited, there were displays of images from Indian festivals by the female photographer Akiko Sameshima, and which gave the restaurant an Asian air.
"I normally select the displays which I think are 'great', from connections and friends. I love these displayed upon the walls of the restaurant, rather than it looking bare."
Normally each image is displayed for 1 or 2 months and she is enjoying the changing atmosphere depending upon the displays.
Customers are also able to purchase some of the displays.
*The information contained in the article is as of the date when we interviewed and subject to change. We strongly recommend that you make an inquiry to the store prior to your visit.
Store Information
Click here for location and detailed information on mique.
Healthy Restaurant Search
Did you know you could search for restaurants on Vegewel?
We provide searching services centered on healthy restaurant choices including organic, gluten-free, vegetarian, and more so please give it a try!