Halal, veggie, vegan… suit anyone's requirement! 27 years since opening. Providing Malaysian ethnic food the restaurant "Malaychan" [Ikebukuro]
Updated:2019/02/02 Created:2018/03/02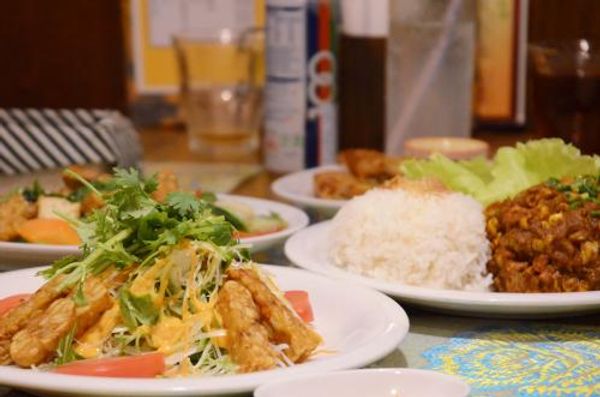 As far as we know, it's the first Malaysian ethnic food restaurant in Japan!
The "Malaychan", was established 27 years ago in Ikebukuro,
it is the only restaurant in Japan which has officially received a Halal certificate by the Department of Islamic Development Malaysia (JAKIM).
Malaychan, not only provides halal food options, but also caters for requests for vegetarian and vegan requirement.
Upon request, it can flexibly cater for your requirements for vegetarian or vegan dishes, even when dishes normally use animal ingredients.
Many customers are really happy with this service.
We had an opportunity to interview Mr. Hiromichi Fukusawa and Mr. Toru Shimakura from J.F.C.Ltd. This company manages the Malaychan restaurant.
Click here for location and detailed information on Malaychan.
Visit Vegewel to search for veggie, vegan and gluten-free restaurants!
The taste of Malaysia prepared by a "Japanese Mum" hasn't changed for 27 years.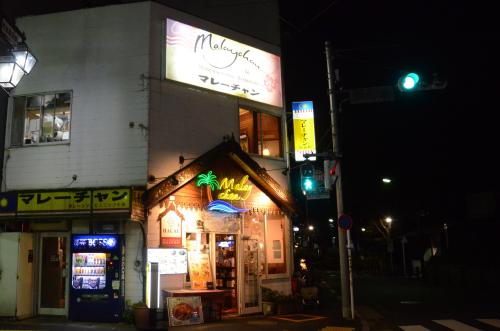 Mr. Fukusawa said, "The restaurant was established in 1989 and since then it has remained at the same premises.
At present we have three restaurants, the first 'Malaychan 1' is situated by West Exit of the Ikebukuro station,
the 2nd 'Malaychan 2' which is situated in East Ikebukuro, and the 3rd 'Kitchen Malaychan' which specializes in delivery and catering".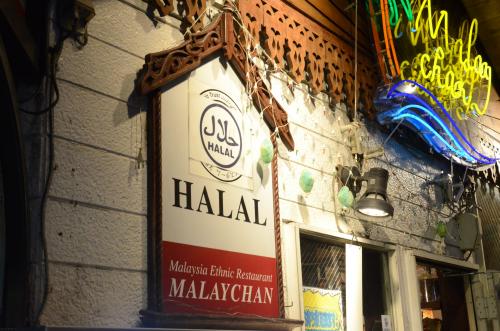 We visited their first restaurant the "Malaychan 1", which is officially Halal certified by JAKIM as well as by the Japan Islamic Trust (in Otsuka).
The restaurant is officially a Malaysian Muslim food restaurant.
One of the main talking points for the Malaychan is the presence of the manager of the restaurant who is affectionately known as "mum".
Mr. Fukusawa said, "She is Shoko Fukusawa, my mum, and she's been working at the restaurant since it was established.
It's my mum who decided that we open a Malaysian restaurant. For many Malaysians and regular customers, she is like their 'Japanese mum'. "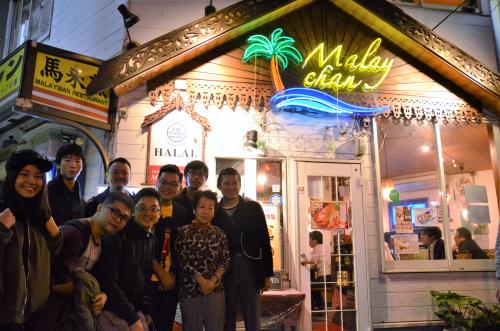 During our interview, she was working vigorously. She was making conversation with customers along with serving dishes and drinks, as well as caring for us.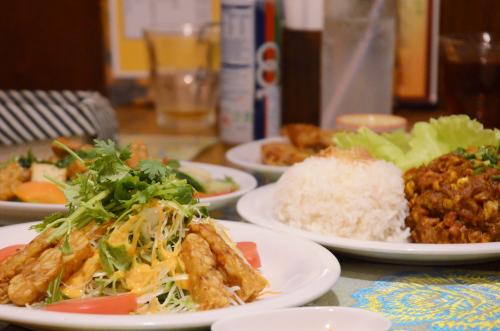 Malaychan is well-known as Halal restaurant, but it also caters for the vegetarian and vegan requirements.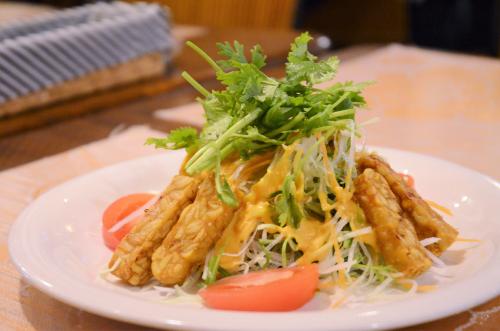 The above dish is vegetarian "Tempeh Salad (800 yen inc. tax)". It uses an original sauce made by the Malaychan.
It's not the culture to eat fresh salad in Malaysia, so this is Malaychan's original menu for Japanese customers.
This salad includes soybeans which are very familiar to Japanese people, and as you taste it, it reminds you of homemade Japanese dishes. It is moist and easy to eat as well!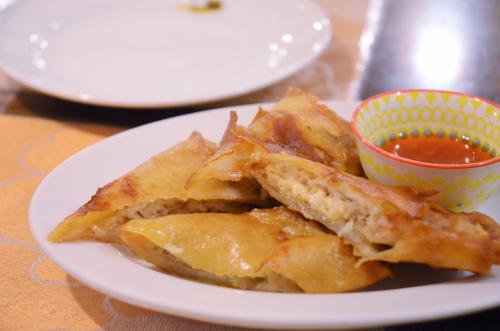 The above is "Tempeh Spring rolls (750 yen inc. tax)." This is also a Malaychan's original veggie menu. Wow! I was so impressed that the Tempeh really tasted like meat!
Many customers believe this is a meat dish. It's one of the most popular dishes and it easily can be sold out.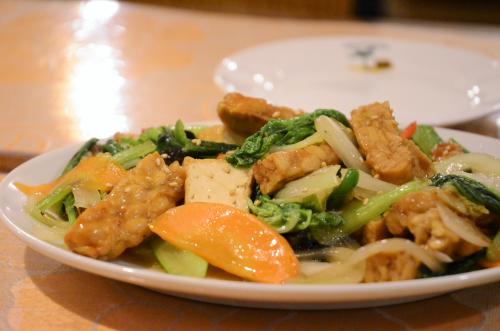 The above is "Stir-fried fried tofu, tempeh and five vegetables (980 yen inc. tax)".
This is flavored with the "Malaychan sauce" which is an essential sauce for Malaysian food, obviously the name of the restaurant has originated from this sauce.
Malaychan sauce contains a fish sauce, so if you are vegetarian and don't like any fish in your diet, upon your request the food will be prepared with a different sauce.
The dishes taste Asian in origin, but most of the ingredients are familiar to Japanese people.
Tempeh adds extra volume to their vegetarian dishes and is very filling without using meat.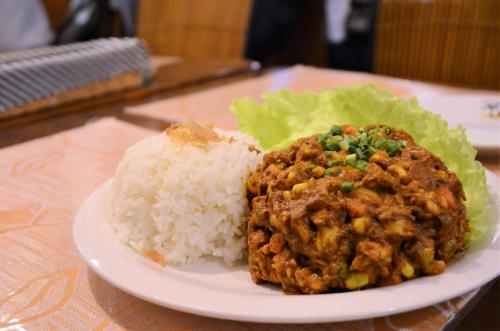 Lastly, the above is "Tempeh dried curry (1,400 yen inc. tax)".
It's not the culture to eat dried curry in Malaysia, so this is also a Malaychan's original.
This dish contains chicken, but if you prefer they can prepare it as a vegetarian meal without chicken.
You can enjoy this with rice or wrap this within the accompanying lettuce. These are delicious combinations.
There was a tempeh boom in Japan and it was highlighted in the media for a while. But it had already been introduced into Malaychan's menu long before this.
Malaychan's "mum" went to Indonesia to purchase the tempeh fungus and through trial and error she managed to mature her own original tempeh back in Japan.
Her curiosity and ability to take action is the drive to create her original dishes which are ahead of time.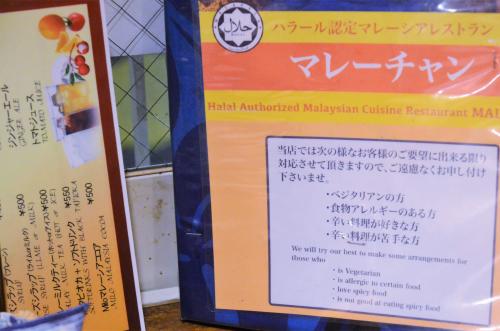 At Malaychan, chefs are flexible and are able to cater for customers' requests for their preferred flavor or for the ingredients of dishes.
Mr. Shimakura said, "It's not often that we receive orders exactly as written on the menu (laugh). Most of the time, orders are customized.
One by one, our chefs meticulously prepare the right food. It takes lots of hard work but we feel it's worthwhile as our customers are coming back as a result".
The restaurant started up in support of foreign students who live in the local neighborhoods. But now also caters for people from all over the world with various dietary restrictions!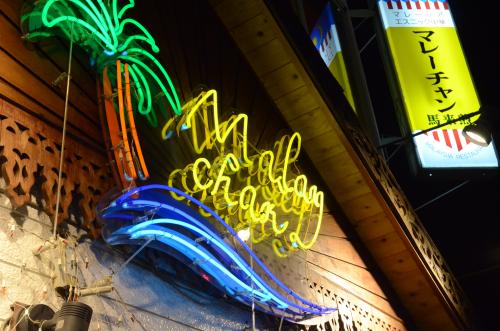 In the first place, why did she decide to open a "Malaysian food" restaurant? Mr. Fukusawa told us as follows.
"Before opening the restaurant, my mum was looking after foreign students.
As my father was teaching at the University, there are many students visiting our house including many foreign students.
We were also renting a property next door to our house and set it up as a share-house for foreign students. It was quite usual for us to feed them and support them in many ways. "
For some reason there were a lot of Malaysian students. And the "Malaychan" was established so that the Malaysian students could access their home grown dishes.
"At that time, many of us hadn't heard the word 'Halal'. Of course there were hardly any restaurants providing Halal dishes in Japan.
So my mum decided that 'I will open a Halal restaurant for you to eat food that you can trust' and then opened a restaurant."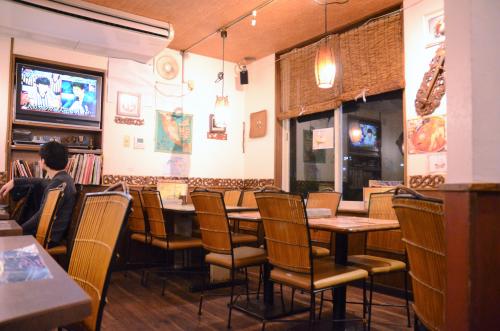 To help the Malaysians in the neighborhoods gain access to food from a secured source. The idea still hasn't changed up until now.
"From helping people in the local neighborhoods, we are now helping customers from all over the world.
The restaurant wishes to provide dishes to cater for many different people with dietary restrictions including Halal, vegetarian and vegan.
We are continually studying and being innovative at the running of the restaurant so that many more people will enjoy the Malaychan experience!".
*The information contained in the article is as of the date when we interviewed and subject to change. We strongly recommend that you make an inquiry to the store prior to your visit.
Store Information
Click here for location and detailed information on Malaychan.
Healthy Restaurant Search
Did you know you could search for restaurants on Vegewel?
We provide searching services centered on healthy restaurant choices including organic, gluten-free, vegetarian, and more so please give it a try!