Take taste beyond your imagination! Genuine creative cuisine one step beyond the conventional vegetarian restaurant "Lotus & Flower's One"【Higashi Koenji】
Updated:2019/02/01 Created:2017/11/29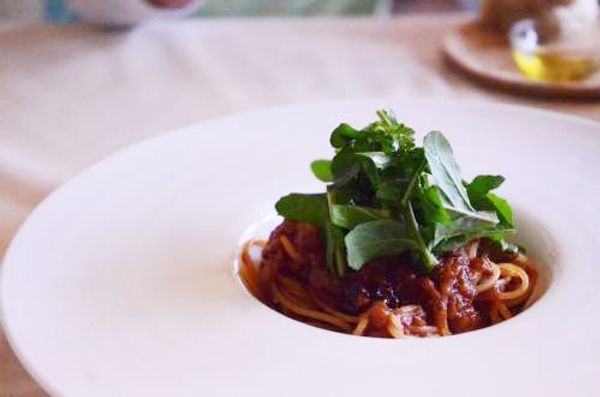 "Lotus & Flower's One" is situated 3 minutes walk from Higashi Koenji Station.
This restaurant was opened in February 2009, and is an "organic vegetarian restaurant" which does not use any meat or fish and meals are prepared with only carefully selected vegetables.
The chef and owner Mr. Tetsuo Ohira has travelled to more than 20 countries around the World to learn about their vegetarian dishes and he creates beautiful and delicious vegetarian dishes.
And these dishes attract tremendous support from many people including professional chef and foodies.
This report includes our lunch experience and Mr. Ohira tells us about his passion for the vegetarian food.
Click here for location and detailed information on Lotus & Flower's One.
Visit Vegewel to search for veggie, vegan and gluten-free restaurants!
Fans visit from afar to the restaurant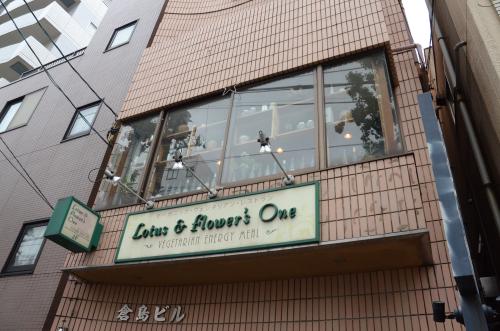 The restaurant is close to the Higashi Koenji Station which is on the Tokyo Metro Line. The "Lotus & Flower's One" is on the 2nd floor of this building.
"I was looking for a suitable property to start a restaurant and it was by chance that I opened it at Higashi Koenji.
I opened the restaurant with plans to experiment on how far and wide I could attract customers with my cooking skills."
The average price of a lunch menu from restaurants in the Higashi Koenji area is just under 800 yen, and some of the lunch course menu at "Lotus & Flower's One" is almost 3,000 yen.
However the restaurant is constantly receiving customers and this shows that the quality of the dishes is high and it is supported by many people.
Some of the customers are local residents but many other customers come from afar to enjoy the special food.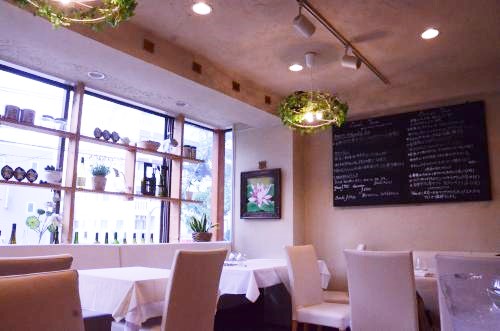 Inside the restaurant has an elegant and warm atmosphere. Plain and discreet toned tables and chairs help to highlight the colorful dishes.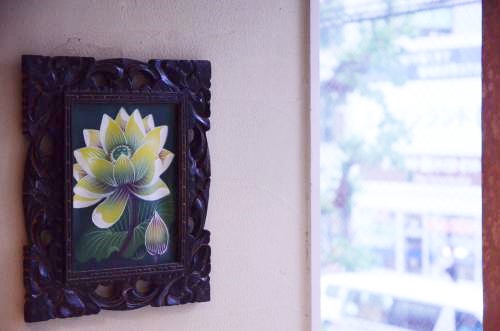 You can find a beautiful painting of the "Lotus Flower" which is associated with the restaurant.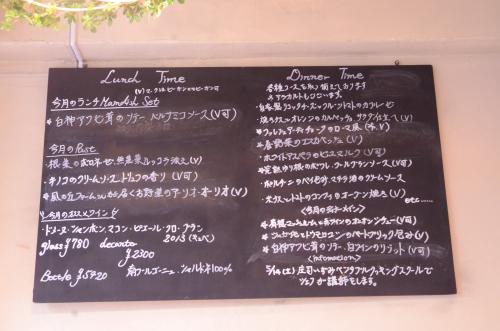 All menu options at the "Lotus & Flower's One" is totally vegetarian.
From the various vegetarian styles, the restaurant has adopted the "Lacto-ovo vegetarian" style,
which does use some animal produced products such as eggs and dairy ingredients therefore it is easier for people who normally eat meat and fish to try out the meals comfortably.
Within the menu, salads and soups are a totally vegan friendly style. And the customers are able to choose vegan or vegetarian for their appetizer, pasta, main meal and desert.
The menu is comprised of a variety of set menus or a single course both for lunch and dinner.
"Although we clearly say as a vegetarian restaurant, most of our customers come from a non vegetarian background and our vegetarian range of dishes is satisfactory even to non-vegetarian customers!"
The items on the menu are uncompromisingly created as a top class cuisine in looks and tastes.
Many foodies who go around various famous restaurants praise the dishes of this restaurant as they are beyond the conventional for vegetarian food.
We tried the lunch course!
The Vegewel Style interview team has tried lunch course meals.
We ordered "lunch course (3,230 yen inc. tax)". It was like a dinner course and we were really pleased to enjoy such a luxury course meal for about 3,000 yen.
Two of us went to the review so please enjoy the below photos and our findings for the two different sets of menu.
*Please note the menu changes every day.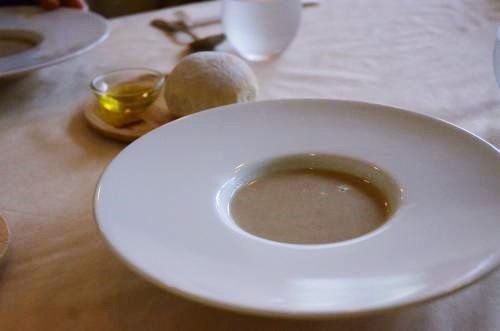 To start with the soup.
They serve a seasonal vegetable potage and today's soup was a "mushroom potage".
The fragrance of the mushroom and the robust flavor spread in our empty stomach… We couldn't believe such a rich flavored taste as was provided by the vegan friendly soup!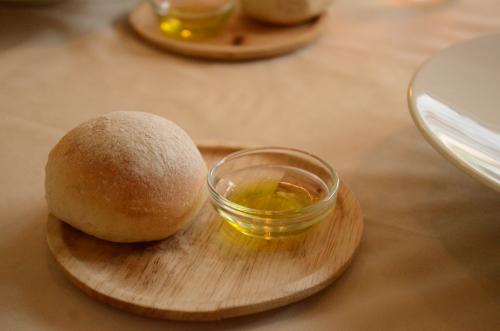 While we waited for the next dish, we enjoyed their freshly baked bread. The bread was soft and warm, and so tasty we couldn't stop.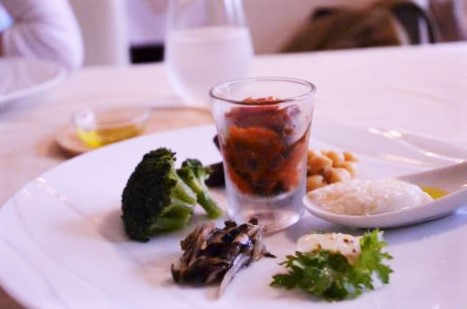 The next dish was an assortment of appetizers.
Today's appetizers were ladled Tofu, Aloe Carpaccio, mushroom Aglio Olio, steamed broccoli with garlic flavor, red wine simmered burdock, chick peas marinated with herbs, and Caponata.
So many different varieties of appetizers!
Especially impressive was the Aloe Carpaccio. Instead of using fish, they use Aloe to create the texture of Carpaccio, brilliantly. We were deeply impressed!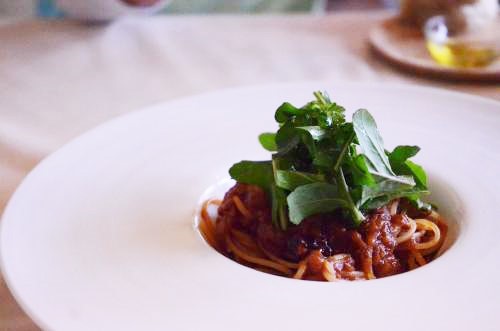 For the pasta course, we had two different choices.
The photo above is of "Root vegetables bolognaise, accompanied with an organic rocket salad".
The root vegetables made the pasta as much or even more substantial than bolognaise which is traditionally includes meat. It has a rich and strong flavor but vegan friendly style.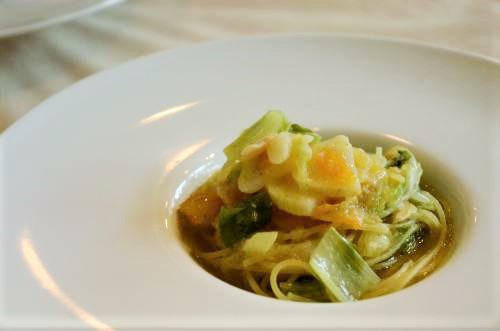 The above dish is a "Pasta with Shantung vegetable and turnip".
It has a light taste but with the olive oil mixed well with the pasta the dish is very satisfactory.
On a side note, Shantung vegetable is a kind of Chinese cabbage and it was in season when we visited.
To taste seasonal vegetables so deliciously prepared by a professional chef was a happy moment of my life!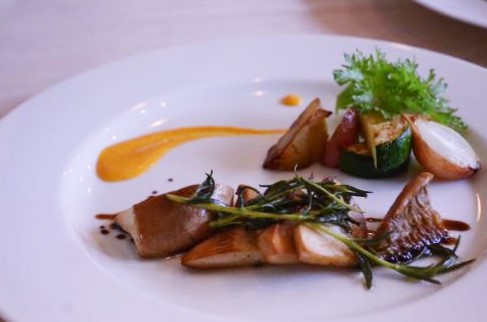 We ordered two different main dishes as well. The photo above is "Sautéed Shirakami Abalone Mushrooms with balsamic sauce".
Springy and meaty abalone mushrooms are served with a rich and sour balsamic sauce. Mr. Ohira can magically transform mushrooms into a delicious main course dish!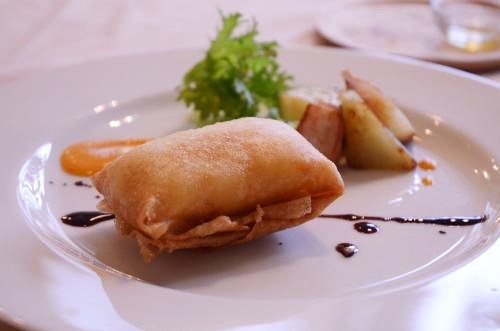 This main dish is "Pureed potatoes and sweet corn from Hokkaido wrapped up in a pate brick".
The crispy pate brick is matched very well with a sweet puree filling of vegetable! We cleared our plate very quickly as we greatly enjoyed.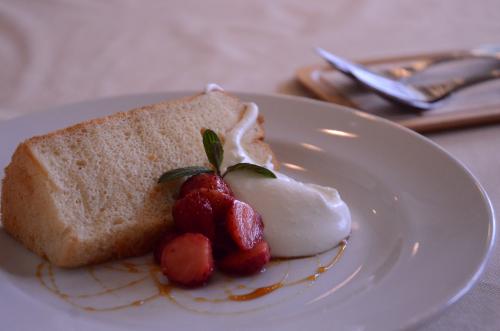 Our final course is not yet finished! The dessert was impressively tasty as well!
We ordered two different desserts. The one above was chiffon cake and the other was an ice cream.
Just the right amount of sweetness came together with a mild sourness of the strawberry and made our mouth feel fresh after the meal. It was really a satisfactory lunch for us.
There are also different lunch menu such as a "main dish set (during the week: 1,620 yen inc. tax / weekend and holiday: 1,980 yen inc. tax)", or a "pasta set & pasta lunch",
but if you visit for the first time we recommend that you to try the "lunch course"!
It is really a good value to taste the elaborate lunch course for about 3,000 yen inc. tax. Please try for yourself the delicious vegetarian dishes!
*The information contained in the article is as of the date when we interviewed and subject to change. We strongly recommend that you make an inquiry to the store prior to your visit.
Store Information
Click here for location and detailed information on Lotus & Flower's One.
Healthy Restaurant Search
Did you know you could search for restaurants on Vegewel?
We provide searching services centered on healthy restaurant choices including organic, gluten-free, vegetarian, and more so please give it a try!