No Feelings of Guilt! How about a Bliss Ball a present with sense and healthiness? 【FOOD JEWELY】
Updated:2019/02/01 Created:2017/12/01
Have you heard about a round ball shaped interesting dessert in a box for jewelry? The popular topic around the scene "Bliss Ball".
This Bliss ball, it's not just a cute looking sweet. It is made from all healthy ingredients, a sweet good for the body with "no guilt".
This time, we had a chance to interview the trend setter of bliss ball, Reina Tsuboi the representative of FOOD JEWELY!
Visit Vegewel to search for veggie, vegan and gluten-free restaurants!
"Bliss Ball" a sweet dessert born in Australia.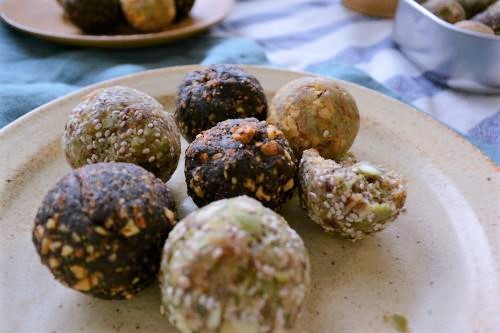 It was about a year ago, that Food Jewelry started spreading bliss ball in Japan.
Healthy minded and highly sensed ladies and from it's high nutritions, athletes have set their eyes, increased the knowledge about bliss ball.
"Bliss ball is a food born in Australia. I love eating sweets, but always had "guilt" eating them.
If it was dried fruits or nuts, it is delicious and is also good for the body, no need to feel "guilt".
So I stated thinking that it would be great if there was a sweets or dessert made from dried fruits or nuts, one day I happened to find it on the web, fell in love of it's cuteness instantly."
Besides bliss ball, there are many ways to call it, such as law ball and energy ball.
Ms.Tsuboi was mostly attracted to the name of "Bliss ball", meaning "Bliss" being the word to define the happiness. The reason to spread the name in Japan.
"Bliss balls in Australia are mostly sold in big jars at cafes. Lager size, higher calories, less waters, more like nutritional bars.
Made some adjustments to Japanese size, lower calories and changes the texture so that it can be enjoyed as some dessert."
Invincible Sweets! Delicious, beautiful and healthy for the Body.
Bliss ball of Food Jewelry is made from nuts, dried fruits snd super foods, being very high in nutrition.
The characteristic is that it is only made from what is healthy for body, no sugar, no flour, no additives being used.
"As a policy of Food Jewelry, we do not use honey or maple syrup for the sweetness. We for sure use the sweetness of the ingredients only. Definitely a "no guilt" sweets!"
Bliss ball has great vivid colors! This all comes from the colors from nature. It is said to be a true natural sweets, the look and the taste.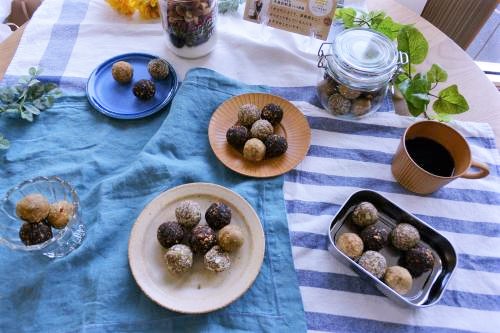 Being a sweets filled with concepts, do you have many customers that are vegan, vegetarian, people with policy for eating?
"No.They are mostly people who eat meats and fish, not vegan or vegetarian. There were people that came by buying some chocolate, and happen to be interested with Food Jewelry."
Having some tasting, turned out it is delicious and ingredients are all natural.
The customers bought it saying, "This is nice!". The thoughts are the same that you want to be healthy, even if you're not vegan or vegetarian.
Ms.Tsuboi's idea is that if there are something that taste good and is good for the body, it eventually will be selected.
Here is the Standard Bliss Ball of Food Jewelry!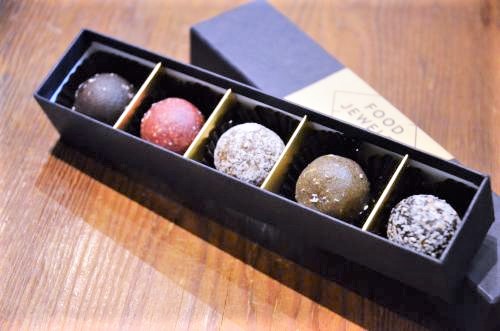 The bliss ball from Food jewelry all have numberings. Of all, No.1 ~ No.5 are constantly being sold as standard.
No.1 is "Cacao x Cacao nibs", No.2 is "Fig x Walnut", No.3 is "Apricot x Cashew nuts", No.4 is "Green Tea x Pumpkin Seeds" and No.5 is "Baked Quinoa x Cacao".
"No.2 is the most popular menu. Is cute with pink color, the popping texture of the fig is being enjoyed from female customers mainly.
No.1 is almost like ganache, got an applause from professional chef from Michelin saying "This is the best".
We put our effort on No.5 on how to use quinoa. Boiling them makes it too moist, can't be eaten as it is… We ended up baking it, turned out the texture was great and was able to make it something very nice!"
Besides the standard numberings, there are seasonal menus provided.
"We are hoping to create something like "Journey" "Recursion", a flavor with theme.
Thankfully, there are repeaters increasing, we want to be able to provide and updating with new ideas. Also want to try something very new and challenging like never been!"
By the way, except for the roasted nuts, all the ingredients are "raw food", served without heated.
Recommended to keep it in refrigerator to enjoy in best condition as possible.
Here are retailers of Food Jewelry.
Want to make Gift Sweets like Jewelry!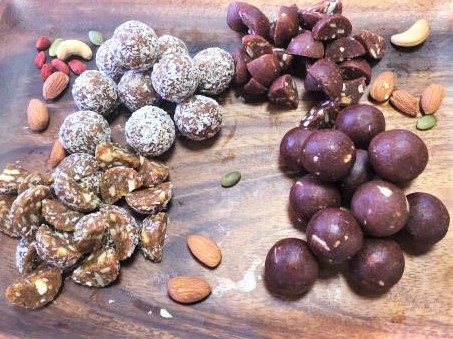 Food Jewelry's bliss balls in luxury box are recommended also for presents and gifts!
"There weren't something that was suitable for presents and gifts that are good for the body and healthy.
Wanted a gift that is "Considering for Body", for those who are working out, or for those who care a lot about their health.
Thinking about that, I had in my mind to put the bliss balls in nice box from the start."
Colorful, heart sparkling sweets as you open the box! Flourish as if you are given a jewelry.
"In the name of our company Food Jewelry, we put our meaning as providing the sweets in a jewelry box, also a double meaning for that "hope that the life of who receive will sparkle and flourish".
We hope to help through our customers' life being more brilliant with Food Jewelry's bliss balls."
Uplifting sweets in jewelry box like package. Also good for your body and healthy leaves you "no guilt". No doubt it's definitely a happy gift!
*The information contained in the article is as of the date when we interviewed and subject to change. We strongly recommend that you make an inquiry to the store prior to your visit.
Healthy Restaurant Search
Did you know you could search for restaurants on Vegewel?
We provide searching services centered on healthy restaurant choices including organic, gluten-free, vegetarian, and more so please give it a try!