A newly opened café with groceries store"L for You": for a beautiful and healthy stomach![Omotesando]
Updated:2019/02/01 Created:2017/12/27
The café "L for You" was opened on the 20th September, and which placed an additional healthy icon onto Omotesando where there are many specialized vegetarian restaurants and cafes are gathered.
It is said that our body has a second brain within our intestine.
This café focuses on a great wellbeing through a healthy intestine and its aim to achieve this through their gluten free meals and vegan meals.
This café also conveniently sells their meals in lunch boxes, and also sells organic food stuffs.
Click here for location and detailed information on L for You.
Visit Vegewel to search for veggie, vegan and gluten-free restaurants!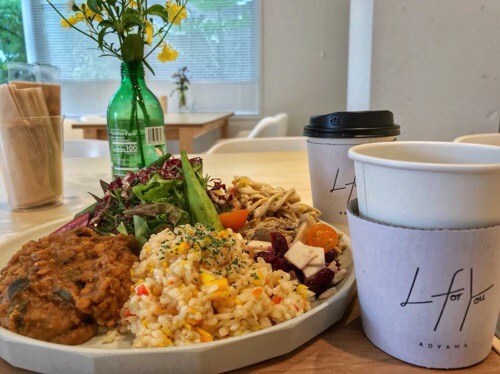 @dokin_instagram has posted about the new opening of this cafe!
"Vegan gluten free plate at this newly opened cafe called "L for You" in Aoyama. It's just opened on September 20th.
I loved their miso ball (instant miso soup ball)!! Please try to visit!"
This delicious looking photo caught the attention of our Vegewel writer and she visited on the same day she saw it!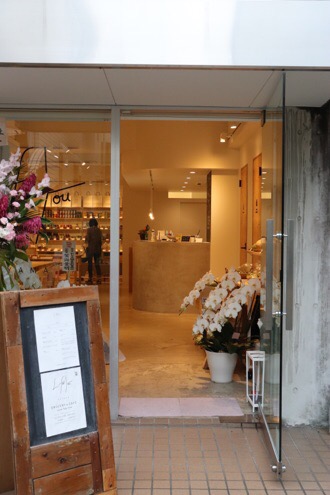 It is a 5 minute walk along Aoyama Street from the Omotesando Station A3 Exit. A lovely new café in the South Aoyama area.
L for you is not just a café, it's a convenient multiple purpose store which also sells lunch boxes, delis, gluten free sweets and food stuffs.
It opens early daily at 7 a.m. in the hope that more urban people with a busy lifestyle can fit healthy meals into their life.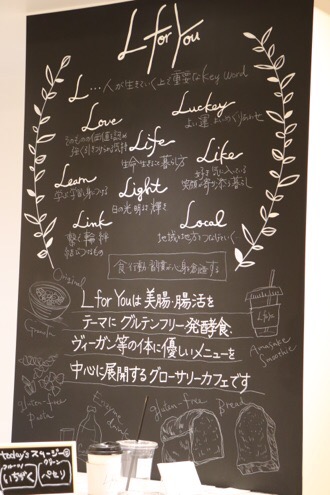 L for You is focusing its attention on the wellbeing and healthy intestine, and therefore serves fermented food which is meant to keep your intestine in good order and healthy,
and also gluten free meals which are low impact and light for healthy function of the intestine.
Further to that, chemical free and organic vegetables are given high priority and food additives or preservatives are not used whenever possible.
The impression of the store premises and the development of the menu is supervised by Creative Director MIHO,
who is popular for her beautiful body making, and Macrobiotics Instructor/ Food Coordinator Yu Yamada.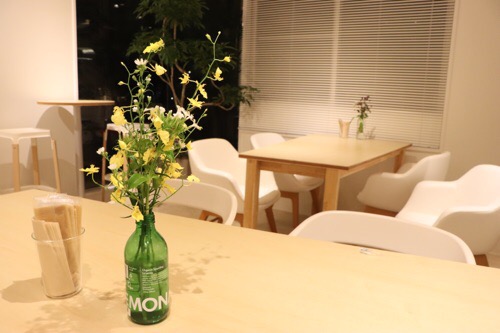 The store is decorated with natural color combinations featuring white and the warmth of wood, and visitors can feel relaxed inside.
Lunch and deli with miso balls and fermented seasonings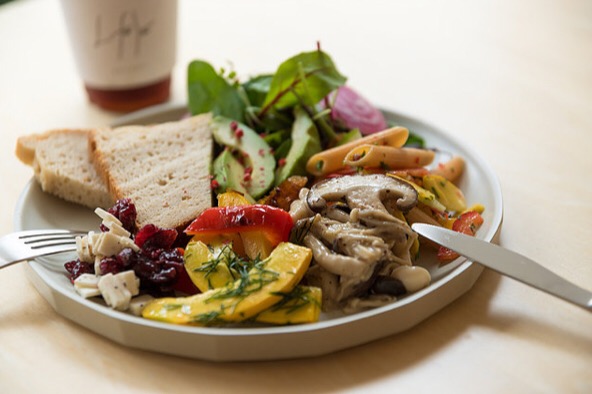 The above instagram-genic image is a weekday lunch plate (1,200 yen including a set drink) or weekend lunch plate (1,600 yen including a set drink and a miso ball).
Customers can choose from vegan or non-vegan options.
Depending on the deli of the day, the staple food can change such as rice flour bread or brown rice. A variety vegan menu is served daily for example bean curry.
The same contents of the lunch plate can be purchased in a lunch box as well, so customers can take out and eat at their offices!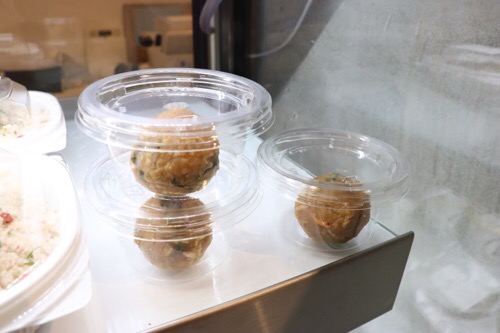 They look like sweets at first glance, but they are miso balls using soy bean and wheat (150 yen).
A good value weekend lunch plate comes with a free miso ball. Customers can choose vegan or non-vegan options as well.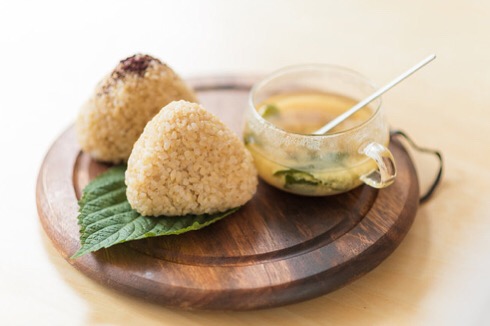 Brown rice ball (200 yen) with a miso ball can be a delicious breakfast!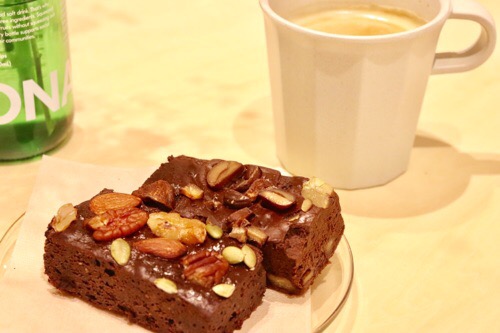 Rich chocolate vegan brownie (626 yen) is very moist and melts in your mouth like a ganache.
This "L for You original version brownie" is baked by Makana cooking salon which is popular at the Aoyama Farmers Market.
Their fans had heard about the news and already might have been to buy these brownies!
In our visit (Vegewel team), we have chosen mixed nuts (image left) and organic roasted chestnuts (image right).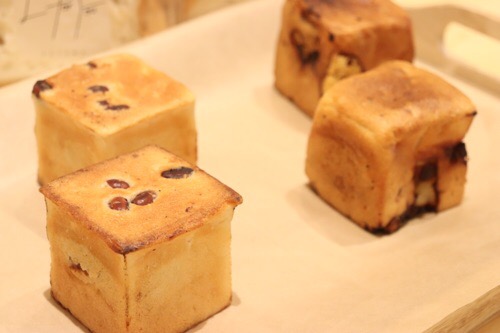 They are so adorable looking! These are some of the L for You original rice flour cube bread series.
The daily selections of cube bread were azuki (red) bean, rosemary, bacon and cheese. Needless to say, all rice flour bread is gluten free.
Gluten free loafs of bread are on sale as well.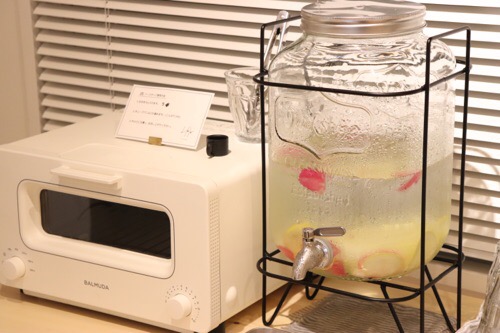 There is a toaster inside the store, so that customers can taste warm and soft rice flour bread!
It's like a convenience store. Customer can buy organic vegetables and deli conveniently.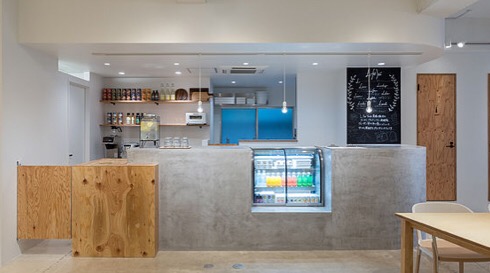 We want to choose healthy food not only when we eat out, but whenever we eat meals and snacks. L for You grants you these wishes!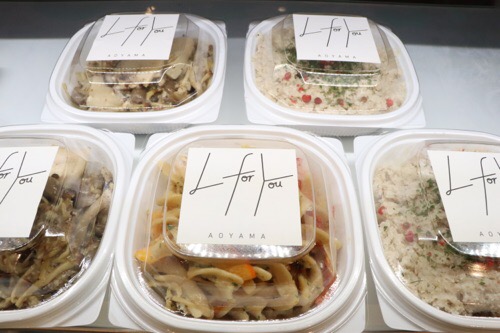 Special deli of the day is prepared in the store,
and many of them are Japanese traditional fermented foods such as marinated mushrooms with Amazake (a sweet drink made from fermented rice), and vegetables Nukazuke (fermented in rice bran).
The center of the above image is a high in protein gluten free chick pea pasta salad.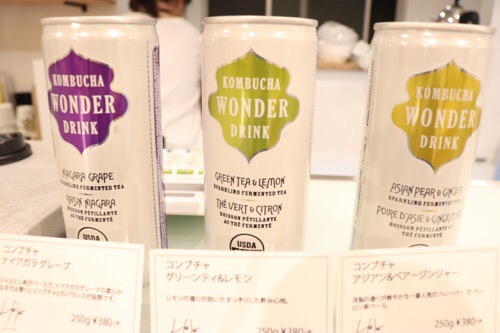 Kombucha (seaweed tea) is becoming a hit.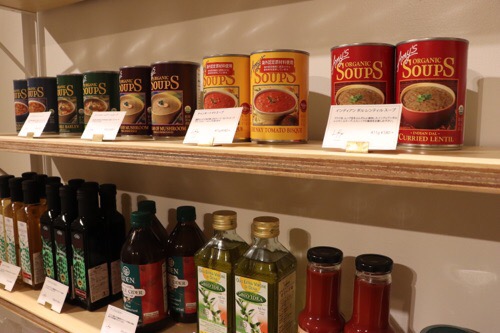 I found an organic Indian curried lentil soups!
These line ups on the groceries shelves are rare and cannot find many other places. I cannot help myself looking at everything.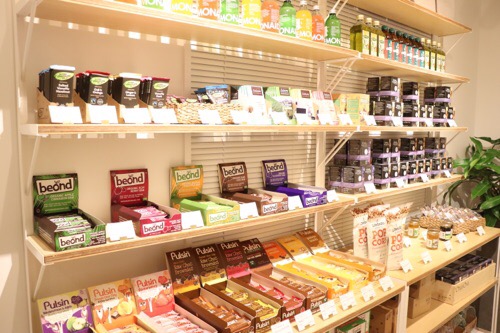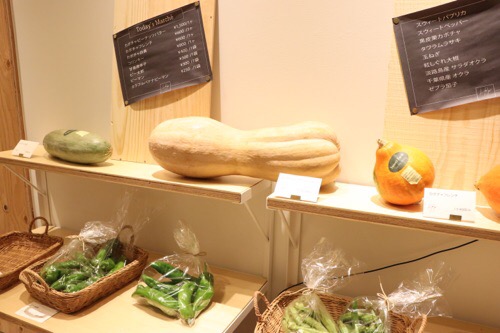 There are plenty of delicious looking vegetables as well! Some of them look as if they are an art creation!
There is one more store in Omotesando which sells safely sourced food stuffs conveniently. Omotesando will be even more popular and lively with healthy food fans!
L for You is planning to expand its variety of menu soon and also plans to have events and workshops. Please look forward to it!
*The information contained in the article is as of the date when we interviewed and subject to change. We strongly recommend that you make an inquiry to the store prior to your visit.
Store Information
Click here for location and detailed information on L for You.
Healthy Restaurant Search
Did you know you could search for restaurants on Vegewel?
We provide searching services centered on healthy restaurant choices including organic, gluten-free, vegetarian, and more so please give it a try!