Veggies & macrobiotic gastropub! Yokashikoya Konfuan 【Sendagi】
Updated:2019/02/01 Created:2017/11/13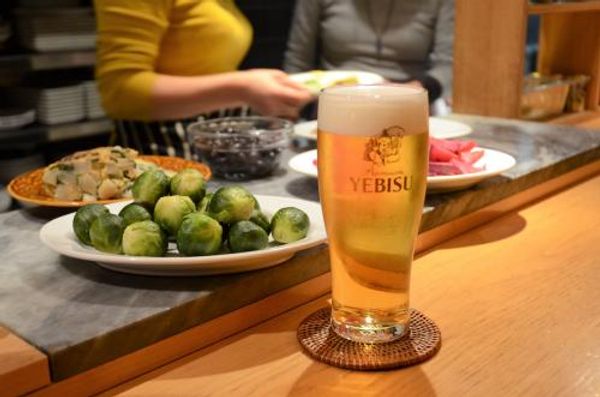 Yokashikoya Konfuan opened in 2003 celebrated the 14th anniversary this year.
It is a unique gastropub style macrobiotic restaurant where you can enjoy set meals cooked with vegetables in season and a la carte dishes with alcohol drinks.
In the interview, the owner, Keiko Miyamoto told us a lot about her recommended menus, her passion about vegetables and how she knew macrobiotics!
Click here for location and detailed information on Yokashikoya Konfuan.
Visit Vegewel to search for veggie, vegan and gluten-free restaurants!
The counter seats are occupied first! Many customers pop in here alone.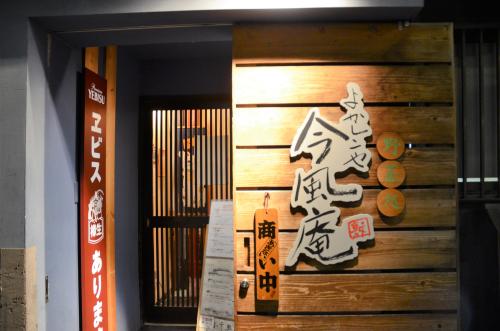 Konfuan is near Sendagi Station on the subway Chiyoda Line. It looks like an ordinary Japanese gastropub from the outside.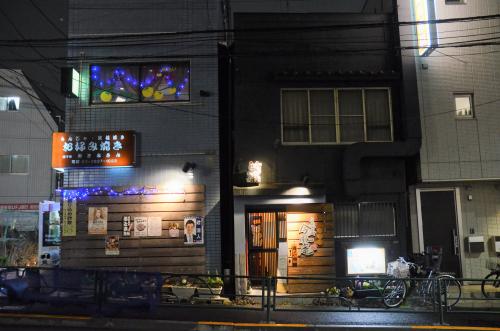 This photo was taken in rain and it is not easy to spot it. But the "Fortune Cat (Maneki-neko)" above the entrance is welcoming guests. It is illuminated in the night to invite people.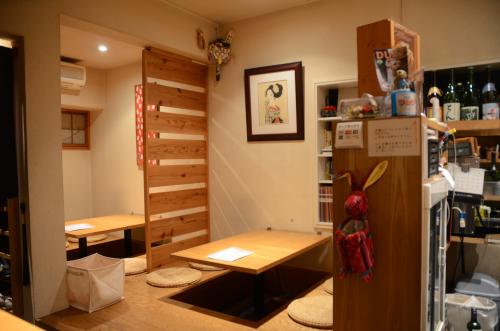 The inside has a homelike atmosphere. There are a table for four people and 2 low tables over a hole in the floor (for five people) in the back.
But the main seats are at the counter table facing the kitchen.
The counter seats are very popular as people can enjoy casual conversations with the owner. The counter seats are always occupied first.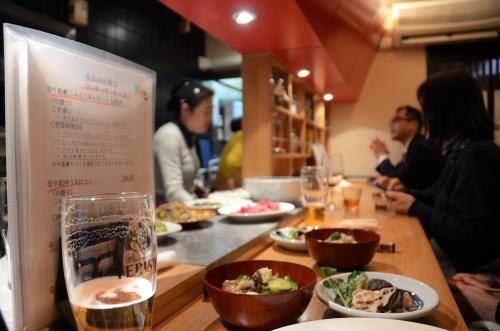 The restaurant has many regular customers and some of them come alone to enjoy food and drink at a counter seat.
Some eat a set meal for their dinner and some enjoy a drink with a la carte dishes. Everyone enjoys in their own style at Konfuan.

Three kinds of set of the day are popular. They contains no animal products, thus they are ideal for vegans.
*They occasionally contain eggs. However, if you ask the staff, they will prepare set meals without eggs.
A small appetizer and 4 veggie dishes "Konfuan Set (1,830 yen incl.Tax)"
A small appetizer and 3 your choices of veggie dish "Yuna Set (1,380 yen incl.Tax)"
Yuna Set served with boiled 50% polished brown rice, miso soup and pickles "Vegetable Set (1,820 yen incl.Tax)"
If you order for a la carte veggie dish and "Rice Set (boiled 50% polished brown rice, miso soup and pickles)(540 yen incl. Tax)", you can make your own original set meal.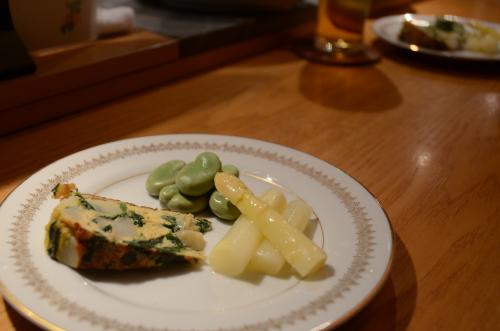 In the interview, we tasted the Vegetable Set. Firstly, the small appetizer "Broad bean, white asparagus and Spanish omelet" was served.
Three of them went well with beer! They were lightly seasoned to make the most of the taste of veggies.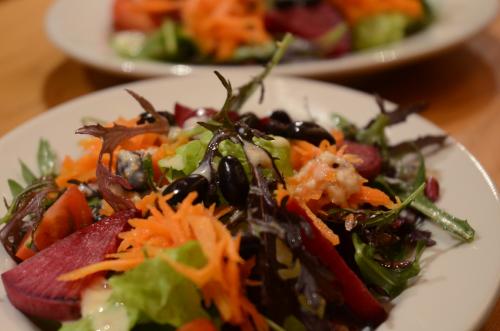 This is one of the three veggie dishes, "Black beans and mixed leaf salad".
A plenty of vegetables was served on the plate! It is great to take a variety of vegetables at once! It is not easy to prepare the same dish at home.
This dish was also lightly seasoned to fully enjoy the taste of veggies. The sour dressing boosted our appetite.
These black beans were grown in a vineyard. "Have you noticed the taste of wine?" said the owner.
That might be true. The taste of beans was very rich.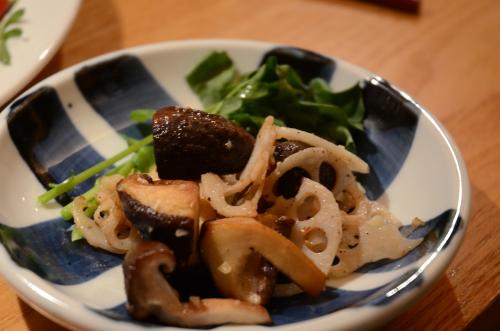 The next dish was "Pan-fried garlic, Shiitake mushroom and lotus root". Thick Shiitake was very juicy!
The crunchy texture of lotus root also perfectly matched Shiitake. It's a great accompanying dish for drink.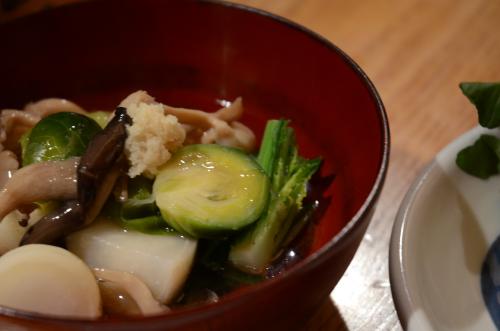 "Turnip and Brussels sprout with starchy sauce". We had been curious about Brussels sprouts since we entered the restaurant!
We could taste perfectly cooked Brussels sprouts with starchy sauce. They looked cute and also tasted delicious.
They were juicy and sweet, far better than expected. Mushrooms and turnips were also generously served and the dish was filling enough even without meat.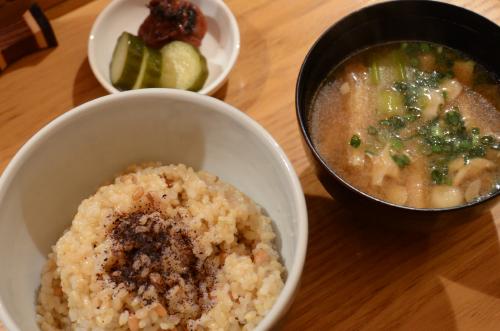 If you have a few drinks, only those veggie dishes should satisfy your tummy. But for those who want to have a proper dinner, order the Rice Set.
The veggie dishes are perfect not only with drinks but also with boiled rice. The boiled 50% polished brown rice is chewy and filling. Also it goes well with pickles.
Just for your information, white rice is 100% polished brown rice and they serve 50% polished brown rice. Smaller number is closer to pure brown rice.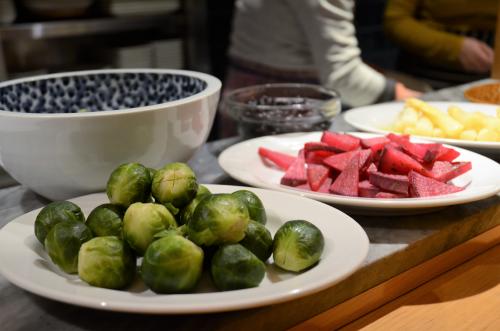 With a set of the day, you can taste various dishes. You can enjoy them with drinks or order for a set meal from the beginning for your proper dinner.
Or later order additionally the Rice Set. Whatever you choose, you will be satisfied!
In the interview, we had beers, but Konfuan offers a wide selection of wines to match the veggie dishes.
We got the impression that there were a lot of wines from Hokkaido such as Yoichi wine.
Many guests at the counter seats enjoyed the veggie dishes with a glass of wine. Most of their wines are bio wines.
Therefore the owner wants those who usually are not wine drinkers to taste them.
*The information contained in the article is as of the date when we interviewed and subject to change. We strongly recommend that you make an inquiry to the store prior to your visit.
Store Information
Click here for location and detailed information on Yokashikoya Konfuan.
Healthy Restaurant Search
Did you know you could search for restaurants on Vegewel?
We provide searching services centered on healthy restaurant choices including organic, gluten-free, vegetarian, and more so please give it a try!