A lot of vegetarian and vegan foods bringing the world closer! Chikyu wo tabisuru CAFE -Today is my life!-【Takadanobaba】
Updated:2019/02/01 Created:2017/12/11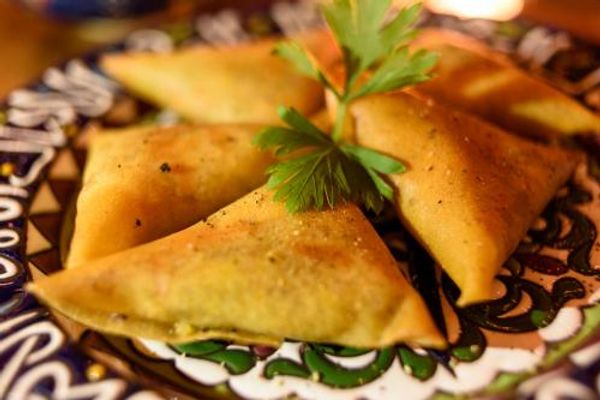 "Chikyu wo tabisuru CAFE-Today is my life!-" opened in Takadanobaba in October 2014.
A couple traveling around the world serve a wide variety of world foods they experienced during their trips.
Many vegetarian and vegan foods are also available and everybody can enjoy their mealtime.
We had an interview with the owner, Mrs. Natsusa Yamashita about the cafe atmosphere and the food menu!
Click here for location and detailed information on Chikyu wo tabisuru CAFE -Today is my life!-.
Visit Vegewel to search for veggie, vegan and gluten-free restaurants!
Cafe bringing the world closer run by a couple who travelled 80 countries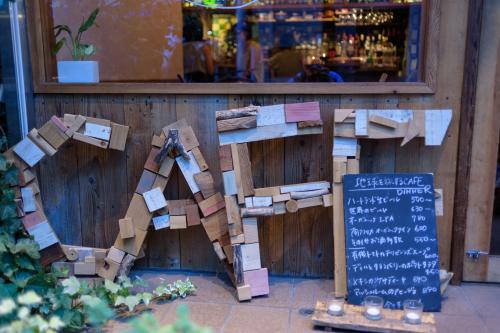 Mrs. Yamashita worked for the Japan Overseas Cooperation Volunteers and NGO Peace Boat in the past and then opened "Chikyu wo tabisuru CAFE".
She also has privately travelled overseas many times and visited 80 countries in total!
Actually she met her husband in the ship of Peace Boat. They have enjoyed travels together since the marriage.
Why did you open "Chikyu wo tabisuru CAFE" in Takadanobaba?
"When I was working for the Peace Boat, the office was in Takadanobaba and I knew this area very well.
There were only a few organic and vegetarian restaurants in this area and it was very difficult to find what I wanted to eat.
Due to lack of such restaurants in the area, I opened my cafe here for those who seek for such places."
Mrs.Yamashita wanted to open her cafe in a place where people understood what she wanted to do and received her message. With the thought, she opened her cafe in Takadanobaba.
"Average restaurant meal cost in a university town, Takadanobaba is relatively low. However, I want to care about quality of ingredients and I could not put my menu in the price range.
So we decided to operate our cafe according to what we believe. Our main customers are Japanese business persons.
Also many foreign people visit us by making web searches with keywords, vegetarian and vegan."
During our interview, many customers visited here right after the open. She said many regular customers living in the area also come to the cafe.
Everything done for themselves! Emotionally attached interior decoration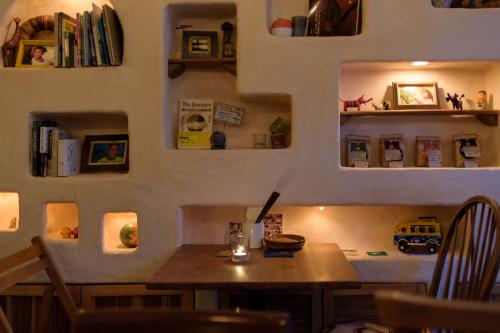 At the entrance, you will be impressed by the wonderful interior decoration!
The high ceiling makes the room spacious and a few electric-light bulbs are hung without disturbing the atmosphere.
There is a warm look shelf on the right-hand side. The items which the couple collected around the world are carefully displayed in the shelf.
When we look around the room, we feel like we are having meal in a foreign country!
"We are emotionally attached to the interior decoration. We asked the interior design to a designer whom we met through Twitter.
And for the actual decoration, we asked my husband friend builder to help us. The builder supported our idea and he had helped us for three months."
More than 95% of the wooden materials used for the cafe space of Chikyu wo tabisuru CAFE are chemical-free natural materials. This idea was proposed by the builder.
"We told him about our philosophy, 'serving foods with organic ingredients as much as possible'.
Then he proposed to us, 'Why don't we use organic materials for the interior decoration as well?' Then we made research together.
We laid floorboards one by one for ourselves. It was really challenging but meant much to us."
We can enjoy wholesome foods in an organic space surrounded by the items around the world.
This is an ideal place to soothe our body and soul away from the hustle and bustle of the city!
A variety of vegetarian and vegan foods! Enjoy meal time together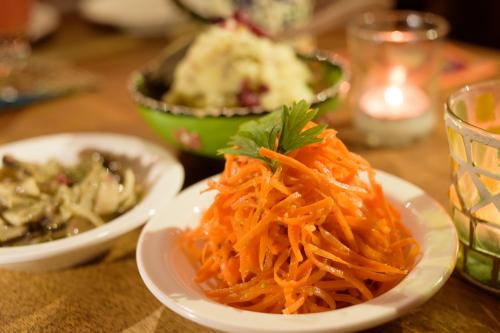 There are a wide variety of choices for vegetarian and vegan in the menu of Chikyu wo tabisuru CAFE. They also use organic ingredients as much as possible.
A variety of dishes ranged from food inspired by foreign recipes to standard nibbles for drinks is available.
"Our menus are inspired by what we found delicious during our travels and what resonate with us rather than unique foreign recipes."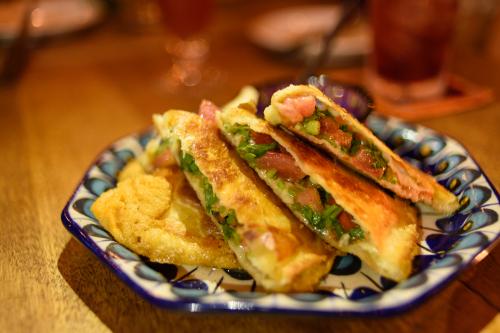 Mrs. Yamashita's recommendation is "Mexican Quesadilla". As you can guess from the name, it is Mexican food wrapping fillings with tortilla.
"We can serve this without cheese for vegans. But if you can eat cheese, we want you to taste it with cheese!"
The Quesadilla in the image contained cheese. It looks delicious with drinks!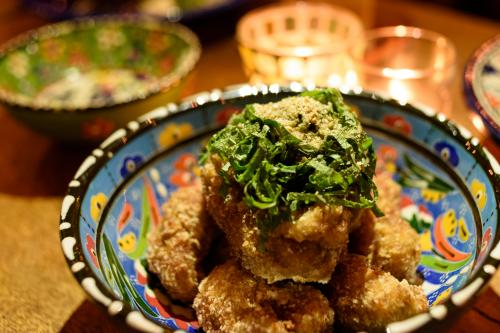 This is deep-fried soy meat in Chikyu wo tabisuru CAFE style! It is nice that we can enjoy healthy deep fried food.
Both vegetarian menu and non-vegetarian menu are equally popular. We can see the cafe is well appreciated by everyone.
"Many customers enjoy their meal with drinks in the evening. We wish everyone whether vegetarian or non-vegetarian to sit around one table in here. We believe we have built such a space."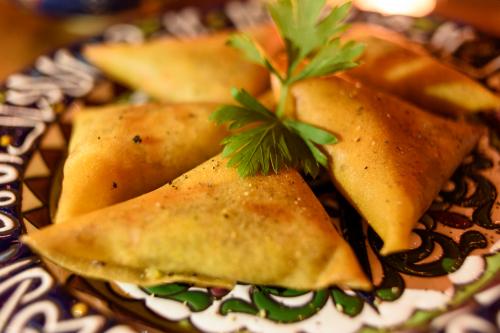 This is "African Samosa". When we order this, 10% of the profit will be donated to Uganda, Africa.
Mrs. Yamashita stayed in Uganda when she was a member of the Japan Overseas Cooperation Volunteers. She continues her support for the children in Uganda.
African Samosa is deep-fried thin flour pastry wrapped spiced potato fillings. It goes well with drinks.
All desserts are vegan/macrobiotic for healthy eating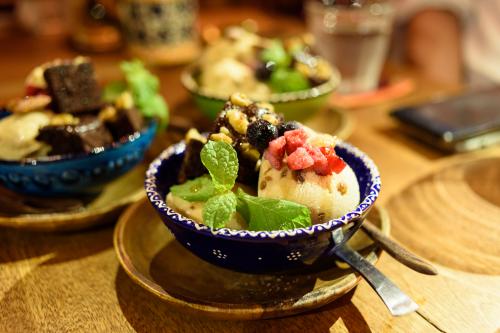 In Chikyu wo tabisuru CAFE, Mr.Yamashita cooks foods and Mrs.Yamashita cooks desserts. All desserts are vegan and macrobiotic and everything is good for health!
"I am often asked the reason why our desserts are vegan.
The answer is that I like vegan desserts (lol). Don't you feel guilty after eating sweets? I like something sweet and I want to enjoy healthy sweets without guilty feeling!"
Certainly we cannot miss dessert after enjoying meal! But it would be great if we can choose healthy desserts.
In Chikyu wo tabisuru CAFE, we can thoroughly enjoy healthy meal as well as dessert.
(Photo by Koichi Kawasaki)
*The information contained in the article is as of the date when we interviewed and subject to change. We strongly recommend that you make an inquiry to the store prior to your visit.
Store Information
Click here for location and detailed information on Chikyu wo tabisuru CAFE -Today is my life!-.
Healthy Restaurant Search
Did you know you could search for restaurants on Vegewel?
We provide searching services centered on healthy restaurant choices including organic, gluten-free, vegetarian, and more so please give it a try!