【Saitama vegetarian information Part II】Raw and beauty food shop in a developed and cool area, Kumagaya 『Raw Souk』【Kumagaya】
Updated:2019/02/02 Created:2018/03/05
A stylish space which we have ever seen appears in Kumagaya!
It is called "NEWLAND". In the premises, a raw & beauty food shop, "Raw Souk" is located.
This shop serves healthy drink, food and dessert prepared with not only tasty but also quality and reliable ingredients around the world.
We talked to the owner, Mrs.Harashima who opened the shop with her own target.
Click here for location and detailed information on Raw Souk.
Visit Vegewel to search for veggie, vegan and gluten-free restaurants!
Raw Souk is a small market selling raw food!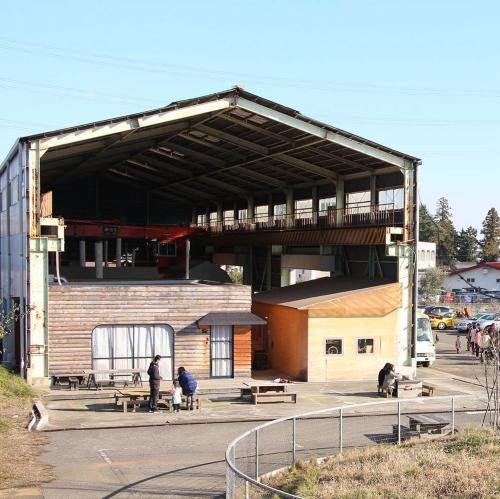 The NEWLAND was established on a former crane training site.
The area is unique since it uses the remaining buildings.
When people see its large warehouse, they may wonder what it is.
But at the same time, it looks also stylish.
Once we enter the warehouse, we will see iron poles showing the site was for training to operate massive cranes.
Contrary to the metal objects, there are many cute shops.
The third Sunday is market day. Numbers of shops open in the market and receive any visitors including people from far away.
A variety of shops selling from accessories, sweets, organic vegetables, bread, coffees to flowers open there and it is fun to stroll through the market.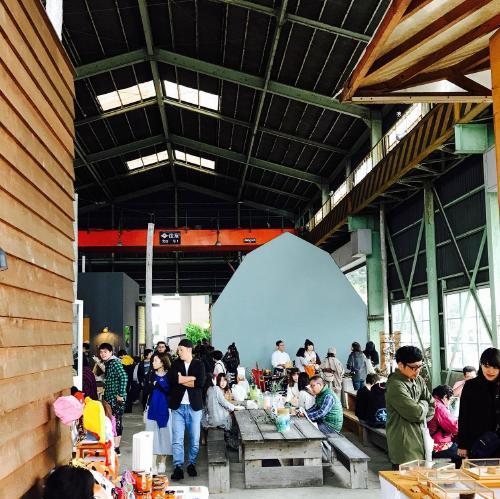 Participated shops may vary depending on the day and we can always find something new. Also it is held inside of the warehouse. So we don't have to worry about the weather.
When we visited, it rained but there were a lot of visitors. And Raw Souk is located inside the warehouse.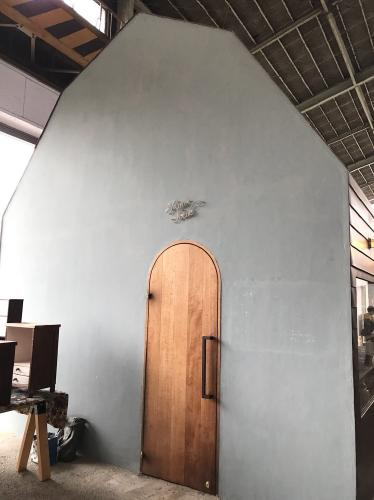 Once we opened this small door, about 20 square meter space with a large counter and unusual foods from overseas appear in front of us.
First of all, let see the food!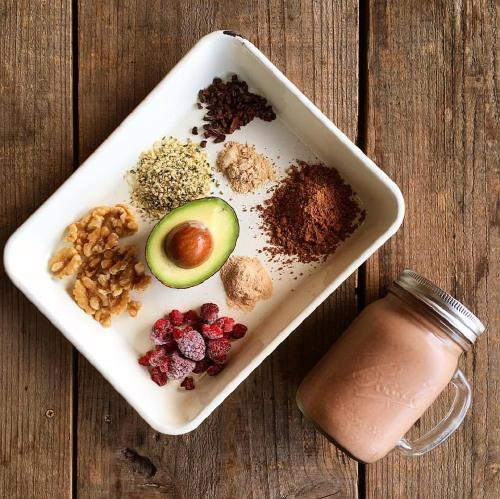 Start with its drinks.
Homemade smoothies, raw almond milk and horchata (tigernut milk) are popular.
If you bring your own bottle, you can get 100 yen discount for cold pressed juice, nut milk and kombucha (in bottle).
Homemade smoothies prepared with fresh vegetables, nuts and fruits make us happy. It served in a cute bottle.
We can get 10% discount on the smoothies on every Friday. During winter season, hot chocolate drinks are also subjects to discount.
And beautifully decorated and nourishing vegan lunch!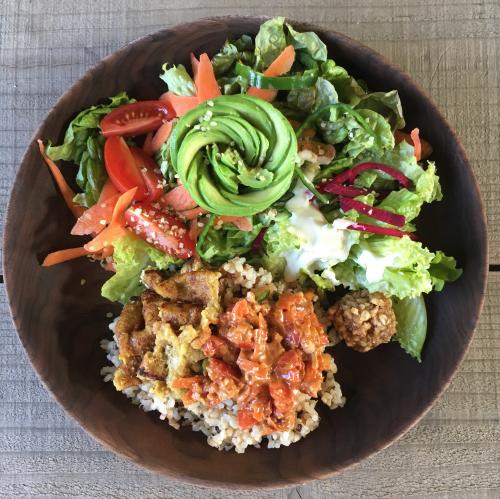 Look at this colourful plate! This is the fermented brown rice special plate in the vegan course menu.
This generously served plate comes with kombucha, soup, dessert and organic red bush tea. Excellent value!
For a wide variety of vegan menus, it may take a long time to choose one.
For the vegan course menu, booking by the day before your visit is essential. Why don't you enjoy a relaxing lunch time on holiday?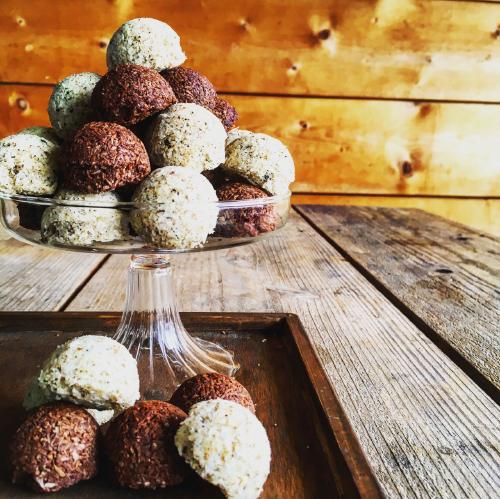 Enjoy its homemade raw sweets without feeling guilty. It is wonderful. (The image: courtesy of Raw Souk)
If you ask in advance, you can purchase a whole raw food cake or tart.
You can eat the food in the shop or takeaway! They take your order on phone or LINE. If you tell your exact pick up time, they prepare your order by your request time.
The vegan lunch (including takeaway service) is available from 11:00 to 15:00 on Friday, Saturday, Sunday and Monday.
*Its course menu is available only for customers who eat in the shop.
Why in Kumagaya?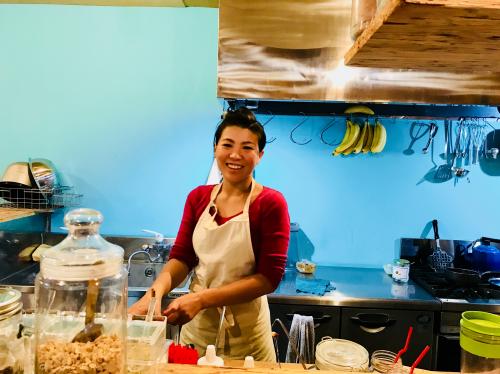 The shop opened 4 years ago! We asked the owner, Mrs.Harashima about the reason why she decided to open this shop.
"I was very interested in vegan cosmetics and wanted to have my own vegan cosmetic store.
So I started working as a shop assistant in LUSH who handles fruit and vegetable soups and cosmetics.
As my target was to open my own cosmetic shop in the future, I joined the company to learn about its know-how. Like an apprentice, I worked as a shop assistant."
Mrs.Harashima had a solid business plan from the beginning.
According to the company policy, the shop assistants will acquire knowledge to explain about the products in LUSH.
In the course of creating her own cosmetics based on the knowledge, she became pregnant and had a baby!
When she started weaning her baby, she was confused about baby food.
She started thinking of serving healthy food for her baby.
The importance of organic products which she learned in LUSH influenced on her own diet and became conscious of vegan food. Eventually she became vegan!
However, it was very difficult to find vegan restaurants in her area.
So she decided to open her own vegan shop.
It is important to look after your body with cosmetic but it is also very important to care your body from the inside. This is why she opened Raw Souk.
"In fact, food and cosmetics use almost the same ingredients!" said Mrs.Harashima with smile.
The cosmetics made with edible ingredients should be ideal!
Although she continued vegan diets, there were some changes on her diets in her life with a growing child.
"Currently I also use quality meat and fish considering food education for my child. If I don't eat fish and meat, my child does not eat them either.
I want my growing child to have balanced diets. Thus I am also eating the same thing."
Food education is also important!
Her acai bowl and smoothies are very tasty. We asked her where she learnt those recipes.
"Since there are no vegan restaurants around here, I went to restaurants in other areas to learn vegan food.
As many useful books are available in overseas where vegetarian food environments are much advanced, I referred to them and self-studied" said Mrs.Harashima.
It is amazing that she could serve such high quality vegan food as a self-taught chef.
Mrs.Harashima is an energetic and cheerful woman.
She doesn't give up her dream of creating vegan cosmetics.
She said "This shop is a waypoint."
We hope that one day she makes that dream come true.
*The information contained in the article is as of the date when we interviewed and subject to change. We strongly recommend that you make an inquiry to the store prior to your visit.
Store Information
Click here for location and detailed information on Raw Souk.
Healthy Restaurant Search
Did you know you could search for restaurants on Vegewel?
We provide searching services centered on healthy restaurant choices including organic, gluten-free, vegetarian, and more so please give it a try!