The Pioneer of Japan's Gluten-Free Movement, Yasuko Jinda Talks About the Birth of the "Komeko Meister" up to the Present – Celebrating the Komeko Meister's 10th Year Anniversary
Updated:2019/02/02 Created:2018/03/26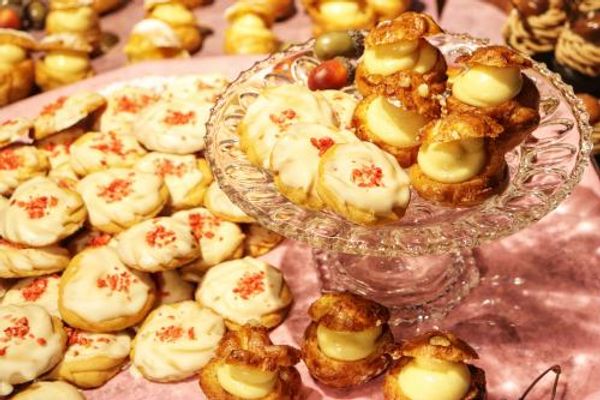 There's been a recent rise in the interest for gluten-free diets in Japan, but the Komeko Meister (Rice Flour Master) has been working with komeko (rice flour) for over 10 years and is an expert in the field.
The Komeko Meister are advocates of Japanese komeko and have been teaching about its characteristics, which are said to be more difficult to tame than wheat flour, as well as the palatable recipes using rice flour.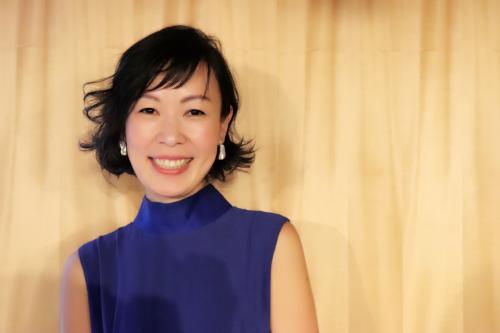 This article will report on Komeko Meister's 10th year anniversary party, which was commemorated on October 28th,
and we interviewed the Representative, Yasuko Jinda (pictured), and Yomogi Sato on how the Komeko Meister came to be.
Visit Vegewel to search for veggie, vegan and gluten-free restaurants!
Komeko Meister was one of the first to put a spotlight on gluten free using the common staple of Japan – rice.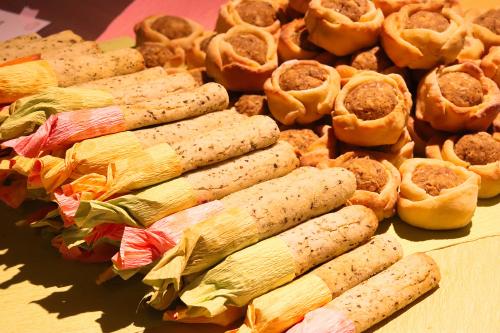 Vege Meat Bread and Herb Bread (Master Noriko Azuma)
The word, gluten-free, has been gaining familiarity for a few years now.
There are numerous gluten-free foods, but it is evident that the heavy usage of rice flour in Japan is thanks to rice being the traditional staple of Japan.
Komeko Meister has focused on and advocated for komeko for 10 years, even before the recent rice flour trend.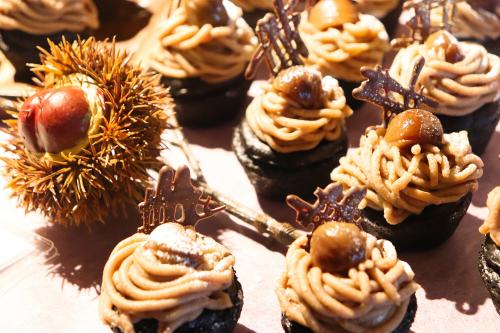 Amaguri (Sweet Chestnut) Mont Blanc, adorned with gold leaf-covered chocolate (Master Kumi Gatayama)
Komeko Meister is a learning course which involves the study of the differences between wheat and rice flour along with the characteristics of each type of rice flour, while learning how to prepare cuisines, desserts, and bread using rice flour.
After taking the course and earning a certification, the new Komeko Meister is now a professional advocate: to teach lessons, design recipes, and raise awareness for rice flour within the community.
Dairy, eggs, and other animal-based ingredients are not used in the Komeko Meister course.
It is an inclusive learning opportunity to allow for anyone and everyone to enjoy the rice flour cuisines.
(In the advanced course aimed at training future Komeko Meister instructors,
who will be able to give komeko meister lessons, there will be a lesson on comparing the baking methods with that of animal-based foods.)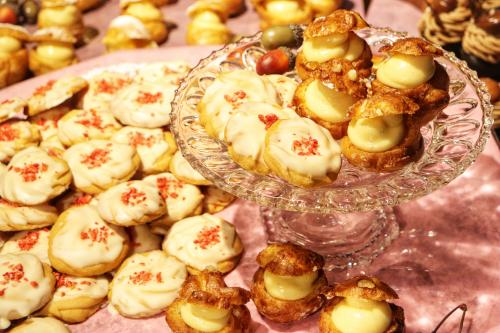 Komeko cookies and Komeko Cream Puffs (Master Kumi Gatayama)
There are over 600 certified Komeko Meisters at this time.
The people who take the courses amount to double that size. The Komeko Meister courses are taught by about 20 Komeko Meister instructors who are all positioned over the country to carry out their activities.
There were many variations of the komeko cuisine prepared by active instructors being presented at the reception party.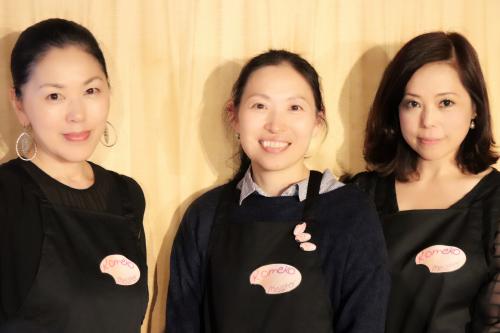 From left to right, instructors Noriko Azuma, Yuko Mizuno, and Kumi Gatayama.
Why is komeko so difficult to handle? Knowing the characteristics is key to incorporating rice flour into everyday life.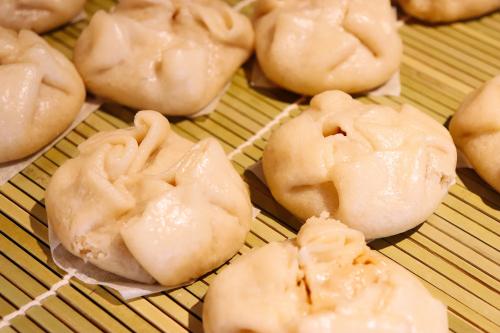 Fluffy Vege Meat Dumplings (Master Yuko Mizuno)
What is the reason for all of the repeated research and trials with the sole emphasis on komeko?
Aren't there people out there who feel that rice flour is a difficult ingredient to handle, especially if they have had the experience of ending up with uiro (steamed rice flour cake) or mochi (rice cake) in the unsuccessful attempt at making pastries with rice flour?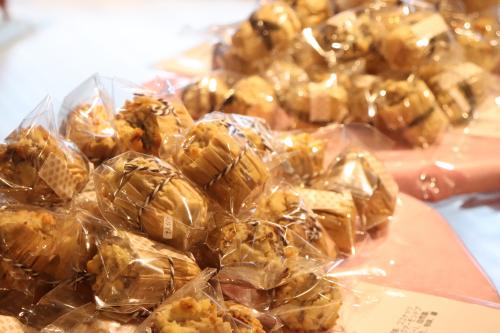 Komeko Cake Sale with Kiriboshi Daikon (dried daikon) and Hijiki (seaweed) by Master Michiko Takida, who unfortunately was unavailable to attend the party.
The difficulties of handling komeko lie in the various types of it and the appropriate usages of them. Rice flour cannot replace wheat flour with the same amount that it calls for in the recipe.
Rice differs by its species and place of origin. The same goes for powdered rice.
Moreover, the quality and the moisture level may fluctuate depending on the harvest of that year even if the rice is the same brand.
In addition, unlike wheat flour, rice flour contains no gluten and is characterized by its inability to stick together with the other ingredients.
The Komeko Meister will have the ability to understand the different characters of rice flour, make komeko bread and pastries, and finally devise culinary methods suited for the komeko.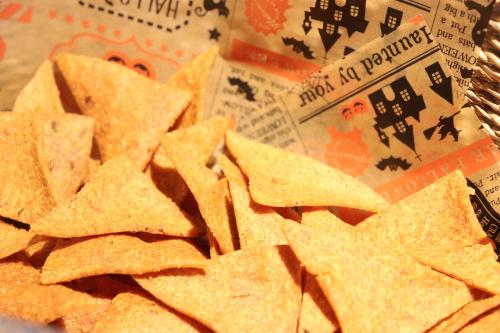 Curry Flavored Tortilla Chips (Master Yuko Mizuno)
The origin of Komeko Meister – passing down the essential qualities of what is good for the body to the next generation.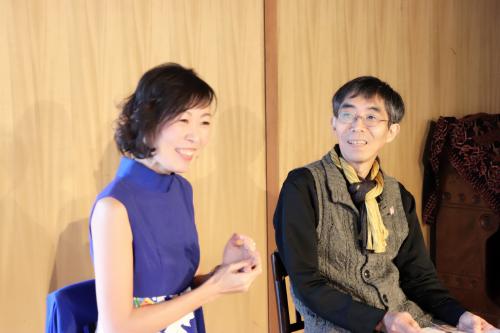 Komeko Meister's executive instructor, Master Jinda, is a pioneering advocate of rice flour, creating close to 10 publications of books on komeko bread and pastries for over 10 years.
Master Jinda was originally a macrobiotic instructor. She noticed an increase in the number of students who were allergic to wheat from about 12 years ago.
Master Jinda: "Macrobiotic teaches about the benefits of rice, but there were no rice flour recipes available anywhere back then! So I thought, 'Why not make my own?'"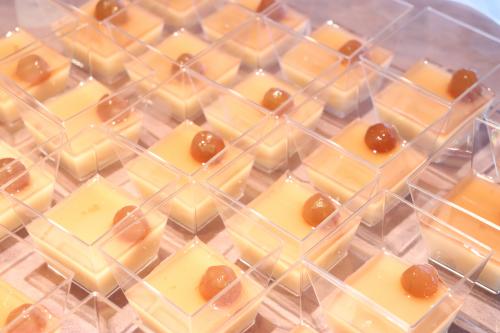 Blancmange made with Niida-Honke's "Maigurt (yogurt made with rice)" (Master Yuko Mizuno)
However, an issue arose after Jinda released her komeko recipes to the world!
Komeko is a developing product which changes on a daily basis. With new komeko products being introduced to the market one after another,
there were complaints that Jinda's cuisines could not be reproduced even after following her recipe.
She then thought of the idea to teach about the different types of komeko and the theory behind how to utilize them, only to face yet another issue. Despite her experience in giving cooking lessons,
she was not at all comfortable with speaking in front of people.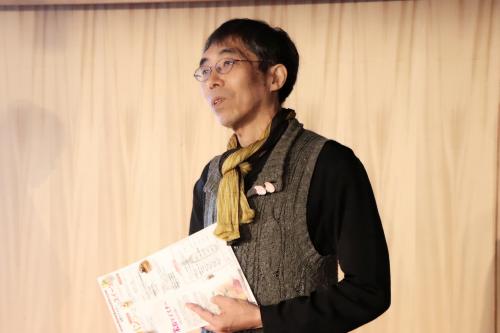 This is when she encountered Mr. Sato (pictured) in Italy where they hit it off on the topic of rice flour!
Sato operated a store which enabled him to have close relationships with producers and manufacturers.
He, too, was contemplating the ways in which he can spread the word on the benefits of safe and healthy products as well as about the efforts put into by the manufacturers to provide these items.
"When I had the opportunity to work with tofu, it was only when I had the full knowledge of both the ingredients and the manufacturing method that I understood what it takes to make a good product.
I felt the same way about komeko – that it won't become familiar to the public unless they understand the differences of and the usages for rice flour.
Ms. Jinda was extremely knowledgeable about the types of komeko and their individual characteristics as well as the theory behind the usage of them,
so I decided that if I can do my part in spreading that knowledge in a way that is comprehensible to the public, it would be worth the try."
This is how the two individuals established the Komeko Meister.
Master Jinda is currently working to promote komeko together with other corporations aside from her role as an instructor.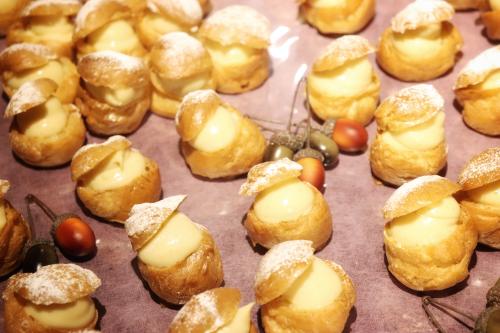 Komeko Cream Puffs (Master Kumi Gatayama)
Reflecting on the past 10 years, Master Jinda makes the following statement on rice flour.
"The reason we focused solely on komeko is not that we wanted to denounce wheat flour, but that rice is being produced all throughout Japan.
Japanese culture is built upon the foundation of rice. I wish for that to continue.
Now that we have a rich food culture, it's difficult to consume rice in its original grainy form 3 meals a day, no?
So I thought of how lovely it would be to be able to make bread, pasta, and other foods that are normally made with flour with komeko.
Komeko is a soul food. I'd like to pass the things that are essentially beneficial on to the next generation, and I wish to enhance the mood for komeko throughout all of Japan."
【Komeko Meister】
http://www.komekomeister.com/
Healthy Restaurant Search
Did you know you could search for restaurants on Vegewel?
We provide searching services centered on healthy restaurant choices including organic, gluten-free, vegetarian, and more so please give it a try!