[Interview with Yoshiko Hondo] World Peace Through Dining! "Wa-Vegan (Japanese Style Vegan)" Chef Speaks of Her Passions to Promote the Wonders of Vegetables.
Updated:2019/02/01 Created:2018/02/09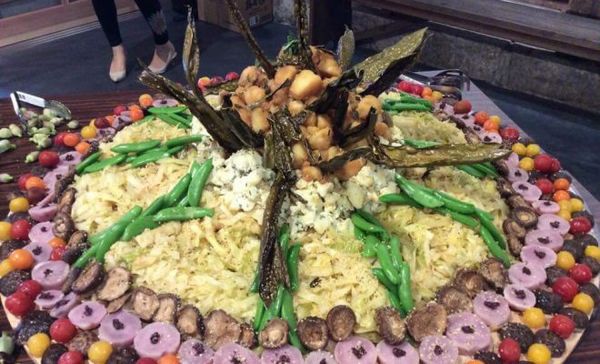 Yoshiko Hondo is a top-ranking chef who has continued to create wonderful cuisine in New York, Los Angeles, and all around the world.
How did she eventually come to make vegan cuisine using only vegetables?
We had the honor of sitting down with Ms. Hondo for an interview!
We asked all about her culinary career, including her passion for vegetable and vegan cooking, the founding of the nonprofit organization, "Kokkyo Naki Ryori-dan (Cook Ambassador)", and the culinary event involving those suffering from illnesses, the "Last Supper", among others.
Visit Vegewel to search for veggie, vegan and gluten-free restaurants!
Becoming a vegan chef in pursuit of vegetables with life.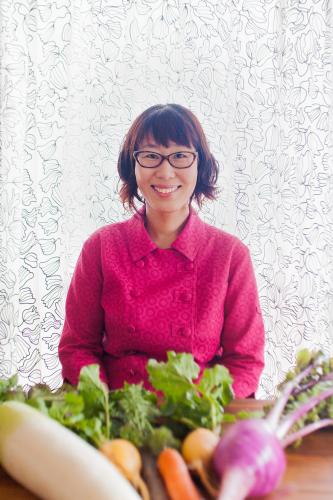 Yoshiko is a top-class chef who has earned her career in New York's prestigious Hudson River Club and Nomura Executive Dining.
She has also catered on sets for Hollywood movies. She returned to Japan in 2000 after establishing her career for 10 years in the United States.
Why did such a chef like Yoshiko come to specialize in vegan cuisine?
"When I go abroad, I would eat all kinds of dishes as though I was trying to eat as much delicious food as I can before I die.
While doing so, I moved from New York to Los Angeles, and this is where I was introduced to organic and macrobiotic eating.
I became more familiar with organic vegetables that were so full of life.
When I returned to Japan in 2000, I noticed the vegetables in the supermarkets were beautifully presented, but that they lacked energy!
I strongly thought, 'The survival of future Japanese people is at stake if we don't eat vegetables with more life.'"
Yoshiko felt a threat to the future of Japan. There must be someone who produces lively vegetables, she thought; and thus began her search for energy-packed vegetables all throughout Japan.
"At the time I returned to Japan, there was an increase of organic farmers in the suburbs.
However, they were throwing away all the vegetables that were badly shaped or were too large or too small for their standards as well as those which would not fit in the cases.
All of the vegetables have life, regardless of the size. I thought, 'Why not cook with these vegetables?' and that is how I came to make vegetable dishes."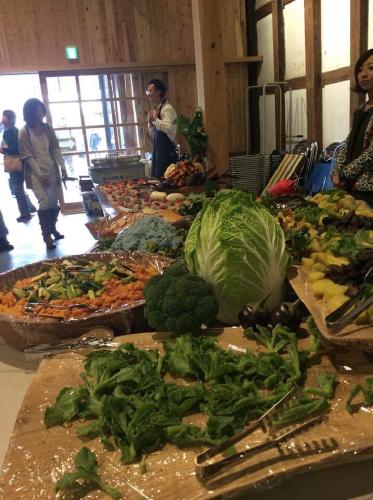 World peace through dining! The founding of "Cook Ambassador."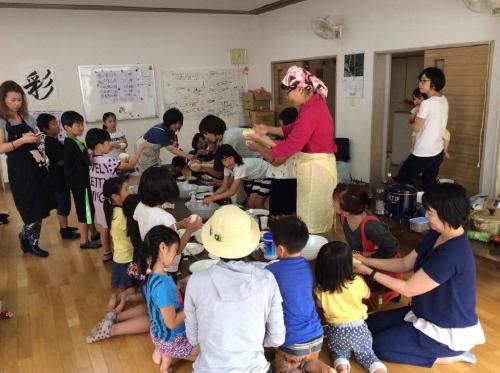 Yoshiko opened a vegan restaurant, Yushima Shokudo, in Japan. Two years later, she founded the nonprofit organization, Kokkyo Naki Ryori-dan (Cook Ambassador).
"For about 10 years, I've had the wish to make world peace through dining.
If we were to learn about the cultural differences through food and enjoy those differences, there wouldn't be any need for borders, right?
Taking down the walls between people through food. This was the thought behind the founding of 'Cook Ambassador.'"
There are many dining practices around the world.
The spread of delicious vegetable cuisine signifies that we are getting close to achieving the environment where anyone and everyone can eat and enjoy the same food.
Yoshiko believes in eliminating the differences among the people of the world through the spread of vegan dining.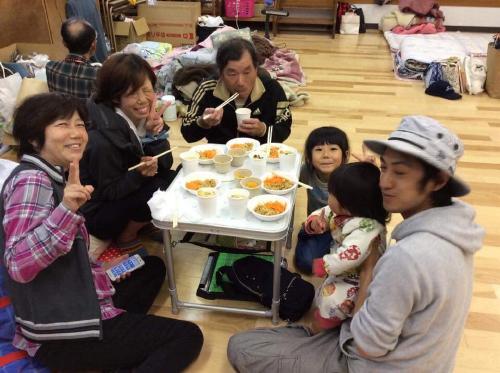 From events leaning toward the young to events supporting the ill. The meaning behind the "Last Supper."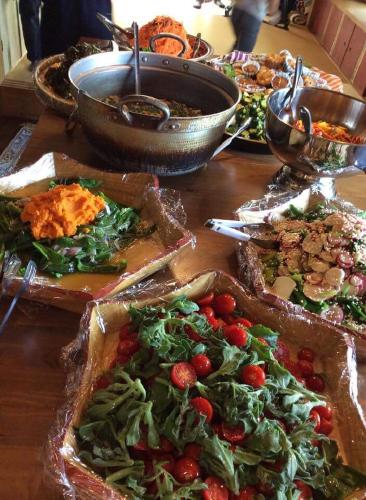 Ms. Hondo is also involved in events to spread the word about the importance of dining – the Last Supper.
The Last Supper is hosted in cooperation of hospitals where Yoshiko serves her vegetable dishes to patients with severe illnesses, like terminal cancer, and their families.
"The Last Supper originally began as a way to raise awareness in the younger generations about their current diet.
The name comes from my wish for continued physical health so that people can lead a life where they will be able to eat their favorite food in their last days."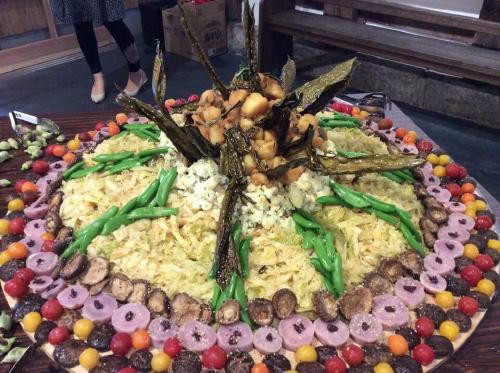 Yoshiko says that your body is made up of the food you consume every day.
She wanted to advocate the importance of acquiring the knowledge about food and cultivate the ability to be selective about them.
At the time, she never thought she would have the opportunity to cook for the ill.
"I was blessed with the opportunity to serve my cuisne to the people suffering from illnesses.
I kept the name of the event as the Last Supper with the thought, 'Even though you are with sickness, let's continue to live the life you have from now on.'"
Her wish is for these patients to have a conscience for dining again to the point that they can think about what they would like to have as their Last Supper.
This signifies their separation from the disease through food.
"When people fall ill, many of them hesitate to eat thinking that what they eat might make them feel worse or cause an inconvenience to others.
They become reluctant to eat and they no longer feel the joy of eating. I wanted to change that.
First and foremost, I wanted them to feel comfortable eating. As I continued, more people came forward saying that they were able to eat more than usual or that they had second helpings.
This is an incredibly great opportunity to feel more conscious about eating again."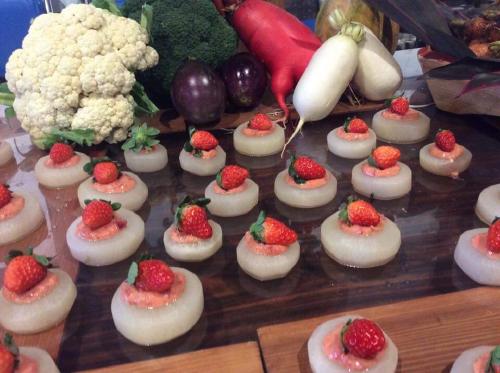 "I cook in the same way for the ill as for those who aren't.
It is important to eat the same food as those eaten by healthy people if you want to trigger the appetite to eat! I believe vegetarian cuisine has that potential."
Increased efforts in promoting vegan cuisine in preparation for the 2020 Olympics!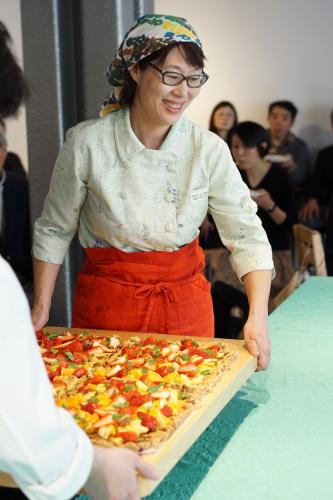 Ms. Hondo continues to advocate the importance of food through her dishes made with vegetables, that is, vegan cuisine. She has countless ideas for promoting her dishes in the near future!
"I first want to aim for the 2020 Olympics. Vegetarian and vegan options have become the norm in other first world countries abroad, but Japan is still far behind in that aspect.
There will be an increase in the number of international visitors to Japan during the Olympics. I'd like to work toward additionally promoting vegetarian and vegan food by then."
There are many Olympic athletes who practice vegetarian and vegan eating. What happens if we aren't able to cater to these dietary needs in a timely manner…
Yoshiko says that it's crucial for Japan to start preparing early to welcome the athletes.
"In vegetarian and vegan cuisine, vegetables are the key. We still lack the vegetables that are full of energy. The need to increase natural farms is rampant, as with the system to support them."
The Olympics are just around the corner.
There is still a great deal to be done to ensure that the people around the world can safely appreciate their dining experience during their stay in Japan.
Healthy Restaurant Search
Did you know you could search for restaurants on Vegewel?
We provide searching services centered on healthy restaurant choices including organic, gluten-free, vegetarian, and more so please give it a try!