An Indian curry you've got to try!: SASAYA CAFE【Oshiage】
Updated:2019/02/01 Created:2017/07/12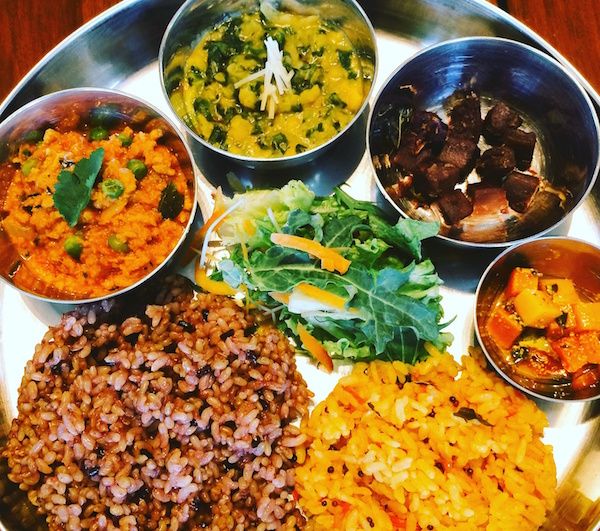 The vegan and organic SASAYA CAFE opened in 2013. Located in Tokyo's Sumida Ward (also the home of the famous Tokyo Sky Tree), the café is a place for a relaxing local break, and the café is filled with a variety of people of all ages.
SASAYA CAFE does not use animal products, chemical seasonings, or refined seasonings, and also uses organic vegetables whenever possible. Everyone here is free to enjoy healthy vegan food.

For this article, we spoke with Ms. Hisako Shinohara, manager of SASAYA CAFE, who told us a variety of stories, including what led up to the opening of the Café, their recommended menu, and Shinohara's knowledge of things vegan.
Our interview will be spread out over three installments, with this first part introducing the menu, atmosphere of the store, and recommended menu items, including of course the Indian curry!
Click here for the location and detailed information about the shop.
At the foot of Tokyo Sky Tree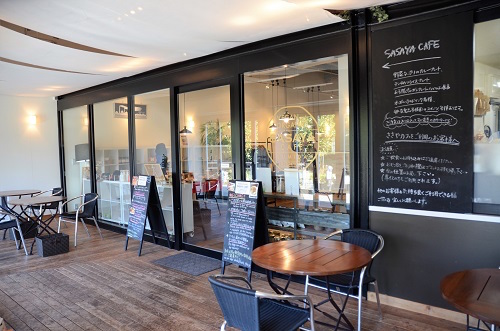 SASAYA CAFE is located a pleasant walk from Oshiage station. Entrance is from the park, and many people stop after their run or walk. Pets are allowed in the terrace seating area. By the way, for this interview we reached the shop from Oshiage station, but it's also possible to walk from JR Kinshicho Station or Toei Asakusa Line's Honjo-Azumabashi Station.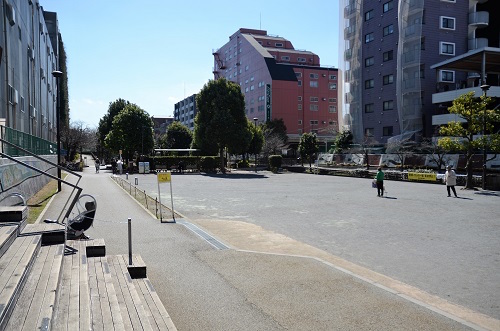 Expect a pleasant outdoor space to compliment the restaurant. The park in front of the café is popular with people who enjoy dog ​​walking and jogging.

Tokyo Sky Tree is viewable from anywhere you go in the park, including from right at the entrance to the shop.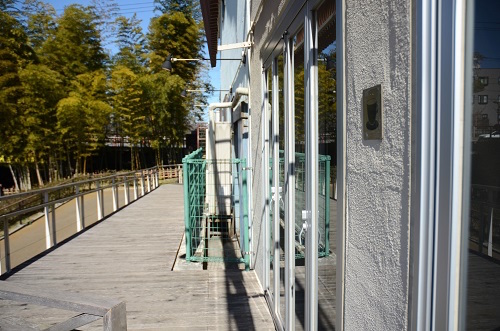 The restaurant is wheelchair accessible, so people with reduced mobility can also easily come on in and enjoy a delicious vegan meal.
Dine in a refurbished the building which was once a warehouse, now converted to a café with an open feeling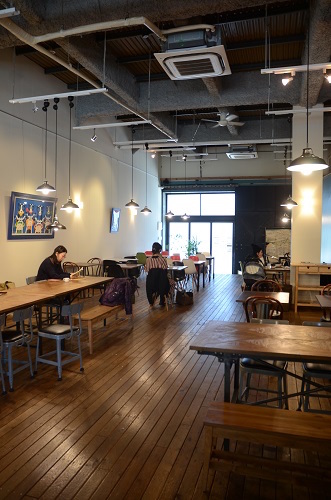 The reason the ceiling is high and there's a feeling of openness is because the building was originally a warehouse. The shape of the warehouse has been preserved, creating a space that is fashionable and inviting.
Today, SASAYA CAFE is widely recognized as a local fashionable café, but in the beginning there were people who dropped by with food and drink in hand, having mistaken it as a government run free break facility!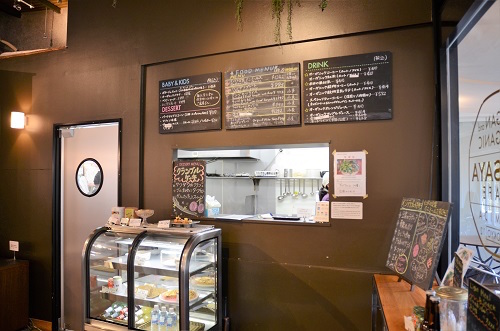 Take out is also available, so when the weather's nice, why not order your lunch to-go and enjoy it in the park?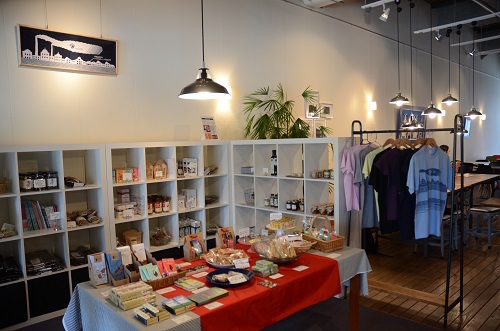 SASAYA CAFE also has selected food products, coffee, etc for sale. They even sell original branded T-shirts with the SASAYA CAFE logo!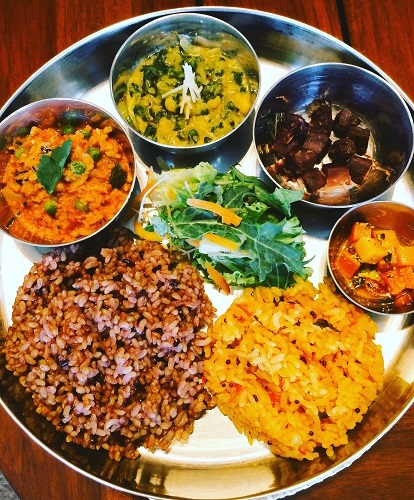 Written on the menu board of SASAYA CAFE is Indian curry, but this is different from the Indian curry that was offered when the store first opened. Hisako Shinohara and I reflected on the interesting story behind how this original curry evolved into what it sold today.
"When we first opened the café, our original chef was making her specialty curry. Unfortunately, the chef fell ill and needed to quit the café after just three months," Hisako tells us. "At that time, the chef left us the recipe for the curry, but even when we followed the instructions perfectly, the taste was just not the same, and after a number of attempts, we decided to temporarily remove it from the menu."
Hisako Shinohara continues, "So we decided to just go with a another menu for the time being, and do something different! But then, completely by chance, we met a spice specialist who had strong Indian cuisine skills. We told him our story, and he told us he'd help fix up that original curry recipe! It was all very serendipitous."
The spice specialist reviewed the recipe the original chef had left behind, then proceeded to adjust the spice ratios and types of spices used a bit. After a bit of trial and error, a delicious curry was reborn, and it is that curry which is now the SASAYA CAFE original curry! Hisako sums it up by saying "Although I changed the curry from what it was at the very beginning, I think I kept the original inspiration and inventive flow."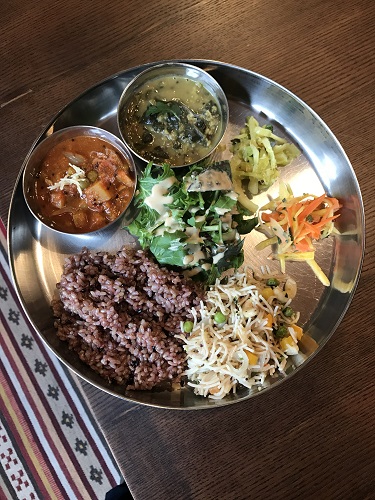 Hisako tells us that she studied Indian cuisine alongside her curry dish development work.
Lunch Recommended Menu is here
There are a number of delicious menu choices besides Indian curry at SASAYA CAFE. Of course, everything is made without the use of animal products, so vegans and vegetarians can eat whatever they like with confidence that it fits their lifestyle.
The menu varies from day to day, but below is a representative selection.
【Vege Deli Plate (993 yen including tax)】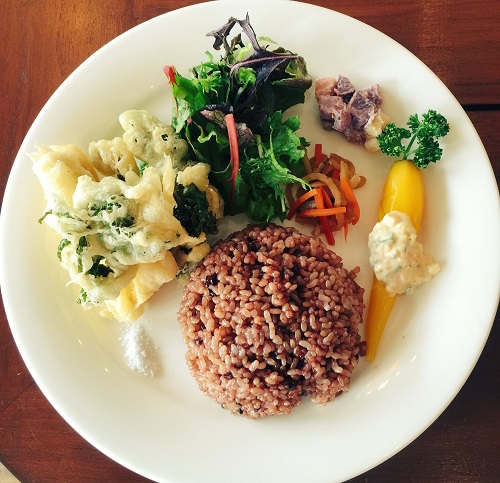 The most popular dish for a weekday lunch is the veggie deli plate. It is gentle to the body, and filling too. The vegetable plate is accompanied by rice and miso soup. Please note that the veggie deli plate is offered on weekdays only. Quantities are limited, so those who are interested should go early.
【Indian Mini Meals (1,242 yen including tax)】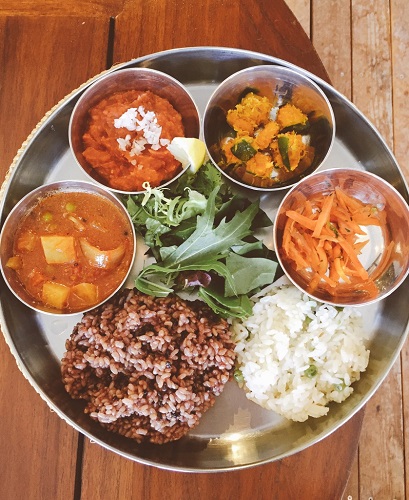 This choice allows you to enjoy several different kinds of Indian curry. As with the veggie deli plate, it is a popular menu item.
【Breaded&Fried Tempeh with Rice (993 yen including tax)】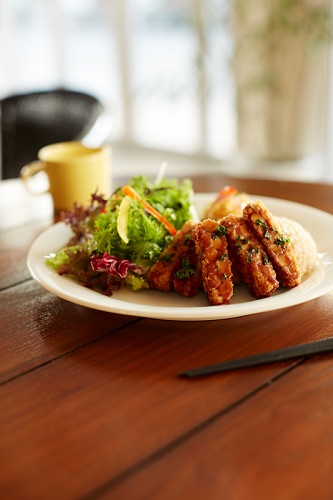 Fried tempeh is a menu item with many fans. Tempeh is a fermented soybean food from Indonesia. Perhaps it could even be called the Indonesian version of Japan's natto! However, unlike with natto, Tempeh has no distinctive smells or taste, and even people who are not fans of natto can enjoy it. In addition to fried Tempeh, there is fried tempeh curry (1,242 yen tax included).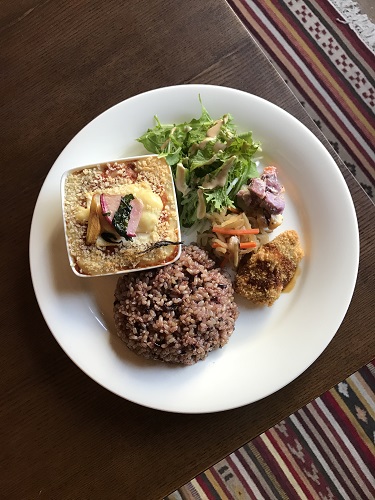 Hisako has lately been thinking about adding gluten free menu items. Staff members have been studying gluten-free cooking, even attending lectures. They hope soon to bring what they have learned to the menu.
Eatings preferences of course change: Recently, many vegetarians have also been requesting foods without onions, leeks, or garlic. The café has even gotten reservation requests for such food from visitors coming from Taiwan who have learned about the café through social media. It's all very Now feeling.
Continue to Part 2…
Next time we talk breakfast, the café's sweets menu, and the history behind the shop opening. Don't miss it!
Store information
Click here for the location and detailed information about the shop.