An interview with Hitoshi Sugiura, top 8 ranked Japanese chef in a vegetarian cooking world competition
Updated:2019/02/02 Created:2018/02/01
The Vegetarian Chance was held in Milano in May 2017.
In this vegetarian cooking competition in which many world famous chefs participated, a Japanese chef was ranked top 8.
The Japanese chef is Hitoshi Sugiura of PATINASTELLA. We had an interview with Sugiura Chef about his efforts and passion about his cuisine.
Click here for location and detailed information on PATINASTELLA.
Visit Vegewel to search for veggie, vegan and gluten-free restaurants!
Only one Japanese chef who challenged the world top vegetarian cooking competition this time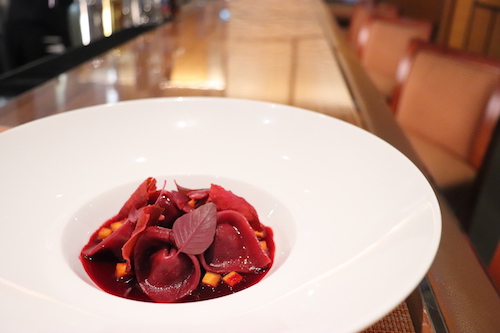 Beet tortelli served with beet sauce. Topped amaranthus leaves make the dish an art piece presenting an autumn scene.
This dish was created by Hitoshi Sugiura, the executive chef of PATINASTELLA, the first restaurant in overseas of the Patina Restaurant Group who is operating about 50 restaurants in the U.S.

Sugiura Chef was awarded TOP 8 Chef in The Vegetarian Chance 2017, vegetarian cooking world competition.
The Vegetarian Chance 2017 celebrated the fourth anniversary this year and was held in Milano, Italy with an aim to promote vegetarian cuisine.
A vegetarian cooking competition?! We are very curious about the details!! Here are the criteria.
Not allowed to use animal products even for broth and extract (Using some dairy products is accepted for one dish out of two)
Not allowed to use garlic and onion
Use organic or biodynamic products
No colouring and artificial additives
Show own country's traditional cooking style and create original seasonings
And more
Chefs were competing against each other under the above criteria which those who usually cook simple foods are not able to handle.
Their dishes were judged not only on the taste but also on the creativity, the nutritional balance and the appearance.
Also the judging criteria have "environmental sustainability", which is telling us this is the most advanced cooking competition.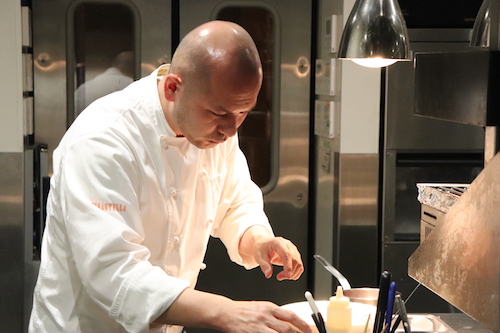 Sugiura Chef decided to participate in the competition because Masayuki Okuda Chef for whom Sugiura Chef has a lot of respect advised him.
Okuda Chef is the founder of a restaurant in Yamagata, Al-che-cciano and makes an effort to revitalize his local community by utilizing local vegetables.
Okuda Chef was also awarded in the same competition in the past.
As Sugiura Chef wanted to see how his cuisine was appreciated in the world, he was very positive for the participation.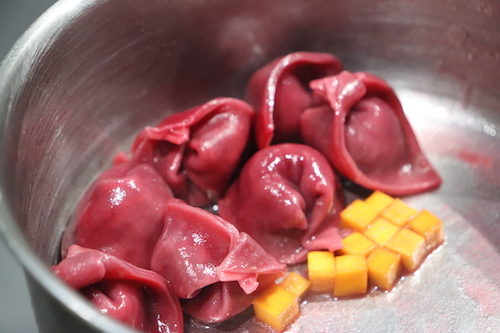 Sugiura Chef mastered Californian Cuisine from Joachim Splichal who is the founder and executive chef of Patina Restaurant Group.
He said that vegetarian cuisine was common in the overseas food culture and there were a lot of course menus.
He also found some recipes having some relation to macrobiotic philosophy such as making a broth with pumpkin seeds.
Thanks to the overseas experiences, he had confidence to do his best in the vegetarian cooking competition.
How his Japanese vegetarian cuisine was created?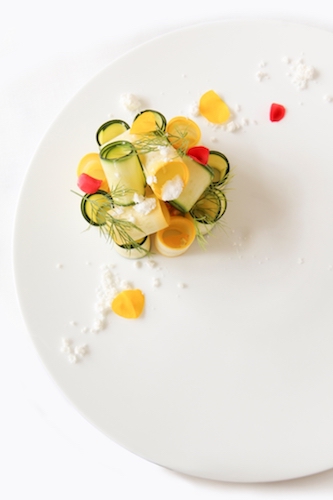 As the criteria required chefs to show his/her own country's traditional style, Sugiura Chef focused on "broth".
He was son of a Sushi master and his career as chef started from Japanese cuisine.
Then he stepped into his original Japanese cuisine. Utilizing these experiences, his broth was produced.
By combining his experience witnessing vegetarian cuisine culture in overseas and his knowledge of Japanese cuisine, he created his original vegetarian cuisine.
"I thought I could transform the traditional Shojin ryori into a modern version."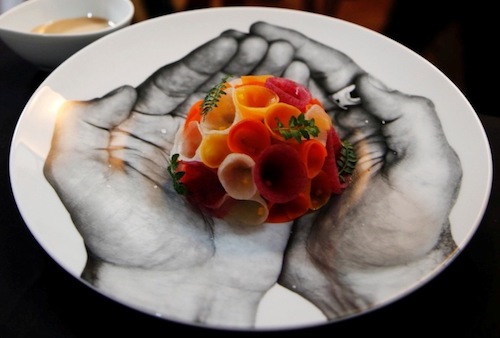 This is an awarded dish called "Bouquet".
The name, Bouquet is expressing his gratitude to the concept of The Vegetarian Change, "the activity to promote how vegetables are wonderful".
He made his broth with Shiitake mushroom inspired by Japanese Shojin ryori. This is his original new Japanese cuisine making the most of the taste of Shiitake and also using rice malt.
Carrots and Daikon radish were marinated with Yuzu oil and tofu, sesame and leaf buds of Japanese pepper were added.
Serious attitude to vegetarian cuisine in overseas which he found in the world cooking competition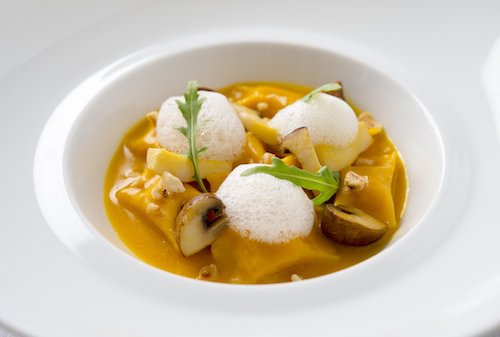 Pumpkin Agnolotti
When we asked how he thought about the result,
he said "Simply pleased. I found that foreign chefs were very serious about vegetarian people and foods. Their food presentation and the taste they produced were quite original."
Sugiura Chef noticed the foreign chefs' serious attitude to vegetarian cuisine.
It is totally different attitude from those who are serving vegetarian foods which simply are prepared without fish and meat or which look and taste like meat and egg as we can often see in Japan.
More foreign chefs may be serious about serving vegetarian foods with which people can thoroughly enjoy the taste of vegetables.
Concerning Shojin ryori, Sugiura Chef said that some foreign chefs were more knowledgeable than him.
"People tend to relate vegetarian foods to health and fashion and consider it as a personal food habit in Japan.
However, in foreign countries, vegetarian foods are regarded as a food culture and accepted in the society. I got the impression first when I won the prize."
International interactions through vegetarian cuisine which only Sugiura Chef can support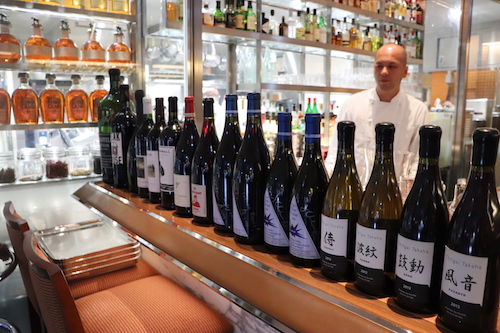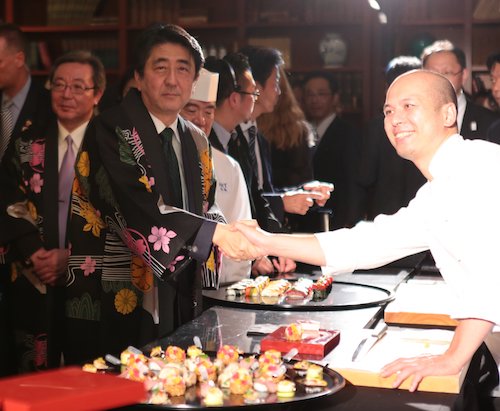 Sugiura Chef has looked for opportunities to support international interactions through his cuisine since he was an original Japanese cuisine chef.
He served vegetable sushi at the reception party hosted by the Japanese Prime Minister Abe in the Embassy of Japanese in NY. It was one of achievements of his dream.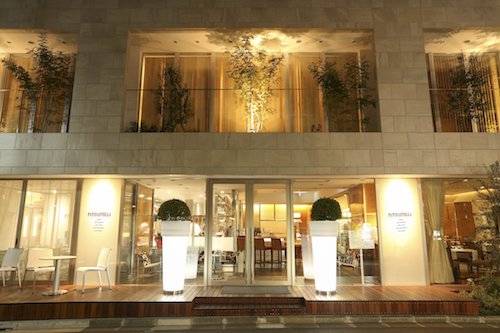 This is PATINASTELLA where Sugiura Chef is working as the executive chef.
After participating in the competition, he found new challenge to connect Japanese vegetarian food culture with world vegetarian food culture.
PATINA means a gloss or sheen on a surface of bronze resulting from age. He told us that he wanted his restaurant to be loved by people through generations and also wanted to interact with many guests.
Along with his passion for his next challenge, I could not resist to wish delicious vegan foods to be widely appreciated in Japan.
https://patinastella.com/sp/index.php
Store Information
Click here for location and detailed information on PATINASTELLA.
Healthy Restaurant Search
Did you know you could search for restaurants on Vegewel?
We provide searching services centered on healthy restaurant choices including organic, gluten-free, vegetarian, and more so please give it a try!