Plenty of vegetables! What is the localized fusion curry? "have more curry" 【Omotesando】
Updated:2023/09/24 Created:2018/05/22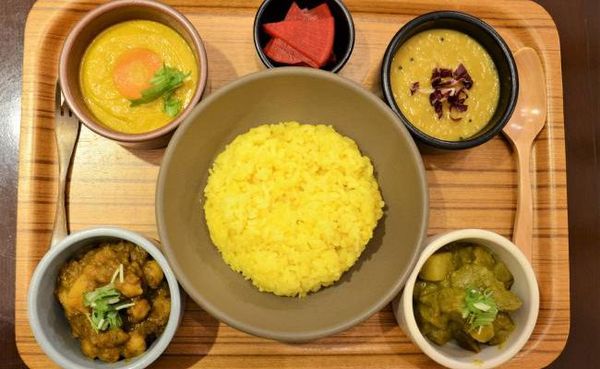 A curry restaurant in Omotesando, "have more curry" opened in October 2015. It is a healthy curry restaurant whose foods are all gluten-free and which serves also vegan menus.
The goodness of "have more curry" is not only healthy menus but also its "localized fusion curry".
We recommend anyone regardless of vegetarian and non-vegetarian to try its irresistible taste at least once!
We had an interview with the owner, Mr.Yohei Matsuzaki this time. We asked him about the localized fusion curry!
Click here for location and detailed information on have more curry.
Visit Vegewel to search for veggie, vegan and gluten-free restaurants!
Supporting business persons and health-conscious women in Omotesando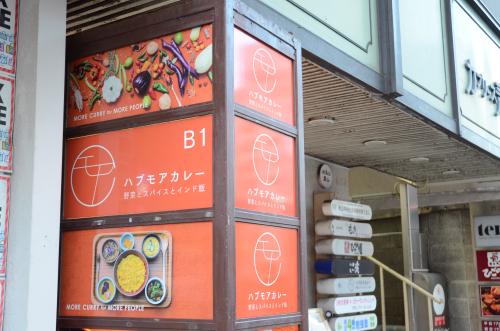 It is near Omotesando Station. Ideally located on Aoyama-dori Street, "have more curry" is a curry restaurant operated without a break.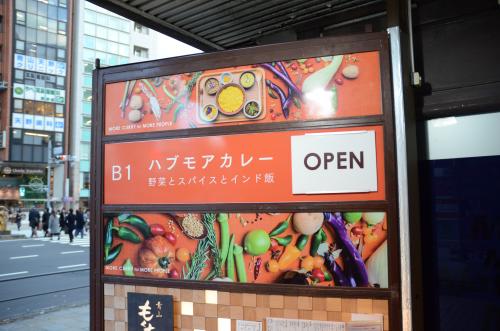 You might find difficulty to find restaurants still open after lunch time.
In busy Omotesando, such restaurant opening without any break is very handy. And it serves tasty curries which everyone loves! This restaurant is a strong supporter for busy business persons.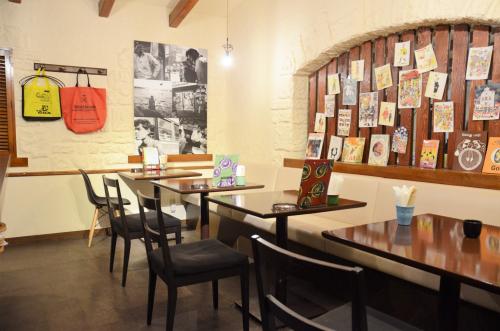 The restaurant has a relaxed atmosphere. It provides very comfortable space and welcomes female guests who visit alone!
It is always busy after one in afternoon during weekends. Visiting during weekday before or after lunch time is recommended.
Enjoy every bite with different taste! Fusion curries blending Southeast Asia and Japanese tastes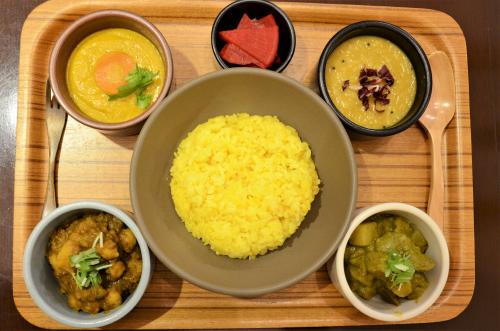 It is very simple. The menu is only "Curry Plate (1,280 yen including tax).
You can choose your favorite 2 side dishes on top of the basic 2 curries and one side dish.
Vegan dishes are always available. And we can create our own vegan plate. Furthermore, its curries are all gluten-free!
When we went there for interviewing, we had 5 curries and side dishes shown below.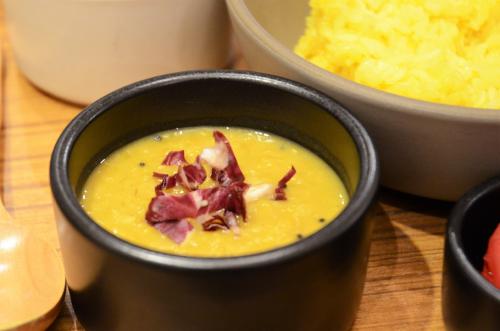 "Butternut Squash Dal"
It is cooked with finely minced burdock root and Shiitake mushroom, bean dal and creamy sweet butternut squash. Well-balanced tastes are delightful. Parsley root adds a flavor.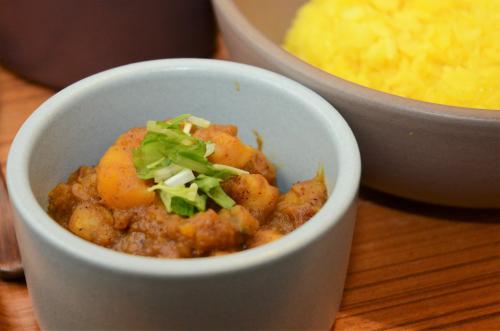 "Kabocha squash and Chickpea Dried Curry"
This curry tastes less spicy. But when we taste it, refreshing flavor of spices spreads in our mouth! The texture of chickpeas is very nice. It is soft, sweet and very mild.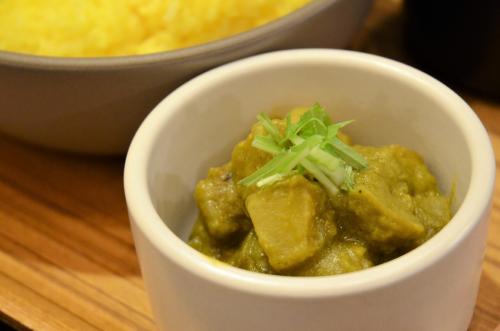 "Kitaakari Potato Green Relish"
Kitaakari potato is also called chestnut potato. It tastes sweet and the texture is like chickpea.
Its green color is made of spinach and avocado. The taste of spices instantly spreads in our mouth.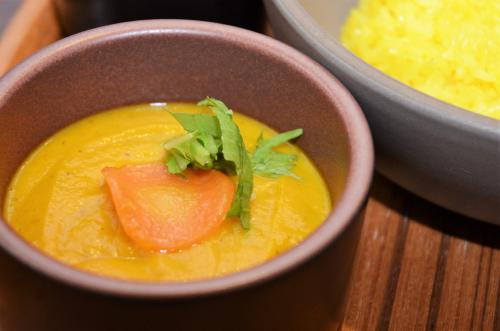 "Aromared Carrot Indian Soup"
It is a soup but goes very well with rice like curries! Its creamy texture creates another flavor when we eat with other dishes or curries.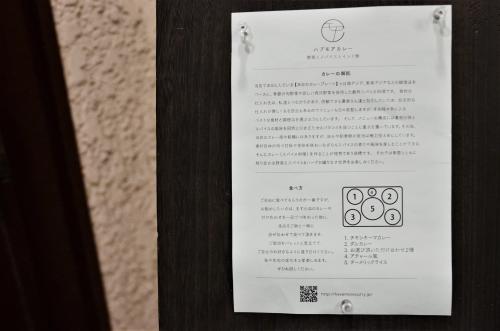 The have more curry suggests its recommended way of eating.
"Firstly, just taste each curry and side dish alone. Then mix all of them with rice and eat.
You don't have to well mix. Just mix them as you want and then enjoy different color, taste and texture!"
We followed the suggestion and found it tastes different!
If we just lightly mix it, we will discover an unexpected ingredient with unexpected texture and every single bite tastes new. It is irresistible!
Please try this way of eating when you visit "have more curry"!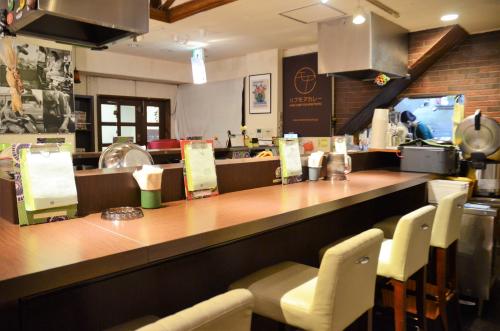 But we wonder how on earth these original curries were created.
"Our concept is 'localized fusion'. I travel to India and Southeast Asia once or twice a year to taste local foods.
More variety of ethnic groups exist in Southeast Asia compared to Japan. These cultures influence each other and create a fusion or a new culture.
It is very exciting. So, I wanted to realize the same in Japan with food.
I also localize those fusion curries to be appreciated by Japanese people."
The story behind the owner who loves curries opened the curry restaurant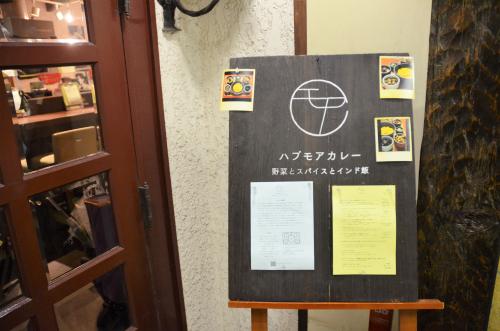 Mr.Matsuzaki loves curries very much. Since he loves curries so much, he was working at a curry restaurant in Shinjuku.
"While working at the curry restaurant, I have created my own curries. Then I wished I opened my curry restaurant.
Soon I borrowed a space in a café near my house during its holidays and started serving curries."
When he opened his own curry restaurant, he considered what kind of curries he wanted to serve.
At that time, his friend of junior high school grew uncommon vegetables in his field and he decided to create curries cooked mainly with vegetables.
"I procure quality vegetables and rice directly from my acquaintances. They have grown the vegetables which I didn't often use, and I decided to use them out of curiosity.
I also knew the demands for vegetable curries through my working experience at the restaurant in Shinjuku. And the knowledge obtained from my vegetarian friends contributed a lot to the menus."
Then later Mr.Matsuzaki opened the current restaurant in Omotesando. He chose Omotesando for serving vegetable curries.
"If I would serve mainly vegetable curries, I thought the location would be Omotesando or Setagaya where the locals care about organic and quality of ingredients.
Luckily I could find this property and open my restaurant here."
To cook the curries, he established his original cooking method partially utilizing authentic Indian cooking methods not to waste the tastes of vegetables grown in Japan.
"Japanese cooking method focuses on optimizing the taste of ingredients. I have never forgotten to make the most of the taste of ingredients while using the Indian cooking methods."
His curries are appreciated by a wide range of people from young to senior as well as foreign people.
Mr.Matsuzaki's original curries may become popular also in overseas in the near future!
*The information contained in the article is as of the date when we interviewed and subject to change. We strongly recommend that you make an inquiry to the store prior to your visit.
Store Information
Click here for location and detailed information on have more curry.
Healthy Restaurant Search
Did you know you could search for restaurants on Vegewel?
We provide searching services centered on healthy restaurant choices including organic, gluten-free, vegetarian, and more so please give it a try!