The Renowned Taiwanese Vegetarian Restaurant Makes a Comeback! Delectable and Comforting – MSG-Free and Vegan Oriental Cuisine. Veggie House [Kinshicho]
Updated:2019/02/02 Created:2018/06/01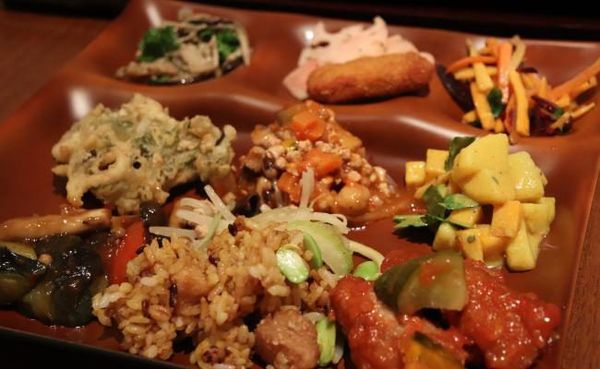 The popular Rinrin Saikan located in Kinshicho closed its doors to be grieved by its wide fanbase. But after much anticipation, the restaurant has re-opened under its new name, Veggie House.
The dishes are still being sold by the weight, a perfect way to enjoy a meal for those who want to eat a little bit of everything, but the dishes have undergone a major upgrade.
Let's take a dive into the cozy restaurant that as been in operation for 2 generations. The warm atmosphere will feel like home to those who have been waiting for the return of the restaurant, and also for those who visit for the first time.
Click here for location and detailed information on Veggie House.
Visit Vegewel to search for veggie, vegan and gluten-free restaurants!
Buffet style dishes sold by the weight. You're going to want to eat them all!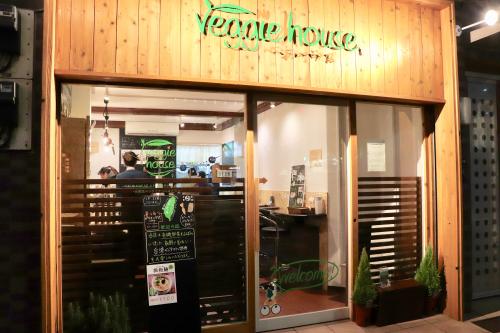 Veggie house was relocated due to the re-development of Kinshicho. It now sits just behind the Kinshicho Olinas in a 2-story building.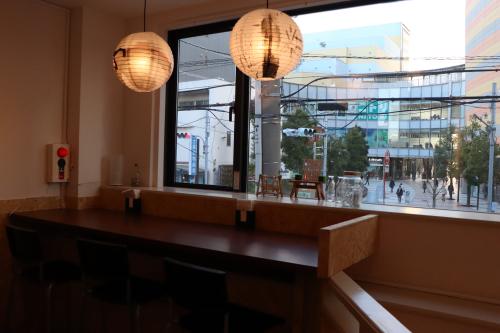 The new store is constantly busy, attracting a wider range of clientele such as younger customers as well as parents with children.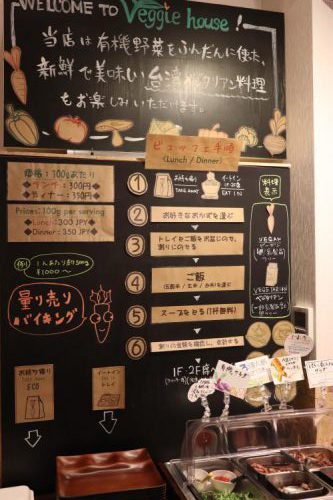 The good old sell-by-weight system!
For lunches over 1,000 yen, you get a free scoop of the Oriental Yakuzen (medicinal cuisine) Curry.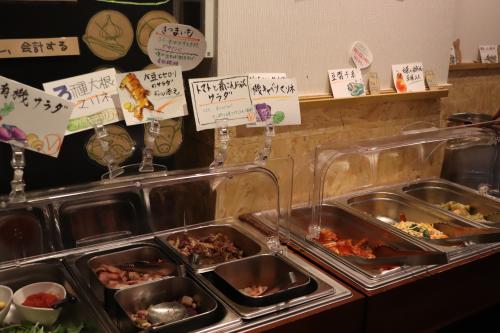 Look at the wide selection of delis made with an abundance of organic vegetables! It's not often that you get to indulge in the food that you like as much as you like.
The dishes contain no MSGs and gokun (5 pungent roots: green onion, onion, leek, garlic, and shallot). Moreover, they use no salt or sugar, and it's a mystery how they create such flavors.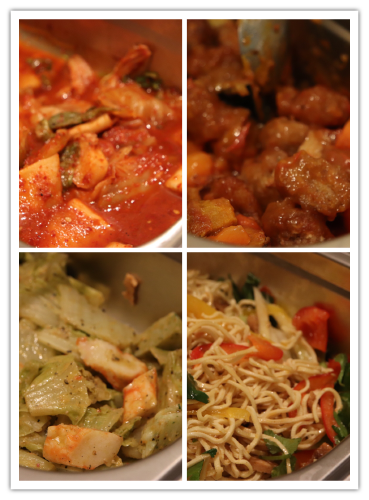 Here are some of the veggie and vegan options offered at one of the days.
Smashed Cucumber Namul (Korean seasoned vegetables) (Vegan)
Stir-fried Kikurage (cloud-ear mushroom) and Vegan Eggs (Vegan)
Stir-fried Seasonal Vegetables with Broccoli (Vegan)
Vegan Subuta (sweet and sour pork) (Vegan)
Chinese Pepper Steak (Vegan)
Stewed Hakusai (Chinese cabbage) and Yurine (lily bulb) (Vegan)
Chicken Nuggets (Vegetarian)
Vegetable Kakiage (mixed tempura) of the Day (vegan)
… just to name a few. These names are enough to make your mouth water.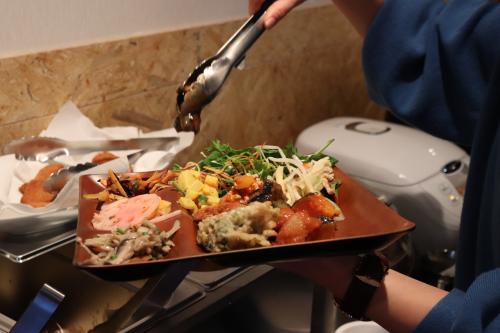 Fermented brown rice, Oriental fried noodles, fried rice, and other staple offerings are appealing as well – it's hard to make up your mind.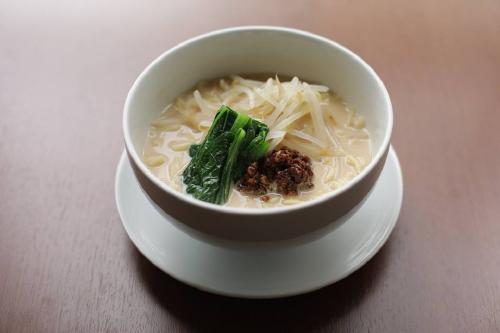 Their Tan Tan Men (Szechuan-style Dan Dan Noodles) are a must try in addition to the sold-by-weight dishes!
They are served at 700 yen (with tax) during lunch and at 900 yen (with tax) for dinner.
The soup is flavorful with the rich aroma of the sesame, and the clean and clear appearance is just out of this world.
We were afraid that the seasoned soy meat mixture would not be filling enough, but it was actually very tasteful and satisfying!
It includes kuro-miso (black miso) and mushrooms and makes for a great topping to add some extra flavor to accent a dish or as the main ingredient of the meal.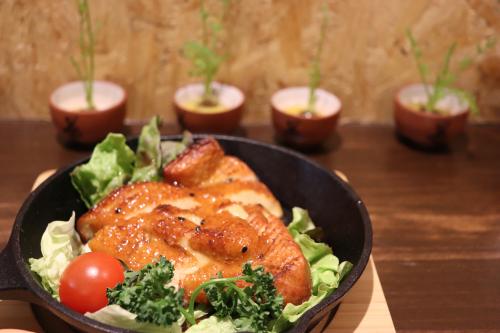 Dinner is served until 9 pm and a la carte dishes are offered in a myriad of options.
Above is the vegan Roasted Chicken (950 yen with tax). It's hard to believe the dish is vegan. These aren't just imitation foods; they are a new type of cuisine and should be enjoyed as such.
14 years deep in the community. Its tastes are being passed down over generations.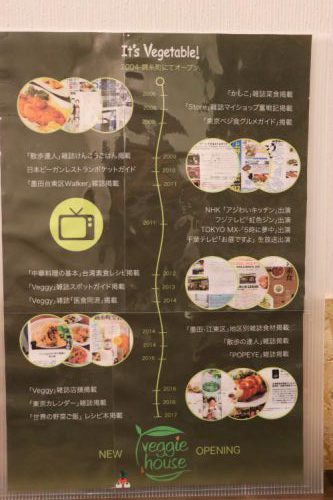 The former restaurant opened in 2014.
The famous and popular hostess, Ms. Fanglynn (Horei in Japanese) had refrained from eating animal-based foods when she became pregnant, believing that it would be beneficial for the baby.
After safely birthing her baby, she went back to her former diet. She tells us that she "ate sooo much meat on the rebound!" and soon afterward, she suffered painful days due to atopic symptoms.
She spoke to a doctor of traditional Chinese medicine and began studying about Taiwanese vegetarianism during her therapy.
As she became accustomed to cooking Taiwanese vegetarian foods, she became aware of the importance of eating.
Three years after becoming a vegetarian, she decided to open a Taiwanese vegetarian restaurant.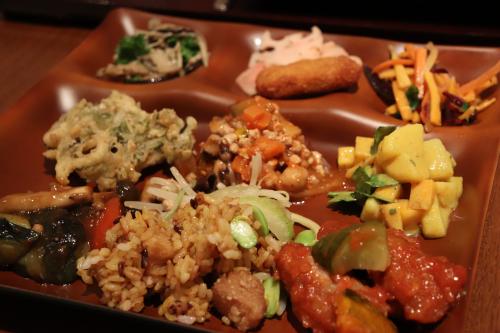 At Veggie house, the customers are greeted with a friendly smile and an "Otsukaresama (a Japanese expression used to give thanks to the hard labor)."
The atmosphere that makes you feel right at home and the delicious Taiwanese vegetarian dishes makes the trip to Kinshicho all the worthwhile!
*The information contained in the article is as of the date when we interviewed and subject to change. We strongly recommend that you make an inquiry to the store prior to your visit.
Store Information
Click here for location and detailed information on Veggie House.
Healthy Restaurant Search
Did you know you could search for restaurants on Vegewel?
We provide searching services centered on healthy restaurant choices including organic, gluten-free, vegetarian, and more so please give it a try!