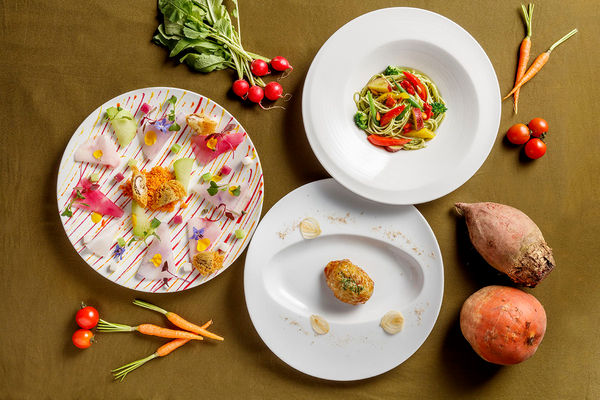 Parmesan Tuile [thin wafer cookies]
Raddish and Ricotta
Mushroom Clear Soup
Salad Green and Tomato Tabbouleh
Onions and Truffle Wrapped in Pie Crust
Genovese Pasta with Green and Yellow Vegetables
Today's Mushroom Stake
Seaweed Risotto
Assorted Fruits
*2 days advanced reservation required.
*Please read L&R vegetarian policy below.
[Sky Restaurant and Lounge L&R Vegetarian Policy]
*This restaurant does not hold a Vegetarian Certificate awarded by a third-party organization.
*Lacto-Ovo-Vegetarian options menu is available in this restaurant.
*This restaurant cooks all food in the same kitchen, not separated for vegetarian menus.
*We prepare vegetarian menus using the same utensils as other dishes containing meat and seafood; therefore, please note there is possible risk of cross contamination.

*Menus served as vegetarian should contain no meat, no seafood, or seafood extract.
*2 days advance reservation is required.
Restaurant Name
Type

Vegetarian menu
Price

8000 yen